Jay-Z Finally Opens Up About Infidelity With Beyonce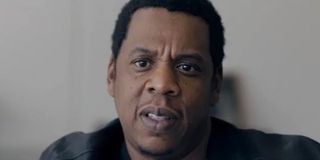 This year, Jay-Z released his latest studio album, 4:44. It examined a wide variety of complex matters, including his observations on money, race, connections in the music industry, and, yes, infidelity and marriage. In some ways, 4:44 was a reply to his wife Beyonce's Lemonade album, which explored the arc of emotions a person feels upon recognizing, uncovering, and processing infidelity in a long-term relationship. Ultimately, Queen Bey ends on forgiveness, and now Jay-Z has provided extra insight into how his behaviors changed him. From the sounds of it, he is better (and more grateful for his marriage) than ever. In a recent interview, the 47-year-old rapper broaches unfaithfulness by saying,
Jay-Z jumped into the topic of cheating while talking about how he embraced his emotions and realized how connected people's behaviors and feelings are. What got him on the subject in the first place was the topic of emotional distress people face when they go into "survival mode," and try not to connect with others. Jay-Z gave the example of noticing the pain in someone else's eyes, but knowing that person probably wanted to put up a shield to avoid talking about hurt feelings. He used this point to touch on his cheating, which gives us the sense he had to recognize his hurt to see how he was hurting others (i.e. Beyonce) through bad behavior.
Later in the New York Times interview, Jay-Z mentions how the only way out of the pain he caused was to go through it. He revealed that it was hard and painful to listen to his wife's Lemonade album, the same applying with her listening to his album 4:44. But they pressed on through the challenges because, as he says, "the best place is right in the middle of the pain". Instead of tiptoeing around sensitive and upsetting subjects, they dove in and dealt with them together as a couple. The newspaper hopped on social media to post a snippet of Jay-Z discussing the topic. Take a look:
Hearing Jay-Z speak this way is profound, and watching Beyonce and Jay-Z explore these touchy topics has been moving to say the least. It seems like Jay-Z found a true catharsis through the process of apologies and forgiveness he and Beyonce evidently worked on these past few years (perhaps starting back when Solange flipped out in the elevator--just a guess). Jay-Z and Beyonce have always spoken with a particular eloquence, but nowadays, their approach is much more enlightened, and you can definitely tell how Jay-Z has evolved as a man. Here's hoping Beyonce gives a candid interview like this one sometime soon.
Your Daily Blend of Entertainment News
Thank you for signing up to CinemaBlend. You will receive a verification email shortly.
There was a problem. Please refresh the page and try again.