Standout Moments From Beyoncé's Homecoming Doc We're Crazy In Love With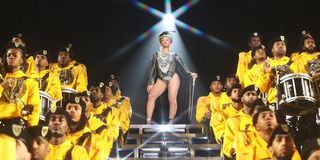 As Netflix has grown in popularity over the years, the streaming service has been getting in formation with all kinds of exclusive content to keep us on the couch, whether it's award-winning films and TV such as Roma and Black Mirror, Noah Centineo-led rom-coms or reality television such as Queer Eye. The scrolling potential is endless and it can often be a mess to sift through. But every once in a while, the streaming giant delivers us an unforgettable gift, and this time it's from pop superstar/angel Beyoncé.
Whether you were one of the lucky fans in the crowd of Queen Bey's Coachella epic last year, caught the YouTube livestream broadcast or vaguely heard about the event after the fact, all the buzz surrounding it makes it one of the few concert experiences that begs to be immortalized. Beyoncé transformed music festival expectations by turning what could have been a simple concert set into a mighty showcase of an icon's 22-year career. Homecoming allows Netflix users to relive the event and look behind the scenes into just how the vocalist pulled it off.
The documentary is packed with memorable moments that make it spectacular, and it's time to unbox the highlights to the left, to the left:
Her Regal Entrance
With the pound of a drumbeat, Beyoncé makes a powerful entrance to the Coachella main stage dressed in a Nefertiti-style get up, stunning the eyes on her and commanding her acclaimed status as a queen. The powerful introduction sets the stage for the caliber of performance we're about to see as a giant pyramid full of 200 performers (including dancers and a "university" orchestra) are unveiled at center stage.
Beyoncé makes a second grand entrance at the top of the pyramid after the band hypes her up, and the crowd's response is unlike any other. They are yelling "Beychella" before the phrase is even announced as a new iteration of "Crazy In Love" starts to play.
It's quite the sight to behold as the singer delivers some near-perfect vocals, while dropping moves with her army of dancers. As the cinematography flips between Beyoncé in her first and second weekend performance and the amazed crowd, it's clear the concert was orchestrated with a cinematic experience in mind all along.
Homecoming's Concept
In between the concert, Homecoming also takes it back to the rehearsal stages of the performance, which was a massive, almost year-long undertaking by the artist. The pyramid of performers behind her, donning sorority letters of yellow and pink, signify the college experience Beyoncé never had due to her time on Destiny's Child. She'd always wanted to go to a HBCU and Beychella became a way for her to create this community she'd dreamed of.
Since her headlining had the historical significance of being the first African-American woman to get top-billing for the festival, Beyoncé took that title to heart in everything that she planned. She personally picked dancers and musicians who could represent looks and backgrounds that have been dismissed in the past on that grand stage. Beyoncé's concept for Homecoming really shows her character of taking the opportunities given to her and putting every ounce of effort into it and giving her fans and family something to be proud of.
Another star of her status would have taken the easy way out and done a performance already decided upon from their tour or just belted out their greatest hits. Homecoming really shows to both casual listeners and fans of her just what goes into the product we often see in her music, videos and performances, and it's as massive of a project as it looks at the end of the line.
Her Post-Pregnancy Comeback
Another unexpected bit we learn from Homecoming is just how much of a sacrifice and personal journey putting on this show was for Beyoncé. The artist has asserted herself as a very powerful woman over the years that her own personal challenges can go by the wayside. In this documentary, she gets candid about how the preparation for Beychella was an emotional trial for her, as she had just given birth to her twins Rumi and Sir when she started up plans for the Coachella performance.
Beyoncé spoke about the immensely difficult pregnancy she had, which concluded with an emergency C-section. Learning the dance choreography for a two-hour show she was leading as her body was recovering and adhering to a very strict diet (which looked like it only consisted of apples?) so she could do the performance was an incredible point for the artist to make in his documentary, because wow, did she pull it off.
She also talked of her struggles to be away from her newly born children and 7-year-old Blue Ivy during practices. Her vision of having her "homecoming" back to the stage after her pregnancy – which had her miss her first chance to headline the year before is a beautiful theme that gives viewers a new perspective on her attention to her career.
The On-Stage Reunions
Over halfway through the show, fans were already over the moon with the show Beyoncé was putting on for them, but then this happens: the trio that started it all reunite on stage looking like Charlie's Angels. Homecoming captures the reaction of the audience really well here as fans in the crowd get emotional and devotedly sing along to "Lose My Breath," "Say My Name" and "Soldier," with the original members of Destiny's Child who look badass as ever strutting the stage side by side.
It's a nostalgic moment for those who have followed Beyoncé from the beginning and clearly an important one to the artist too whose smile especially lights up stage when beside her girl group sisters for the number.
Before Destiny's Child hit the stage, her famous hubby Jay-Z also came onstage to duet "Deja Vu" with her in a sweet moment between the two that had their chemistry beaming on stage in a way we don't always see between the two of them, especially after the singer belted out angry tunes of his past infidelities prior. In another cute moment to cut the overwhelmingly beautiful dance numbers and pop tunes is when Beyoncé's sister Solange also comes on stage to bust some moves with her during the bridge of "Get Them Bodied."
All in all, the Beyoncé film is a highlight in of itself as it showcases an incredible feat by the singer on that Coachella stage last year that will be talked about for years to come. The singer beautifully captures her memorable set, opens up about her behind-the-scenes prep and leaves a whole lot of heart on that stage. There are so many more moments I'm not over yet. Did you see Beyoncé's Netflix movie? What were your favorite moments? Sound off in the comments below.
YA genre tribute. Horror May Queen. Word webslinger. All her writing should be read in Sarah Connor's Terminator 2 voice over.
Your Daily Blend of Entertainment News
Thank you for signing up to CinemaBlend. You will receive a verification email shortly.
There was a problem. Please refresh the page and try again.