How Is Blade Going To Work In The MCU?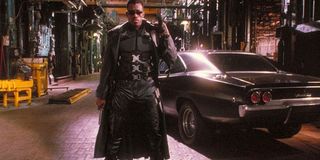 Marvel's San Diego Comic-Con panel last weekend pulled the curtain off of what's to come in the future of the Marvel Cinematic Universe, and the results are an interesting start. Movies such as The Eternals, Shang Chi and The Legend of the Ten Rings and even Thor: Love and Thunder are all ready to make Phase 4 one hell of a light show for fans old and new.
In an effort to save the best for last, it was the final announcement of Kevin Feige's time on the Hall H stage that was, quite possibly, the best: Mahershala Ali is now going to be our new Blade. Of course, a new Blade movie raises a lot of questions. Most importantly, how in the world is the famed Daywalker going to fit into the always PG-13 MCU.
It's something we're going to try and answer ourselves, as there seem to be three really good paths for Marvel Studios to take when it comes to bringing Blade into their cinematic universe fold. Each has its own challenges, but ultimately they are the best hopes for reviving a character that's fan-beloved, but extremely contrary to the current mission statement of the Marvel Studios brand.
Blade Might Be An Extremely Cautious PG-13 Movie
The first, most obvious option is the one that totally fits into the Marvel Cinematic Universe, which is, quite frankly, the easiest way to piss Blade fans off. Under the usual standard operating procedure, assuming that this is going to be a film for the MCU canon, Marvel Studios would have to make Blade into an extremely cautious PG-13 project.
It's a feat that's never been done in the entire history of the film franchise, though Blade: The Series did carry a TV-14 rating during its run on Spike TV. As a typical vampire project would see a lot of hedonistic behavior, fair amounts of nudity and, of course, a heaping dose of blood, a Blade film would more than likely be a nightmare for anyone hoping to get a PG-13 rating.
We're not saying that Blade could never be a PG-13 film, as you can avoid those first two factors creatively, and tweak the color of the blood to let it run freely. It's just that those strategies don't sound very feasible, especially when you factor in that Blade himself is a character that loves colorful, MPAA-frightening language.
Blade Could Be The First Fox Movie In The MCU Proper
The Walt Disney Company will never make an R-rated movie, full stop. That same attitude will extend to production shingles such as Lucasfilm Ltd. and Marvel Studios as well, because those members of the Disney family have hard PG-13 ceilings. With those caveats in mind, a traditional strategy that the company used to use in the blockbuster days of the '80s and '90s might work in the favor of Blade.
Disney could use the newly acquired 20th Century Fox brand to operate as a sort of new age Touchstone Pictures or Hollywood Pictures, releasing Blade as the first R-rated film in the MCU. Back in their heyday, both production companies would produce and distribute PG-13 and R-rated content for mature audiences, when Disney was secure with a hard PG-rated ceiling.
Now that Disney has allowed PG-13 into their umbrella, and both Touchstone and Hollywood are inactive/dormant in their status, Fox could be the best pathway to bringing Blade back from its franchise slumber, with a full R-rated approach. Then again, we've been operating on the assumption that Mahershala Ali's Blade was going to be a movie in the first place, and that might not be entirely true.
A Hulu Original Series Could Bring Blade To Life
We're going to have to wait until Phase 5 of the Marvel Cinematic Universe to see Mahershala Ali talk about future motherfuckers ice-skating uphill, which means that Blade is probably a couple of years off. Right now, it wouldn't be that surprising if all that was in place was the brand, and Ali as the face of said brand. Anything could happen between now and whenever Blade sharpens up for battle, and we might be seeing an original series for the character, rather than a film.
Kevin Feige wasn't shy in integrating Disney+ into the fold of Phase 4's Marvel Cinematic Universe canon. Several shows, like WandaVision, Loki and What If…, are about to join the MCU family, and it's a possibility that Blade could be making a play to become another series in the line-up. Which means that not only could this strategy help circumvent the usual conventions of the universe, it also bolsters another brand.
Much like Disney+ gave Hulu its original series adaptation of High Fidelity, a Touchstone Pictures alum in its feature film incarnation, Blade could move to the Touchstone of TV and become a Hulu series. Again, repurposing a brand that already exists could help this particular project land on its feet, and said repurposing has already been established as precedent. Not to mention, with Mahershala Ali making ample work of both the movie and TV divide of his career, this might be a nice option to pursue for a long term franchise effort.
Admittedly, these aren't the only three options, as Kevin Feige and his Marvel Studios brethren are obviously committed to making Blade a star in the Marvel Cinematic Universe again. Phase 4 is the primary concern for all involved, and there will undoubtedly be some sort of setup in one of the projects already on the slate to connect Blade's debut in the MCU to whatever permanent home he happens to land at.
These just feel like the three strongest options, based on the history of Marvel Studios, and the potential moves they'll want to make in the future. What can be said, though, is that Blade does have a decent chance of staying in an R-rated context. At least, that seems to be the case if the pledge to keep Deadpool as an R-rated series is a genuine one.
2020 and beyond will provide interesting benchmarks of data to see where Blade is going, or even if Blade is going. Let's not forget, while Marvel Studios isn't as erratic with its planning as DC was with projects like Cyborg and The Flash, there's a possibility that another Inhumans-level disaster could be on the horizon. Nothing is certain, except for uncertainty; and if Blade ends up eventually flaming out, that would be the biggest example of suck since the Reaper strain threatened the world in Blade II. So yeah, pretty damned bad.
Stay tuned to CinemaBlend for more updates concerning the MCU's version of Blade.
Your Daily Blend of Entertainment News
Senior Movies Contributor
CinemaBlend's James Bond (expert). Also versed in Large Scale Aggressors, time travel, and Guillermo del Toro. He fights for The User.