Spider-Man: Far From Home's Surprise Cameo Received Sam Raimi's Blessing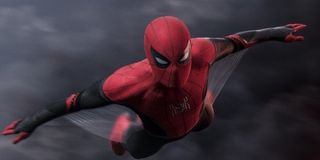 Warning: SPOILERS for Spider-Man: Far From Home are ahead!
It's one thing for an actor to appear in more than one superhero movie franchise, it's another thing to play the same character in two separate franchises. Well, J.K. Simmons is one of the few who's accomplished this, as one of Spider-Man: Far From Home's big surprises was the actor cameoing as J. Jonah Jameson, a role he previously played in Sam Raimi's Spider-Man trilogy.
It's been over a decade since Spider-Man 3 came out, but before J.K. Simmons signed on to play this new version of J. Jonah Jameson, he made sure to get Sam Raimi's blessing. The director recalled:
Although J.K. Simmons had expressed interest for years in playing J. Jonah Jameson again, that always seemed like a pipe dream. Well, no more. Just like how Judi Dench played two different versions of M in the James Bond movies, Simmons gets to put a new stamp on Jameson, and Sam Raimi was okay with that. The director also told ET that while he hasn't seen Spider-Man: Far From Home yet, he finds the fan reaction to Simmons' return to the role "so cool."
While the J. Jonah Jameson of the Sam Raimi Spider-Man movies was a reasonably faithful adaptation of the loud-mouthed newspaper publisher from the Spider-Man stories of yesteryear, the MCU's version of the character is an Alex Jones-like figure who runs The Daily Bugle as a sensationalist and controversial online news outlet.
J.K. Simmons' new J. Jonah Jameson debuted during the Spider-Man: Far From Home mid-credits scene to release doctored footage Mysterio recorded that made it look like Peter Parker was responsible for the Elemental attacks and also outed him as Spider-Man to the public. With less than a minute of screen time so far, this Jameson has already screwed Peter over by unwittingly helping carry out Quentin Beck's revenge.
Director Jon Watts revealed on the ReelBlend podcast that the plan was always for Spider-Man's secret identity to be revealed at the end of Spider-Man: Far From Home through the media, and that led to discussion on what The Daily Bugle would look like nowadays. Luckily for Watts and his team, J.K. Simmons was game to play Jameson again and the cameo was filmed at the "very, very, very end" to keep it a secret.
Although a third MCU-set Spider-Man movie is in the works, it will be a while until we learn any specific information about it, including whether or not J.K. Simmons will appear as J. Jonah Jameson again. Still, given what this Jameson has already done to Peter, not to mention him being responsible for the creation of several Spider-Man villains in the comics, I imagine it's likelier than not that he'll be back.
Stay tuned to CinemaBlend for more Spider-Man film news, and be sure to read our review for Spider-Man: Far From Home and look through our Marvel movies guide.
Your Daily Blend of Entertainment News
Connoisseur of Marvel, DC, Star Wars, John Wick, MonsterVerse and Doctor Who lore. He's aware he looks like Harry Potter and Clark Kent.