One Massively Important Message The Angry Birds 2 Stars Are Super Happy Is In The Movie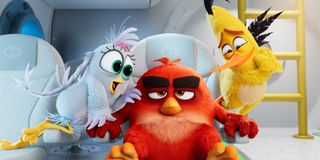 Animated films aimed at kids possess a tremendous amount of power. After all, their primary audience is an exceptionally influential one, and films can have a massive impact (just think about the titles that you totally obsessed over and watched a thousand times when you were young). Because of this, it's always wonderful when the stories go for meaningful and important messages – and the latest excellent example of this is The Angry Birds Movie 2, which has a particular agenda that stars Rachel Bloom and Jason Sudeikis were excited to bring to life.
That particular agenda is disrupting gender norms, which we very much see with the characters that the two actors play: the former is a newcomer to the series named Silver, and she is an engineering and technology whiz; while the latter returns as Red, who is kind of an emotional mess after the events of the first movie, and a serious fear that his popularity will be short-lived.
This was a subject that I brought up with Rachel Bloom and Jason Sudekis when I sat down with them at the Angry Birds Movie 2 Los Angeles press day earlier this summer, and you can watch our conversation by clicking play on the video below.
A serious gender imbalance in STEM fields has been a serious problem in our world for decades now, and one thing that can certainly only help the situation is trying to get women more interested in the areas at a younger age. This is where Silver comes in, as she is practically a Women In STEM recruitment tool. She is quick, funny, and a problem-solver, and there is definitely hope that girls will watch is The Angry Birds Movie 2 and feel inspired to be more like avian character.
This was certainly something that was on the mind of Rachel Bloom as she was bringing Silver to life, given that she herself was massively influenced by pop culture when she was a kid. Her options for big screen icons weren't as diverse when she was a kid as they are now, but she very much wants girls in the audience to have that feeling of "I want to be just like her." Said Bloom,
Continuing, the actor acknowledged that these kinds of movies really can stay in the minds of a child, and for both boys and girls can change their outlook on life:
I know that there will be little girls who see this character and it directly affects their lives and what they want to be when they grew up. And that's so cool! And I think, 'What a great influence for little boys to see a bird or a human getting in touch with his anger and showing what's behind that anger, which is a fear of abandonment.'
That last bit very much sums up what Red is going through in The Angry Birds Movie 2, as he is very much driven by his emotionally-crippling anxiety that it won't be long until his efforts in the war against the pigs will be forgotten, and that he will soon return to his sad life as a disgruntled nobody. He sees an opportunity to reignite his public image when a neighboring island of war-hungry eagles begins launching assaults, but his head space is complicated.
Working with Silver, Red has a fair number of good ideas, but his arc in the sequel is certainly more about conquering his aforementioned emotional issues. This was something that Jason Sudeikis highlighted in his response, noting that it's typical in Hollywood that the featured dynamic between the characters is switched. Said Sudeikis,
It's a great thing to see a project as big as The Angry Birds Movie 2 taking on and saying something about modern issues, and not only is it getting an impressive response from critics, but audiences can now see the film for themselves.
Also starring Josh Gad, Leslie Jones, Bill Hader, Awkwafina, Sterling K. Brown, Eugenio Derbez, Tiffany Haddish, Danny McBride, Peter Dinkalge, Pete Davidson, Zach Woods, Dove Cameron, Maya Rudolph, and many more, the new animated movie is now playing in theaters everywhere.
Assistant Managing Editor
NJ native who calls LA home and lives in a Dreamatorium. A decade-plus CinemaBlend veteran who is endlessly enthusiastic about the career he's dreamt of since seventh grade.
Your Daily Blend of Entertainment News
Thank you for signing up to CinemaBlend. You will receive a verification email shortly.
There was a problem. Please refresh the page and try again.