Avengers: Endgame Star Was Shocked To See Her Cameo In The Movie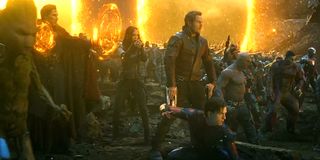 Avengers: Endgame has one of the biggest ensemble casts in film history. In fact, the sheer number of people at play is so large that even the actors/actresses who filmed scenes weren't sure if they'd make appearances in the film (or, in Gwyneth Paltrow's case, if they'd even filmed scenes with certain characters). One of these people, Community star Yvette Nicole Brown, was stunned to find out that her character ended up in the final cut. Even more bizarre was the fact that she didn't know the Avengers film for which she had filmed a scene.
In October 2017, she'd taken a week off from filming ABC's The Mayor to shoot her Avengers scene. Brown's cameo follows those of Community co-stars Jim Rash and Danny Pudi, who appeared in earlier MCU installments. All three of the aforementioned stars have worked with Joe and Anthony Russo, who directed a few episodes of Community (their paintball episode being a standout).
Yvette Nicole Brown ended up in the 1970s storyline for Avengers: Endgame, playing a government worker who shares an elevator with time-traveling Tony Stark (Robert Downey Jr.) and Steve Rogers (Chris Evans). According to CNN, Brown had originally thought she would appear in Avengers: Infinity War, so when she didn't show up on screen, she was disappointed.
Nearly two years after she'd filmed her part, she found herself shocked when Endgame included her scene.
She continued with the following admission:
Yvette Nicole Brown also proudly revealed her character on social media, once the spoiler ban was lifted:
Brown is only in the movie for a minute or so, but attentive viewers who love Drake and Josh and Community undoubtedly recognized her as she eyed Steve Rogers and Tony Stark warily in a government elevator while the two were time traveling. She nails the whole "withering stare" thing and totally stands out as one of the film's more memorable cameo stars. Heck, there are so many cameos in this movie that it's shocking that the Russos were able to identify which ones were most difficult to film.
Avengers: Endgame is now available on Digital, Blu-ray, DVD and 4K. If you haven't seen it yet, you should. It's incredible and it ties things together nicely. Oh, and if you haven't checked out our list of upcoming 2019 films, use it to start planning what you're going to see this year. There are some great films heading to theaters in the next few months!
Your Daily Blend of Entertainment News
Thank you for signing up to CinemaBlend. You will receive a verification email shortly.
There was a problem. Please refresh the page and try again.