This Rotten Week: Predicting Ad Astra, Rambo: Last Blood, And Downtown Abbey Reviews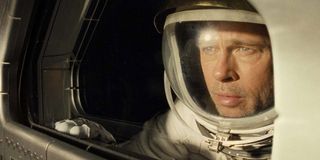 This week there's a space odyssey, an iconic soldier, and a beloved television series continuation all hitting the big screen. Get ready for Ad Astra, Rambo: Last Blood, and Downton Abbey.
Just remember, I'm not reviewing these movies, but rather predicting where they'll end up on the Tomatometer. Let's take a look at This Rotten Week has to offer.
There's always a place on the big screen for an epic space odyssey and that very much looks like what we're getting from Ad Astra. It's a story about an astronaut (Brad Pitt) going on a mission in space to find his father (Tommy Lee Jones) and stop him from utilizing a technology that is threatening life in the universe. It simultaneously looks like a psychological thriller and wide-ranging sci-fi movie all wrapped into one. And critics are loving it.
From director James Gray (The Lost City of Z - 86%, We Own The Night - 57%), Ad Astra is currently sitting at 84% with 44 reviews posted. Most are praising all aspects of the movie from the visuals, to the tone, to Brad Pitt's acting. It's logically (at least from the scope) drawing comparisons to Interstellar (72%), and I think ultimately it falls right in that range.
Sylvester Stallone and my father are both 73 years old. My dad is retired and mostly just reads books on his Kindle these days. Stallone? He's about to reprise one of his most iconic roles as a savage soldier who fights for those marginalized or just flat out in trouble. Oh, and he does it with the use of basically every weapon in the killer elite pack: machine guns, bow and arrows, knives, explosives. They're all there at his disposal in Rambo: Last Blood.
This time he's up against the Mexican cartel, who almost certainly didn't know what they were getting into when they took Rambo's niece hostage. It sure looks like they'll come to regret that decision. This is the fifth, and likely final, installment in the Rambo franchise, and it looks like they are going out with a bang. I can't imagine critics love it, but I don't suspect that's really the point.
While we've seen many examples of television shows turned into movies, or movies turned into television shows, it isn't often we get those versions with the original casts. Entourage did it with not so great results disaster, and Breaking Bad has an offshoot coming soon with Jesse Pinkman. But recently there aren't too many other examples. Now we have a new addition to that list
Downton Abbey finished its six season on PBS in 2015, but the story continues on in movie form this weekend. Set in 1927, it takes place two years after the series finale and focuses on a visit from the King and Queen of England to the Downton Abbey estate. Director Michael Engler helmed four Downton Abbey episodes including the finale. Early opinions are very strong with the Tomatometer sitting at 80% through 55 reviews. Critics appreciate the carryover and most seem to think it's a worthy follow up to the award-winning show.
It's mea culpa time in the recap. Last week I had some pretty bad reads on both Hustlers (Predicted: 85% Actual: 87%) and The Goldfinch (Predicted: 45% Actual: 25%) before editor Eric Eisenberg stepped in and saved the day letting me know that after the reviews embargoes had lifted my original thoughts on each were wrong. He graciously allowed me to not completely screw the pooch and helped tick both scores closer to reality. I'll take a firm "L" on each movie even though the published predictions ended up much closer to the final scores.
Critics really took to Hustlers, embracing crime story and scheme following a group of strippers taking advantage of their Wall Street clientele. While professionals seemed to love nearly every aspect of the film, Jennifer Lopez's performance stands out as the most talked-about.
Meanwhile, The Goldfinch wasn't able to capitalize on the Pulitzer Prize-winning novel's material. Critics saw it as an epic missed opportunity, citing a confusing and overdone narrative that wasn't in any way able to capture the artistic ideals of Donna Tartt's book. This lands as a massive disappointment.
Next time we've got Abominable. It's gonna be a Rotten Week!
Your Daily Blend of Entertainment News
Doug began writing for CinemaBlend back when Terminator: The Sarah Connor Chronicles actually existed. Since then he's been writing This Rotten Week, predicting RottenTomatoes scores for movies you don't even remember for the better part of a decade. He can be found re-watching The Office for the infinity time.