Walt Disney World Fans' Petition To Keep PhotoPass Photographers Goes Viral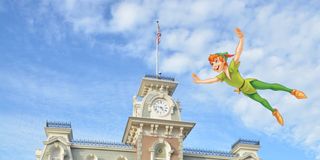 A vacation at Walt Disney World is potentially the trip of a lifetime. For many of the theme parks' guests, it will likely be a long time before they ever return to the most magical place on earth, and that's assuming they ever return at all. That means that many guests will want to be sure to leave Walt Disney World with as many mementos as possible, and that means taking lots of pictures. However, the way pictures are taken at Walt Disney World has begin to change, and that has many Disney World fans fuming.
While guests can, of course, take their own pictures inside Walt Disney World, the theme park also offers professional photography in the form of PhotoPass photographers. These pros are located throughout the park at key locations, like say, in front of Cinderella's Castle, and you can get your picture taken by them. The pictures are then attached to your theme park admission and guests can choose to either buy individual photos or purchase a Memory Maker that allows you to keep everything you take during your trip.
The issue that has cropped up is that Walt Disney World has recently replaced a few PhotoPass photographers with automated boxes that take the pictures for you. This has many people more than a little upset, and the evidence of that frustration is a new Change.org petition that now has nearly 80,000 signatures asking Disney to keep the photographers.
The issues with the new machine taken pictures are multifaceted. First, there's the issue that, as has been happening in other industries, automation is taking jobs from people. While the move is a clear money saver for the company, in this case Disney, there's a feeling by many that it's an unfortunate aspect of progress that results in people losing work.
Next, you have the fact that a human photographer actually does more than simply take a picture. They can get everybody posed perfectly, and set in the frame in just the way they need to be in order to get the best possible picture. They can get different angles and make sure everything is in perfect focus.
As evidence of that, there's a feeling by many that have already used the automated machines, that the pictures just aren't very good. The machine works essentially like a classic photo booth, and as anybody who has ever used one of those can attest, getting the picture you actually want in that scenario can be quite difficult, as one fan showed on Facebook.
While the popularity of a petition arguing to keep photographers at Walt Disney World is the sort of thing Disney certainly might notice, The larger item of importance that could actually have an impact is a financial one. If the camera box pictures like the ones that we see in this post are the standard, nobody is going to want to pay for them. People who buy the Memory Maker up front and get too many pictures like this are going to be unhappy. If the automated system leads to less revenue on pictures, that could make Disney rethink things.
As somebody who recently shared the cost of the Memory maker with a bunch of friends on a recent Walt Disney World trip, I have to say that part of the experience was a lot of fun. While the Memory Maker can be a bit pricey, what at Walt Disney World isn't, being able to get as many pictures as you want at the park is great, and it's one less thing to have to worry about.
And the pictures all turn out pretty good overall. You can get Magic Shots, which insert Disney characters into your picture, and even short videos.
Certainly not every PhotoPass photographer has been replaced, and replacing all of them with automated boxes likely isn't feasible, nobody is going to put an ugly box in front of Cinderella's Castle. At the same time, in the places where this has happened, there is clearly dissatisfaction.
Walt Disney World is always polling guests on their experience, and so it seems likely that whether it's in this form of this petition, or other feedback, the parks will learn how most guests feel about this. If we see the number of automated boxes increasing, that could mean this will become the new normal. Or perhaps we'll see the human photographers returning if the negative feedback is truly powerful enough.
Your Daily Blend of Entertainment News
Content Producer/Theme Park Beat
CinemaBlend's resident theme park junkie and amateur Disney historian. Armchair Imagineer. Epcot Stan. Future Club 33 Member.
Your Daily Blend of Entertainment News
Thank you for signing up to CinemaBlend. You will receive a verification email shortly.
There was a problem. Please refresh the page and try again.