6 Hugh Jackman Movies That Prove He Is More Than Wolverine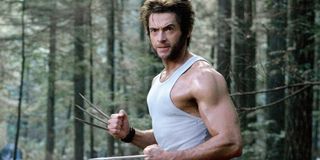 Is there anything that Hugh Jackman can't do? The charming A-lister is a bonafide triple threat — a gifted actor, singer and dancer — and he holds an Oscar nomination and two Tony awards to prove it. But for some audience members, they only see Jackman for his most prominent role: Wolverine.
It is certainly not the only character the high profile actor has played throughout his career, but it's undeniably his most recognizable. But if you're only point of reference with Hugh Jackman is when he's wearing those adamantium claws, carrying the character's distinctive mutton chops and possibly chomping down on a cigar, you really should check out some of his other titles. After all, there's a good reason why Hugh Jackman is as famous as he is today.
There's no doubt that Hugh Jackman's time as Wolverine will be looked back upon for a long time fondly by a lot of fans. Nevertheless, let's push aside his time contributing to the Marvel landscape and look at six movies that prove that Jackman is certainly more than Wolverine!
The Prestige
In The Prestige, Christopher Nolan's sorely underrated drama-mystery, Hugh Jackman acts opposite Christian Bale as a magician battling to pull off the ultimate illusion, in a competitive rivalry that finds both professionals forced to sacrifice nearly everything in their competitive need to be the best. While Bale's more, shall we say, deceptive role is typically more celebrated than his co-star's, Hugh Jackman nevertheless gives a great performance.
In the role of Robert Angier, a character whose career and legacy were ultimately built upon tragedy and a desire to be the best, Hugh Jackman does a commendable job capturing the emotional arc of this journeyed character. He brings the emotion and humanity of the story in equal measure, providing us with a nuanced and commanding central figure through which we can connect with the tricky, duplicitous characters. It's an undervalued performance in a good movie, and if you want to see Hugh Jackman in a role that really shows his magic, this is a solid pick.
The Fountain
Like many Darren Aronofsky movies, The Fountain has won over as many fans as it has earned detractors over the years. The ponderous, spiritual and deeply existential sci-fi/magical romance is a dense piece of work, crossing throughout storylines and incorporating immortality, divinity and ever-long devotion and love in a way that can be a little too elusive and overreaching for some folks' tastes. But no matter how you feel about the film itself, many people can agree that Hugh Jackman gives a tour de force performance at the center of the film opposite Oscar-winning actress, Rachel Weisz, who was the artistic director's partner at the time.
As Tomás Verde, i.e. Thomas Creo, i.e. Tommy the Space Traveler, Hugh Jackman must commit very wholeheartedly to the expansive role(s) he plays. Thankfully, Jackman is entirely dedicated to this immensely wide-reaching character, one who finds himself in three completely different timelines and across at least two separate planes of reality. It's a hard role to communicate fully and thoroughly one 97 minute-long movie, but Jackman is a dedicated performer, allowing himself to fully trust the visionary director and provide a wrenching, beautifully emotive performance that is full of spirit and soul. It's hard to know for certain if The Fountain will be your cup of tea unless you watch it, but even if you don't dig it, it's easy to commend Jackman's work.
Les Miserables
The long-awaited film adaptation of the beloved musical sensation based on Victor Hugo's epic tome, Les Miserables was not a flawless transition from the stage to screen, but it was an emotionally intensive, impressively acted feat which featured two particularly phenomenal performances from Anne Hathaway, who deservedly won the Oscar for her work, and Hugh Jackman, who was also nominated for his tremendous take on Jean Valjean.
The captivating, commanding central performance allows Hugh Jackman to show off the exceptional musical talents that have otherwise been sorely absent from the silver screen. While he did some great, Tony-winning musical work on Broadway and on the Oscars stage, Les Miserables was the A-list actor's chance to bring those stellar pipes to the movies, and his performance didn't disappoint. It's a towering, emotionally powerful performance and it's understandable to see why it's among his most celebrated achievements. He would also bring these talents to 2017's The Greatest Showman.
Prisoners
While there are a number of intense performances on Hugh Jackman's resume, his work in Prisoners might take the cake. The moody, often bleak prestige picture is certainly not lighthearted, but through the captivating performance from Jackman at the forefront, the film carries a righteous sort of anger which channels how a decent man can be driven to vengeful violence when the ones they love disappear in the cold, quiet air.
Playing the role of Keller Dover, Hugh Jackman plays a father torn with guilt, terror and dismay. This is the sort of indignant and vicious performance that can only be played by a top-caliber actor. Thankfully, Jackman more than lives up to the challenge, producing an exceptionally haunting performance that shows what Jackman can do when he incorporates Wolverine's visceral anger and brutal strength into a role that's much more grounded in reality.
The Front Runner
While it wasn't quite the Oscar front runner that many folks were hoping it would be, Jason Reitman's The Front Runner is nevertheless an investing and intriguing look at the imploding world of politics, and how everything in the topsy-turvy world of image control and public perception can change in practically an instant, which can feel like a lifetime in the always moving world of media and reporting. In this particular movie, Hugh Jackman plays Senator Gary Hart, the real-life Democrat candidate who inadvertently blended the political and the personal into the world of national coverage, and the politician who found himself going from the forefront of the political world to the disgraced one-time presidential hopeful — all in a matter of three weeks.
It's easy for Hugh Jackman to play a handsome, charismatic political hopeful, and it's hard a stretch to see him capture the tenuous emotions that are abound when you find your life and career on the fringe. But Jackman's take on the real-life political figure is still an impressive one, capturing the wide range of emotional dismay, tormented confusion, blistering guilt and quiet acceptance under the blaring white light of the media circus that can circulate around a man of this stature at this point in the political process. While the accuracy of the movie has recently been disputed, there's a lot to value in Jackman's sturdy, engaging performance, which really brings the whole scope of Gary Hart's promise and downfall into a captivating cube.
Bad Education
Admittedly, Bad Education is still circulating the film festival circuits, and there aren't a lot of people outside of the festival attendees who have had a chance to see the film for themselves. But if the word of mouth lives up to its promises, there's a chance that we might be seeing one of the very best performances of Hugh Jackman's career thus far in this film, which serves as the sophomore feature for up-and-coming young filmmaker, Cory Finley.
According to the early reports, Hugh Jackman plays Frank Tassone, a school administrator who finds himself caught up in a whirlwind of trouble district-wide. While it does sound like some thematically similar content to Jackman's previous performance in the aforementioned The Front Runner, the actor is exceptionally good at playing charismatic figures with weighted moralities, and this performance sounds like it's yet another winner from the exceptionally talented and proven actor. The movie was picked up by HBO Films for a hefty price. We look forward to checking it out very soon.
These are only a handful of the noteworthy, non-Wolverine movies that Hugh Jackman has starred in throughout his celebrated career. There's also the previously-mentioned The Greatest Showman, which could easily be considered among the most prolific of his non-X-Men-related movies to date. The actor has also done a number of voice-only performances in films like Flushed Away, Happy Feet, Rise of the Guardians and, most recently, Missing Link. There are also some intriguing performances in otherwise not-especially-great movies, like Pan, Chappie, Australia and Real Steel, to name a few.
Nevertheless, it should hopefully be made clear that Hugh Jackman has provided audiences with a high volume of acclaimed films and stellar performances. What's your personal favorite non-Wolverine movie from Hugh Jackman? Please be sure to let us know in the comments below. We're sure to have your own personal favorites, and we'll be curious to hear how they compared to the titles we've listed above or failed to mention.
Looking at the wider cinematic landscape, don't forget to look through our 2019 release schedule to learn what's hitting theaters for the rest of this year. Or you can get a head start on planning your theatrical visits next year with our 2020 release schedule.
Will is an entertainment writer based in Pittsburgh, PA. His writing can also be found in The Playlist, Cut Print Film, We Got This Covered, The Young Folks, Slate and other outlets. He also co-hosts the weekly film/TV podcast Cinemaholics with Jon Negroni and he likes to think he's a professional Garfield enthusiast.
Your Daily Blend of Entertainment News
Thank you for signing up to CinemaBlend. You will receive a verification email shortly.
There was a problem. Please refresh the page and try again.