X-Men's Wolverine: 5 Actors Perfect For The Role In The Inevitable MCU Reboot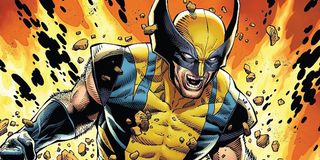 It's an unenviable task to take over Hugh Jackman's adamantium claws as Wolverine. The A-list actor became one of the most respected and beloved actors in Hollywood, in no small part to his dedication and talents in playing the role of the popular X-Men character. But alas, Jackman has hung up his claws and called it a day for the X-Men universe. Now that the Marvel Cinematic Universe has big plans to take over the X-Men franchise, there will inevitably be a day when the famous part is recast. It won't be an easy decision, but there are a number of actors to consider for taking over as Wolverine.
But this decision isn't quite as easily as speculating on, say, who should play Moon Knight or She-Hulk. With an acclaimed actor having played the role for nearly two decades, often to high praise, one can't simply cast someone else and hope they gather the same traction. It needs to be an actor who is equally as charismatic or captivating, while also nailing the character's action sleuth and biting sense of humor. It is not an easy gig, certainly.
Nevertheless, there are certainly a number of actors who've been proposed for the role in recent years. Notably, and somewhat oddly, Daniel Radcliffe was reported to be considered for the part, and he laughed off the rumors of playing Wolverine. There are also a few other actors being considered who are, at least from this early standpoint, intriguing and worth discussing. And there of plenty of other names that have been brought up, like Scott Eastwood.
Like we said, it's not an easy decision, and there's a good case to be made about a wide variety of actors out there. Some of them seem unlikely, like the intriguing idea of casting Jason Momoa, despite his casting commitments to Aquaman. But a lot of them aren't out of the realm of possibility. Here are five performers that would be perfect for the role and should be thrown into the consideration pool.
Joe Manganiello
While the True Blood actor might be a little too old to play the muscle-bound part for more than a few years, there's definitely potential to be found in Joe Manganiello's take on the silver-clawed comic book character. He has the gruff look to accompany the character, and it's clear from his work in the Magic Mike movies that he has the wry sense of humor to play off the balance of tough and brooding, mixed with humorous and sarcastic.
Depending on what the Marvel Cinematic Universe plans to do with the character, especially if they want to respect the legacy of Hugh Jackman's portrayal and have Wolverine be a minor, short-lived figure in this world, it would definitely be intriguing to see what Joe Manganiello could do. He has the look. Plus, his work on True Blood allowed the actor to frequently get in touch with his animalistic side, which would obviously be very crucial for Wolverine. Also, he deserves another crack at the superhero genre following his short time as Flash Thompson and even shorter tenure as Deathstroke.
Garrett Hedlund
Although Garrett Hedlund might be better known for his lesser performances in something like TRON: Legacy, he has quietly become a captivating and versatile actor, filled with emotional range and dramatic heft. Soulful performances in On the Road, Inside Llewyn Davis and Country Strong, to name a few, show the wild spirit he brings to the right role, while the brooding intensity found in Death Sentence showcases an actor who can convey a sense of menace and malice that've been underutilized in the actor's previous work. Both qualities could work well in the role of Wolverine.
Garrett Hedlund strikes one as an actor who has proven his chops, but hasn't been able to make the transition into the mainstream. His bigger movies have often left him short, and it's ultimately his smaller, more emotionally intensive roles that have showcased his dramatic talents. Therefore, it's also possible that the MCU might not be his best route, but it's also apparent that a bigger, meatier role in a proven franchise might just be what it takes to push him into superstar status. Despite his thin frame, Hedlund has also proven a physical versatility that could see him beefing up and impressing us.
Jai Courtney
If asked a few years earlier, I don't think I could see Jai Courtney playing the part of Wolverine. The handsome actor hasn't proven his potential in big misfires like Terminator: Genisys and A Good Day To Die Hard. But in Suicide Squad, which was also critically derided outside of his performance and Margot Robbie's killer take on Harley Quinn, Courtney stepped up and proved that, in the right role, he could be charismatic and oddly charming.
In the role of Captain Boomerbang, all the years of Hollywood trying to capitalize on his unseen star power finally made sense. And in a better movie, that could've been the star-making role the actor was finally looking for. Alas, it didn't work out, but his performance was impressive enough to make the actor return to set for James Gunn's The Suicide Squad. Though there's no telling with that movie's expected high body count if he will make it to the end. If he finds himself unable to boomerang back into the franchise, there is potential for him to finally make it big playing Wolverine in the MCU. The fellow Australian actor has the physicality, the hair and the potential to go wild in a major way, and it would be nice to see that potential realized.
Luke Evans
Similar to some other actors listed here, Luke Evans is an actor who can shine in the right role, but he hasn't always found the roles to showcase his dramatic talents. Nevertheless, even in lesser movies like Beauty and the Beast, Murder Mystery and Ma, Luke Evans makes a good impression. And it's clear that he has been putting in enough hours in big blockbuster movies like Fast & Furious 6 and Furious 7, along with the The Hobbit movies, to stand out well if given the right leading part. Even if Wolverine were just a supporting player in the MCU, Luke Evans could play that to his favor.
Oftentimes, Luke Evans stands out best in minor roles, which allow him to expand his talents and give standout performances with a lot of flair and charisma. If Wolverine were to play something of a mentor figure this time around, which isn't confirmed by any means, it would be interesting to see Luke Evans use his talents in supporting roles to make the most of his time with the silver claws. He's an actor who seems like he's just one role away from getting big.
Taron Egerton
Although last year's Robin Hood wasn't exactly the action star role that he might've hoped it would be, Taron Egerton has had few troubles making a great impression in Hollywood. With both Kingsman movies, Egerton has proved himself charming, captivating and very charismatic. It's also clear from this summer's winning biopic, Rocketman, where Egerton played a younger version of Elton John, that he has both the comedic and dramatic chops to stand out in other roles. Therefore, it wouldn't be entirely out of the question to see the actor bulk up to play a younger Wolverine.
It also helps that Taron Egerton worked with Wolverine himself, Hugh Jackman, in the underrated sports comedy Eddie the Eagle, where Egerton had few troubles standing toe-to-toe with the acting veteran. Indeed, playing the role of Wolverine is something that Taron Egerton has mulled over. He is a big X-Men fan, by his own admission, and he seems flattered by the opportunity to play a role in the X-Men universe — even if he might possibly be a little sheepish (understandably) about playing Wolverine. Nevertheless, even if it didn't work out to play Wolverine, he should definitely be considered for some part in the MCU.
These are only a few actors who might be able to pull off the task of playing Wolverine. There are also some exciting players like Tom Hardy and Liev Schreiber who've been teased in the past, but their commitments to other superhero movies, plus their age (if the franchise is thinking about an actor playing Wolverine for the extended future) would likely restrict them from getting the role.
But we know that you probably have several different actors in mind who could play the part. Therefore. let us know in the comment section which actors have the chops to play Wolverine inside the MCU.
Will is an entertainment writer based in Pittsburgh, PA. His writing can also be found in The Playlist, Cut Print Film, We Got This Covered, The Young Folks, Slate and other outlets. He also co-hosts the weekly film/TV podcast Cinemaholics with Jon Negroni and he likes to think he's a professional Garfield enthusiast.
Your Daily Blend of Entertainment News
Thank you for signing up to CinemaBlend. You will receive a verification email shortly.
There was a problem. Please refresh the page and try again.