Does It Matter If Sony's Masters Of The Universe Isn't Theatrical?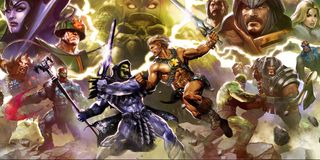 Hollywood has been trying to bring Masters of the Universe back to the big screen for quite a while now with little success. Rather than returning to Eternia, He-Man and the Masters of the Universe have been stranded in development hell for over a decade, going through tons of writers, several directors and even multiple studios, with every attempt to reboot the property for a new feature film franchise hitting obstacles and setbacks. But recently, it's looked like that is finally about to change.
With directors Aaron and Adam Nee onboard, Noah Centineo cast as Prince Adam/He-Man, and a 2021 release date set, Sony's Masters of the Universe looks closer to happening than ever before. However, news broke recently that Masters of the Universe might not in fact be coming to a theater near you. That's because Sony is reportedly looking into selling the project to Netflix, a deal that, if it goes through, would bring Masters of the Universe to the streaming service, not the silver screen.
The talks are preliminary at this point, and rather than sell to Netflix, Sony could still wind up seeking a studio or financier to partner with on the project, but the point is that the long-in-development and long-anticipated theatrical reboot of Masters of the Universe may not wind up being a theatrical release at all. Which raises the question, does it matter if Sony's Masters of the Universe doesn't show on the big screen?
A Movie Is A Movie
The immediate answer to that question is obviously 'no;' a movie is a movie, and the distribution format doesn't matter. Switching from a theatrical release to streaming one shouldn't change the script for the film or the camera used to shoot it, nor does it saddle the film with weaker creative talent or reduce the effort all those involved put into making it.
While there is an ongoing debate about whether or not Netflix movies should be eligible for Oscars, and many auteurs continue to have issues with the service, Netflix movies can be just as good as theatrical ones. Being on Netflix won't automatically make this new film a repeat of the debacle that is the 1987 Masters of the Universe (which I actually kind of like, though I also acknowledge it is bad).
Beasts of No Nation was a Netflix film, as was Roma. This year, likely Oscar contenders Marriage Story and the $160+ million crime epic The Irishman both hail from the streaming service. Alfonso Cuarón, Steven Soderbergh, The Coen Brothers and Martin Scorsese have all worked with the streamer. Netflix also affords directors a lot of creative freedom, and that could, though not necessarily, result in a better Masters of the Universe movie.
Netflix isn't just prestige fare either; it's showed it can do big budget movies as well, with the likes of Triple Frontier and Outlaw King. And Michael Bay's 6 Underground doesn't look any less like a huge action blockbuster just because it's heading to Netflix versus theaters.
A Netflix movie is not inherently lesser and fans of the property will seek out a Masters of the Universe no matter where it is playing. Therefore, it really shouldn't matter if He-Man rides Cringer into battle on the big screen in theaters or onto the small screen on Netflix.
A Matter Of Perception
And yet, just because something shouldn't matter, doesn't mean it doesn't. Even if the exact same Masters of the Universe reboot gets made for Netflix as it would for theaters, it may still feel lesser if it is relegated to becoming a streaming release. The line between Netflix movies and theatrical ones, and between film and television at large, may have become increasingly blurred in recent years, but there is still a difference in the way theatrical and Netflix films are perceived.
Shows like the various Marvel Netflix series, Amazon's Jack Ryan and particularly HBO's Game of Thrones have shown that blockbuster storytelling is possible on the small screen, but audiences are still primarily used to seeing blockbuster movies at a theater. And barring a nature documentary on battle cats or an Orko comedy film, if a Masters of the Universe movie gets made anywhere close to how it should be, it will be a blockbuster.
Unfortunately, there is evidence to suggest that audiences see Netflix films as being worse than those released theatrically by studios and that doesn't help perceptions of Masters of the Universe or help it succeed. Can Masters of the Universe really be seen as a blockbuster franchise on par with other huge blockbusters (like say Transformers, which also started as a cartoon in the 1980s designed to sell toys) if it is only on Netflix? The service would surely like to think so, but I have my doubts.
Masters of the Universe is an existing IP, but realistically, it will probably never be as big as it was in the '80s, though it still seems like something that has enormous potential. Despite the millions of people that have Netflix accounts and the pop culture events that service has ushered in, it still feels like a less than ideal way for Masters of the Universe to make its live-action comeback.
Sure, if it goes to Netflix, maybe it gets a limited theatrical release, but as we've seen, Netflix and the traditional exhibition industry don't have the best relationship. So ultimately, the way most people would see Masters of the Universe would not be in a state of the art theater with a massive screen and immersive surround sound, but on a phone, computer or a TV with a mediocre soundbar.
Having it on Netflix might mean more people can watch it, but it also makes it more ignorable and less of an event. I could be wrong, but I just think that making Masters of the Universe a Netflix movie would limit the property and not allow it to rise to the level that fans think it could or should.
A Netflix Deal Might Mean The Movie Gets Made
No matter the distribution method, Masters of the Universe can only become a big franchise if it gets made in the first place. And in that regard, Netflix may be the film's best option. The initial report from THR about Sony possibly shopping the film to the streaming giant mused on the dilemma the studio faced of either risking a box office flop or getting some guaranteed, risk-free cash from Netflix for it.
If it's done anywhere close to right, Masters of the Universe will be a very expensive movie, and thus will carry tremendous risk. Earlier this year, Sony released a star-studded reboot of an existing franchise property with Men in Black: International, and it took a bath on it. So it may not want to take another chance on an expensive property, especially one that is unproven in the modern marketplace. This isn't to say that Sony is putting the kibosh on He-Man and company, but the fact that this is a possibility shows that the studio has some reservations about He-Man's box office power.
A deal with Netflix might assure that this movie finally gets made. And I want it to get made. I have serious doubts about the film creatively and fear that it may go for a more Guardians of the Galaxy-type tone versus the Lord of the Rings or Star Wars vibe I'd like to see. I'm also not completely sold, though not adamantly against, the casting of Noah Centineo as Prince Adam. But I still think this is a property that deserves another crack at a big-budget movie and I'll take what I can get.
Masters of the Universe would also fit in really well on Netflix. She-Ra and the Princesses of Power, the rebooted cartoon of the 1985 He-Man and the Masters of the Universe spinoff series, is now entering its fourth season on the service. A continuation of that original He-Man series is also on the way to Netflix in the form of an anime series from director Kevin Smith. That kind of synergy would make Netflix a one-stop shop for He-Man and She-Ra, and a great place for Masters of the Universe. Not to mention Noah Centineo became famous on Netflix.
The financial risk of Masters of the Universe being a box office flop would make Sony's possible move to sell the film to Netflix completely understandable. But it would still be disappointing.
We Need New Theatrical Franchises
Now more than ever, the box office is driven by blockbuster franchises. In this blockbuster age, you often hear lamentations about the death of the mid-budget movie and how smaller films get crowded out by the big tentpoles. But what you don't hear as often is about how there are so few options within the blockbuster realm. Superheroes, lightsabers, Transformers, dinosaurs, animated sequels and Corona-guzzling former street racers make up the bulk of our blockbuster diet.
Sure there is plenty of variety within these franchises, but the majority of the blockbusters nowadays are either part of or offshoots of existing franchises, or sequels/remakes/reboots of properties that are already proven on the big screen; it seems like we rarely get much new. And yes, Masters of the Universe is an existing IP and one that has gotten the big screen treatment before, but it's never really been the franchise it could be, so it would feel new.
Lots of would-be franchise starters fail in their infancy and others never make it to the big screen in the first place. Just this year, two potential franchises likely ended before they truly began. Alita: Battle Angel outperformed expectations at the box office, but may not have made enough to get a sequel. The Mouse Guard movie, which was about to start filming, was deemed too expensive and therefore too risky. And thus we are denied two new alternatives to superheroes.
Hollywood is a business, so being risk-averse is completely understandable. Jobs are on the line and you don't want to spend $160 million on a movie that doesn't seem like a guaranteed win. But Iron Man was a risk, as was The Lord of the Rings, Pirates of the Caribbean and Avatar. The only way to get new theatrical blockbuster franchises is by taking risks.
In reality, despite the perceived potential of a sci-fi/fantasy franchise with a built-in fanbase, it's entirely possible that Masters of the Universe's time has simply passed. Netflix might be a great way to bring the franchise back to live-action while still delivering a worthwhile movie. The lower barrier to entry for audiences means that Masters of the Universe could theoretically be a success on the streaming service whereas it might fail theatrically. Still though, it's hard not to want to see Masters of the Universe have the power to make it on the big screen.
So does it matter if Sony's Masters of the Universe isn't theatrical? No, but also yes.
Masters of the Universe maybe hits theaters on March 5, 2021. Let us know what you think in the poll below and stay tuned to CinemaBlend for all your movie news.
This poll is no longer available.
Nick grew up in Maryland has degrees in Film Studies and Communications. His life goal is to walk the earth, meet people and get into adventures. He's also still looking for The Adventures of Pete and Pete season 3 on DVD if anyone has a lead.
Your Daily Blend of Entertainment News
Thank you for signing up to CinemaBlend. You will receive a verification email shortly.
There was a problem. Please refresh the page and try again.