Suicide Squad Star Surprised DC Made 'A Real Art Film' With Joaquin Phoenix's Joker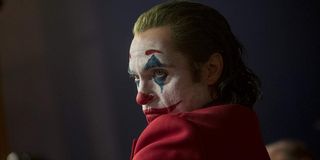 Fans are well aware of the drama surrounding Joker's historic success and what that means for the Clown Prince of Crime's role in other DC film franchises. At the moment, the Joker's role in future movies, including The Suicide Squad, may be in question. But that didn't stop one member of the upcoming movie's ensemble from heaping praise on the film's artistic approach and Joaquin Phoenix's performance.
During a recent interview with Variety, Joel Kinnaman shared his thoughts on Joker. The actor, who played Rick Flag in David Ayer's Suicide Squad and is on board to reprise the role in James Gunn's follow-up, explained that he was impressed with the film for more than one reason, saying:
Joel Kinnaman isn't the first to note the difference in tone between Joker and other DC movies. Todd Phillips, Joker's director, has been open about his desire to strike a darker, irreverent tone with his treatment of the story. And Joaquin Phoenix has praised the film's open-ended approach to both the storyline and its uncomfortable themes.
But he is the first member of the Suicide Squad to openly praise Joker. And his support for the film comes after rumors (and rebuttals) of bad blood between Warner Bros. and his former castmate Jared Leto. The Suicide Squad's Joker has, thus far, been excluded from both Birds of Prey and James Gunn's reboot. Though Joel Kinnaman hasn't shied away from discussing, and even agreeing with, the widespread criticism of David Ayer's 2016 film, he made no mention of the controversies surrounding Joker, or the rumored rift (which was probably a good call).
It shouldn't be a surprise that Joel Kinnaman responded so positively to Joker's darker narrative. The actor has mostly stuck to tackling gritty stories, with roles in sci-fi and crime dramas like Altered Carbon, Hanna, and The Killing. In fact, he told Variety that he feels like he's filming the very first comedy of his career with The Suicide Squad. And while the movie may not offer up the artistic feel that Joel Kinnaman liked so much in Joker, it will give the film's ensemble a chance to be redeemed in fans' eyes. We'll see where The Suicide Squad fits into the DC movie pantheon when it arrives in theaters in 2021.
Your Daily Blend of Entertainment News
Thank you for signing up to CinemaBlend. You will receive a verification email shortly.
There was a problem. Please refresh the page and try again.