See How Robert Pattinson Has Started Training For The Batman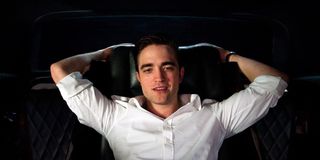 When Warner Bros. announced Robert Pattinson as the next Bruce Wayne, it only took a hot second for the backlash to begin. Some fans created a petition to have him removed from The Batman, concerned that he isn't up to the challenge of bringing the iconic hero to life. As pre-production kicks into gear, there's still a wary contingent. But a recent update from his personal trainer should, at the very least, put any fears to rest that he won't be able to fill out a Batsuit.
On November 2, Rigan Machado shared an image of himself and Robert Pattinson on his Instagram account. In the photo, they're both on the ground in the Academy Beverly Hills, the personal trainer's homebase. He appears to be illustrating some kind of body roll, while the caption says, simply, "Batman is coming." If the message wasn't clear: Robert Pattinson has started training. This is not a drill.
With a red and black belt in Brazilian Jiu-jitsu, Rigan Machado is definitely equipped to get Robert Pattinson ready. And The Batman star won't be his first celebrity client. In the past, the instructor has helped get Charlie Hunnam, Ashton Kutcher, and Vin Diesel into fighting shape. While there's no knowing yet if Robert Pattinson will go for the full 100-pounds-of-muscle transformation like his predecessors, this is just the latest sign that he's capable of committing entirely to the part.
All sparkly vampire jokes aside, Robert Pattinson has proven himself to be a serious actor, capable of complicated roles. He threw himself into his performance in The Lighthouse to such an extent that he kinda freaked the rest of the cast and crew out. And he's gone out of his way to show that he's not only taking The Batman seriously, but he's also diligently doing his homework. He recently revealed that he's been immersing himself in Batman comics, both classic and contemporary.
Robert Pattinson's preparation for The Batman is just one of the exciting tidbits we've seen from the film's cast and crew. In a matter of weeks, Paul Dano and Zoe Kravitz have joined the cast as the Riddler and Catwoman, respectively (no word yet on their personal training regimens). And the film's director Matt Reeves has been busy rounding up an impressive creative team behind the scenes. He recruited Rogue One: A Star Wars Story's Greig Fraser as cinematographer and Oscar-winner Michael Giacchino as composer (they probably will not be doing any Jiu-jitsu training, for what it's worth).
It'll be a while before we can see whether Robert Pattinson's workouts bring results. So we'll be keeping an eye on Rigan Machado's social media activity, in case he gives another glimpse of the newest Batman in training.
Your Daily Blend of Entertainment News