Once Upon A Time In Hollywood's Trailer Freak Out Scene Was Totally Improvised, And Made Leonardo DiCaprio Super Nervous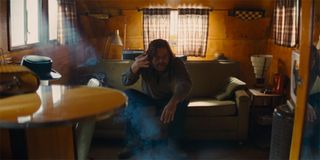 Being one of the best performances of his career, Leonardo DiCaprio's turn as Rick Dalton in Quentin Tarantino's Once Upon A Time In Hollywood is filled with wonderfully memorable moments – but unquestionably one of the best is the character's rage-fueled trailer freak out. The veteran actor has a bad day while filming the pilot for the new western television show Lancer, forgetting his lines and embarrassing himself, and he performs a nice bit of self-flagellation during a break from set.
It winds up being a crucial moment in Rick Dalton's arc, as it turns out to be a really turning point for him – but that just makes it all the more shocking to learn that it was a sequence that wasn't originally in the script, and was both created during production and totally improvised on the day.
Quentin Tarantino shared the story this weekend during a special event held at his Los Angeles theater, the New Beverly Cinema, where he was joined in a post-screen Q&A session with Once Upon A Time In Hollywood stars Leonardo DiCaprio, Brad Pitt, and Margot Robbie. The writer/director was asked specifically how the trailer freak out scene came together, and Tarantino explained that it really originated as a note from DiCaprio:
Anyone who has seen and enjoyed the finished version of Once Upon A Time In Hollywood will recognize that this was a great notion from the actor – which makes it even more interesting to note that it was something at which Quentin Tarantino initially bridled.
The filmmaker admitted that the inclusion of the Lancer scenes was partially because he wanted to basically smash two genres in one: make a tiny western inside of his bigger movie about Hollywood. The idea of Rick Dalton messing things up meant messing up Tarantino's western. Once the concept was executed during production, though, the director realized that Leonardo DiCaprio was right:
This, however, caused a change in plans. While Quentin Tarantino didn't go into what would have happened had Rick Dalton performed his Lancer scenes perfectly, he recognized after the implementation of Leonardo DiCaprio's input that another sequence was necessary. Taking inspiration from the work of another one of DiCaprio's frequent director collaborators, Martin Scorsese's Taxi Driver, a plan started to come together. Said Tarantino,
The setup was simple. The sequence would be filmed with a single angle – a medium shot with the camera on the far side of Rick Dalton's trailer – and everything would be unscripted. Quentin Tarantino planned for three takes, each one running out the reel, and with the plan going in to edit everything together as jump cuts in post-production.
It was clearly a change of pace from the rest of the Once Upon A Time In Hollywood production, and caused Leonardo DiCaprio a touch of anxiety. He wasn't quite sure about improvising, but at the same time had the support of Tarantino standing off screen calling out prompts for him to scream about. Said the writer/director,
Clearly the scene came together well, but Quentin Tarantino expressed legitimate surprise about how it came together – specifically the apprehension that Leonardo DiCaprio felt towards doing it. DiCaprio is a seasoned veteran and Academy Award winner, but seriously shocked the filmmaker with his very real nervousness about improvisation.
In retrospect, it will hopefully go down as a learning experience for Leonardo DiCaprio – particularly because of how successful things turned out. Maybe he shouldn't leap directly into a Judd Apatow comedy, but it might be fun to see DiCaprio spread his wings a bit and try a bit more freeform material.
Following its incredibly successful theatrical run this summer, Once Upon A Time In Hollywood will soon be hitting the home video market – and with plenty of special features that will provide even more awesome stories and behind-the-scenes insight from the making of the movie. You'll be able to purchase digital copies starting later this month on November 26th, and 4K, Blu-ray and DVD copies will be hitting store shelves just a couple weeks later on December 10th.
Assistant Managing Editor
NJ native who calls LA home and lives in a Dreamatorium. A decade-plus CinemaBlend veteran who is endlessly enthusiastic about the career he's dreamt of since seventh grade.
Your Daily Blend of Entertainment News
Thank you for signing up to CinemaBlend. You will receive a verification email shortly.
There was a problem. Please refresh the page and try again.