Aquaman Stabs Steppenwolf In Badass Snyder Cut Look Shared By Jason Momoa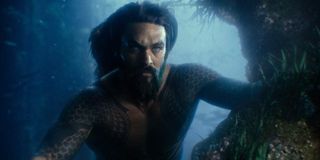 Whether you're interested in seeing the Snyder Cut released or not, talk surrounding the version of Justice League that better reflects director Zack Snyder's original vision hasn't died down in the last two years. In fact, it's gained a number of high profiles supporters, including Aquaman himself, Jason Momoa. As a new show of support for the Snyder Cut, the actor has posted this picture of Aquaman stabbing Steppenwolf, Justice League's main antagonist, with his trident.
Usually we count on getting looks at the Snyder Cut from Zack Snyder himself, like when he shared a photo earlier today of Barry Allen and Iris West in a deleted Justice League scene. But this time around, Jason Momoa is responsible, taking to Instagram to show Aquaman dealing a major blow to Steppenwolf as Wonder Woman watches from afar. Surely enough Snyder Cut peeks have been released over the last two years to warrant putting together a scrapbook, right?
Although Aquaman and Steppenwolf did come to blows in Justice League's final battle, Arthur Curry never went so far as to impale the Apokoliptan general with his Atlantean weapon. At first glance, it looks like Aquaman could be killing Steppenwolf, and if that'd been the case, he probably would have had to find a safe house or a relative close by to lay low for a while.
However, back in July, Zack Snyder shared some photos revealing that in his version of Justice League, Wonder Woman would have killed Steppenwolf, with Snyder saying he uses "Gods to kill Gods." So while Aquaman's trident attack surely injured Steppenwolf, it was Diana of Themyscira would have brought an end to the alien invader set on using the three Mother Boxes to conquer Earth.
Ultimately Steppenwolf was not killed by Wonder Woman in the final version of Justice League, but was instead attacked by his own Parademons after being defeated by the Justice Leaguers because they smelled fear on him, and they subsequently dragged him away via Boom Tube to an unknown location. This is just one of the many ways that Justice League's story differed from what Zack Snyder originally had planned, which included Steppenwolf's master, Darkseid, directly appearing rather than only being mentioned once.
After describing the Snyder Cut as "sick" back in August, Jason Momoa recently confirmed that he has seen this version of Justice League and believes that the "public needs to see it." As made clear by the hashtag, sharing this photo is his way of supporting the #ReleaseTheSnyderCut movement, and maybe Zack Snyder will give the actor some more Snyder Cut pictures to share with the masses.
Although there are no plans for a Justice League sequel, and the DCEU as a whole is deemphasizing interconnectivity, Jason Momoa's tenure as Aquaman isn't ending anytime soon. Following the commercial success of the Aquaman movie last year, Momoa is set to reprise the character in Aquaman 2, which will be released in late 2022.
There's also a chance we could see Steppenwolf on the big screen again, as Ava DuVernay has been tapped to direct a New Gods movie and is currently working on the script with Tom King. That said, it remains to be seen if New Gods will be set in the same continuity as Justice League or if it will be a standalone, unconnected story. If it's the latter, then the Steppenwolf we see there wouldn't be the same one that Aquaman was supposed to stab.
Keep checking back with CinemaBlend for more updates on the future of DC movies, and keep track of what's already been announced with our handy guide.
Connoisseur of Marvel, DC, Star Wars, John Wick, MonsterVerse and Doctor Who lore. He's aware he looks like Harry Potter and Clark Kent.
Your Daily Blend of Entertainment News
Thank you for signing up to CinemaBlend. You will receive a verification email shortly.
There was a problem. Please refresh the page and try again.