Last Christmas Gives Henry Golding A James Bond Joke, Which Is Great Given The 007 Odds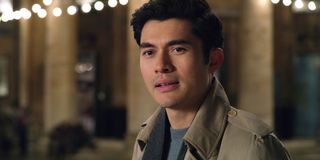 There's a lot that's been written about Last Christmas over the weekend, given its twist ending. However, what caught my eye while watching the movie was not its wild twist, but a joke that is both amusing and did the small service of helping to keep Henry Golding's name in the ring for James Bond.
Here's the scene. Yes, I'm about to get into minor Last Christmas spoilers, but if you've seen the trailer you've seen most of this anyway, so it won't be that bad. I promise. In the scene we have seen in the trailer when Golding's character Tom and Emilia Clarke's character Kate sneak into the ice skating rink so that she can practice for a Frozen on Ice audition, Henry Golding briefly pauses by the door to the skating rink.
He puts his hands together to make a pretend gun and does a goofy James Bond impression. This causes Emilia Clarke's character to poke fun at him, asking him if he's really trying to be James Bond as they sneak into the rink. It's an endearing joke, but also a timely one, given the movie was filmed just a short while after Crazy Rich Asians hit theaters and Henry Golding's name slowly started popping up in the James Bond rumor mill.
Yes, if you've been keeping tabs on the James Bond debate, Henry Golding has been a name that has been touted quite a bit. I'm not sure when it started, exactly, but it may have started when people on Twitter latched onto the idea after Crazy Rich Asians. Then, around the time that Golding was spotted in the trailer for The Gentlemen, Guy Ritchie's new 2020 movie with drugs and plenty of scheming. Either way, his name is out there at this point.
In fact, during a recent appearance on The Tonight Show Starring Jimmy Fallon, the late night host pulled out a list of Vegas odds related to James Bond. There were some familiar names on there, people like Richard Madden, Tom Hiddleston and Idris Elba, to name a few.
Related: 15 Actors Who Have Been Rumored To Take Over For Daniel Craig As James Bond
Obviously the list of rumored actors is quite long and there has been no confirmation any of these people will actually get the gig. Yet, right now Henry Golding has decent odds running in Vegas as well, and at the time the aforementioned late night episode aired, the Last Christmas actor was at 10:1 odds. This particular list also included Idris Elba, Michael Fassbender, Cillian Murphy, Richard Madden and Tom Hiddleston. Sure, his odds weren't as strong as some of the other candidates, but it's likely an honor to even be a part of the conversation.
Henry Golding previously told MTV the James Bond moment in the movie "snuck it's way in," also joking it was his audition for James Bond. He said:
So, you're saying there's a chance?
Regardless, James Bond is still going to be played by Daniel Craig for a short while longer (and has a new look for the next movie, to boot). The actor will be leaving the franchise after Bond 25, now called No Time To Die, but that movie won't hit theaters until April of next year. At some point, Barbara Broccoli and co. will have to make a decision regarding a new direction. However, that time has not come yet. For now, you'll just have to content yourself by hearing actors like Idris Elba and former James Bond players like Pierce Brosnan share their thoughts on who should ultimately nab the role. Oh, and see Henry Golding playing pretend in Last Christmas, out in theaters now.
Reality TV fan with a pinch of Disney fairy dust thrown in. Theme park junkie. If you've created a rom-com I've probably watched it.
Your Daily Blend of Entertainment News
Thank you for signing up to CinemaBlend. You will receive a verification email shortly.
There was a problem. Please refresh the page and try again.