8 Movies With Twist Endings Worth Streaming On Netflix After Fractured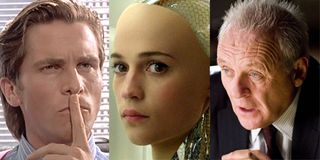 I streamed the Sam Worthington thriller Fractured after its premiere last week on Netflix, and while it didn't have one of the world's great twist endings, it got me thinking about other twisty films. Every Monday, I recommend movies or TV shows to stream, and today I'm going for movies with twist endings that you can stream right now on Netflix.
Netflix doesn't have the widest selection from this genre -- I wish they had The Usual Suspects, The Others, Primal Fear, Seven, The Prestige, etc. -- but here are a few good ones worth streaming after (or before, for you?) Fractured. No spoilers below, so I won't actually reveal the endings. But obviously you know something's coming!
The Perfection
There are different types of twist endings. There are some twists you never see coming till the end, and they reshape the entire film. There are others, like Fractured, where you know some kind of explanatory twist is coming, it's just a matter of what. Other films have multiple twists along the way. The Perfection takes multiple surprise turns. This psychological horror film is twisted in every way. Get Out's Allison Williams is fantastic as Charlotte, a talented cellist who was forced to leave a prestigious music school to care for her terminally ill mother. The Perfection gets pretty intense -- and completely bonkers -- but it's also gripping with sharp writing and strong performances. It got polarizing reviews but you may join the many who found it masterful.
Stream The Perfection on Netflix (opens in new tab).
Ex Machina
Alex Garland's brilliant sci-fi film drops viewers into the mysterious world of tech CEO Nathan (Oscar Isaac) via protagonist Caleb (Domhnall Gleeson). We meet A.I. Ava (Alicia Vikander) and Kyoko (Sonoya Mizuno) at the same time as Caleb and mirror him in trying to figure out everyone and everything. Those are the only main characters in the spare, stylish, thought-provoking thriller. The movie saves multiple big twists for the very end, including a humdinger of a final power move. The 2015 movie was met with almost universal acclaim from critics with fans equally impressed.
Stream Ex Machina on Netflix (opens in new tab).
The Invitation
This 2015 horror film is a slow-burn movie worth watching more than once to catch the place-setting along the way. You may or may not figure out where it's headed, but you'll definitely feel the tension and suspense along the way. Not every movie with a twist depends upon the twist to be a solid movie -- in fact, if your movie isn't good without the twist, you probably don't have a good movie. This one has solid twists explaining what had been happening the whole time. Whether you guess where it's going or not, you should appreciate Karyn Kusama's expertly paced drama.
Stream The Invitation on Netflix (opens in new tab).
Fracture
Not to be confused with the new Netflix movie Fractured (opens in new tab), Fracture stars Anthony Hopkins and Ryan Gosling in a sharp battle of wits. In an interesting twist on its own, the movie starts with a confession. No need to wonder who did it, 'cause Hopkins' Ted Crawford openly admits to the crime of shooting his wife Jennifer (Embeth Davidtz). The movie toys with viewers from there, just as Hopkins' Ted toys with the characters around him, especially Gosling's Willy Beachum. Hopkins is nothing if not an expert on being the smartest, smuggest, and yet most charming guy in the room. I won't spoil the ending for anyone who hasn't seen the 2007 legal drama yet, but I found it pretty darn satisfying, and so did the majority of critics and fans.
Stream Fracture on Netflix (opens in new tab).
American Psycho
Fans are still debating the ending of American Psycho almost 20 years after it came out in 2000. Some twists are ambiguous like that. What exactly did we just watch? Co-writer/director Mary Harron has spoken out about her intentions with the movie's ending, as it was based on the novel by Bret Easton Ellis. But the Christian Bale movie still allows viewers to come to their own conclusions on what's really happening with Patrick Bateman and in the world around him. Interestingly enough, American Psycho got a CinemaScore of D from moviegoers polled on opening night. Not sure what they were expecting to see, but I saw a modern classic.
Stream American Psycho on Netflix (opens in new tab).
The Departed
Martin Scorsese's instant classic won the Oscar for Best Picture, with William Monahan picking up a Best Adapted Screenplay for his whipsmahhht script. I hope everyone who sees this movie also tracks down the movie it was inspired by -- the 2002 Hong Kong film Infernal Affairs. You can stream that one on Amazon (opens in new tab), and you should. The Departed had multiple end twists on Jack Nicholson's Frank Costello and his moles on the inside. Mark Wahlberg earned an Oscar nomination as Sgt. Dignam, who has his own twist, and the entire movie is packed with strong performances from the leads to the supporting players. Scorsese may not like Marvel movies, but he has another highly acclaimed movie coming soon to Netflix in The Irishman, twist ending or not.
Stream The Departed on Netflix (opens in new tab).
47 Meters Down
Not every twist ending is successful, and some viewers were irritated by the twist to this 2017 horror film. The survival film follows two sisters on vacation in Mexico who decide to join two locals to watch sharks in a diving cage. Things don't go to plan, which is how we get the title of the film, since their cage cable breaks and they end up sinking to the bottom of the sea, 47 meters below the water's surface. It's a tense survival story from there for Kate (Claire Holt) and Lisa (Mandy Moore). Sure, it's a B movie, but at 89 minutes I thought it was worth the ride, even with THAT ending.
Stream 47 Meters Down on Netflix (opens in new tab).
The Sixth Sense
M. Night Shyamalan made himself a household name and established himself as a Twistmaster with this Bruce Willis and Haley Joel Osment film. I pity people who weren't able to watch the movie fresh in 1999, with no idea that it was anything other than a horror film about a child psychologist trying to help a kid who thinks he sees ghosts. The Sixth Sense is a strong movie on its own, and would've still been good if it ended before THAT twist. But my god. This is the kind of twist that changes everything shown before it. It demands you go back and see the movie again. It's not the first movie to have a major twist -- heck, Citizen Kane had a twist ending -- and besides, The Usual Suspects and Se7en just came out a few years before The Sixth Sense. Night has been hit-and-miss with twists since The Sixth Sense, but he always swings for the fences and that's what I love about his movies.
Stream The Sixth Sense on Netflix (opens in new tab).
If you're looking for more streaming recommendations, check out these past features:
• 5 Excellent Keanu Reeves Roles Worth Streaming On Netflix And Amazon
• 5 Sci-Fi TV Shows To Watch On Netflix: Our Streaming Recommendations
• 5 Documentary Series To Watch On Netflix: Our Streaming Recommendations
• 5 British TV Comedies On Netflix You Should Bloody Well Watch: Our Streaming Recommendations
• 3%, Occupied, Harlots, and Other Streaming Recommendations
• 5 Robert Downey Jr. Movies To Love 3000 On Netflix
• 5 Chris Evans Movies Worth Streaming On Netflix And Amazon
• 5 Ryan Reynolds Roles Worth Streaming On Netflix And Amazon
• 5 Will Smith Movies Worth Streaming Right Now On Netflix And Beyond
• 5 Refreshingly Non-Toxic Reality TV Shows Worth Streaming On Netflix
• 5 Joaquin Phoenix Movies Worth Streaming On Netflix And Amazon Ahead Of Joker
• 5 Stripper Movies Worth Streaming In Honor Of Jennifer Lopez's Hustlers
• The 5 Best Space Movies To Stream In Honor Of Brad Pitt's Ad Astra
• 11 Unbelievable True Crime Series Worth Streaming On Netflix
• 8 Movies With 100 Percent Ratings Worth Streaming Before Netflix's The Irishman
• 7 Paul Rudd Movies Worth Streaming On Netflix Before Living With Yourself
What other twist ending movies would you recommend on Netflix? Maybe Sandra Bullock's Netflix movie Bird Box or would that not qualify/not be worth it?
Your Daily Blend of Entertainment News
Gina grew up in Massachusetts and California in her own version of The Parent Trap. She went to three different middle schools, four high schools, and three universities -- including half a year in Perth, Western Australia. She currently lives in a small town in Maine, the kind Stephen King regularly sets terrible things in, so this may be the last you hear from her.
Your Daily Blend of Entertainment News
Thank you for signing up to CinemaBlend. You will receive a verification email shortly.
There was a problem. Please refresh the page and try again.