The Harry Potter Character Eddie Redmayne Really Wants In Fantastic Beasts 3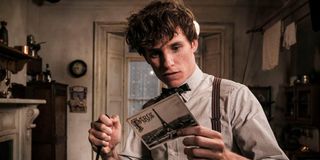 The first two Fantastic Beasts films gave us a look at young versions of some of the Harry Potter 'verse's most memorable characters. Now that Fantastic Beasts 3 is happening, we're wondering who could show up next. If you ask star Eddie Redmayne, there's one iconic Harry Potter hero that needs to be included.
In a Reddit AMA, Eddie Redmayne took the time to give thoughtful answers to a wide range of questions. When one user asked which Harry Potter character he'd like to have join the fray in Fantastic Beasts 3, his answer was short, sweet, and very clear:
This isn't the first time that Eddie Redmayne has expressed a desire to bring Hogwarts' beloved gamekeeper Rubeus Hagrid on board for Fantastic Beasts. And it could happen - Fantastic Beasts 3 is expected to focus more on Hogwarts, the wizarding school Hagrid called home (and where he served as gamekeeper). There is, of course, one small detail that could prevent Eddie Redmayne's giant-sized dreams from coming true: the timeline.
The first two Fantastic Beasts films take place in the mid-to-late 1920s, and have shown us the rise of Albus Dumbledore's first true nemesis, Gellert Grindelwald. According to the Harry Potter canon, Rubeus Hagrid was born in 1928, a whole year after the series begins. For his character to feasibly be integrated into a Fantastic Beasts story, at least in a way that's meaningful, they'd have to jump ahead quite a few years (or, someone would have to get ahold of Dumbledore's time-turner).
As it is, the use of characters from the Harry Potter series has proven to be controversial for the Fantastic Beasts creative team. Fans were initially excited that Fantastic Beasts 2: The Crimes of Grindelwald might include a storyline that openly explored Dumbledore's sexuality -- then felt betrayed when the film's director backtracked. There was also controversy when it was revealed that Voldemort's beloved snake Nagini was actually once human. And fans were quick to point out a gaping plot hole, too, when a young Minerva McGonegal showed up in Fantastic Beasts 2 in a scene that takes place nearly a decade before she was born.
We would hope that Fantastic Beasts 3 would be a bit more mindful of these kinds of details, since it's clear fans will be watching. That doesn't mean a Hagrid cameo is completely off the table, though. And of all the characters from the original Harry Potter series, his inclusion in the Fantastic Beasts story makes sense -- since he loves magical creatures more than any other character -- except maybe Eddie Redmayne's Newt Scamander. Fantastic Beasts 3 is scheduled to begin production in 2020, and should hit theaters on November 21, 2021.
Your Daily Blend of Entertainment News
Thank you for signing up to CinemaBlend. You will receive a verification email shortly.
There was a problem. Please refresh the page and try again.