Avengers: Endgame's Final Battle Originally Included Another Black Panther Favorite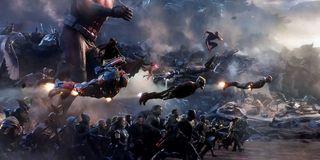 The final battle in Avengers: Endgame redefined the word "epic" for a lot of MCU fans. So many iconic characters from across the franchise fought the good fight together in a moment that marked the end of an era. But if the concept art for the film is any indication, there would have been at least one more important character in the fray. And it was a fan favorite from Black Panther that we haven't heard from in a while.
An image from the new book Avengers: Endgame - The Art of the Movie shows concept art for the final battle. In the picture (via Comicbook.com) we see some of the characters we saw in the finished film: Captain Marvel, The Wasp, Valkyrie and Gamora. But Nakia is there too, brandishing ring blades and ready to fight. Check out a fan's tweet of the image:
Nakia's inclusion in the image is interesting, since -- unlike some of her fellow Wakandans -- she didn't appear and wasn't mentioned in Avengers: Infinity War or Avengers: Endgame.
Nakia is one of the more popular characters that emerged from Black Panther. As a member of the War Dogs, she was an essential part of the story -- and as T'Challa's love interest, she was an essential part of his life. Given that she's a skilled fighter, both with and without a weapon, she definitely would have been an asset when the Avengers took on Thanos.
No explanation has been given yet for why Nakia was ultimately cut from Avengers: Endgame. The Art of the Movie revealed how many iterations the film went through before it reached the big screen -- from early versions of costumes to an interesting incarnation of Young Thanos. We know that the film was a work-in-progress throughout production, with the script undergoing numerous changes. And she was not the only character that was left out of the final cut. Scheduling also proved to be a huge factor in how both the Avengers movies ended up playing out -- and it could have come down to something as simple as Lupita Nyong'o not being available.
Fans shouldn't take Nakia's exclusion to mean that we'll never see her again, though. She hasn't officially been announced as a member of the Black Panther 2 cast. But given the crucial role she played in Black Panther, and the fact that T'Challa tasked her with an important role at the end of the film, it would be surprising for her not to return for the sequel. Black Panther 2 is one of the most anticipated installments of the MCU, which is saying a lot given it will be joined by everything from Black Widow to Spider Man 3. It's due out May 6, 2022.
Your Daily Blend of Entertainment News