December 2019: The Best Movies In Theaters In Right Now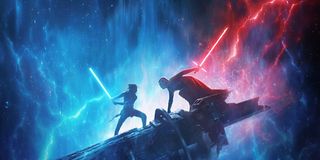 December 2019 is an exciting month for movie fans. Some of the best films of the year come out during this month, and some critically acclaimed films receive wider release in December. Most years, this month is a busy one for moviegoers because of the wide range of options, everything from adventure movies to family classics to Oscar-buzz films all have their moments in December. It's definitely one of the best times to go to the movies, and there's a little something for everyone here. Let's take a look at some of the best movies in theaters now.
Jumanji: The Next Level (In Theaters)
Kevin Hart, Dwayne Johnson, Karen Gillan, Jack Black, and Nick Jonas return for the sequel to Jumanji: Welcome to the Jungle. Jumanji: The Next Level adds the star power of Danny Glover, Awkwafina, and Danny Devito to this highly anticipated sequel. This film is just as fun, humorous, and charming as the original.
Knives Out (In Theaters)
In Knives Out, Rian Johnson directs an all-star cast that includes Daniel Craig, Chris Evans, Jamie Lee Curtis, and Michael Shannon. Rian Johnson does a brilliant job directing an equally brilliant ensemble of actors. Knives Out is a stylish and entertaining murder mystery that is a must-see film for Agatha Christie fans and beyond.
Black Christmas (In Theaters)
Black Christmas is a remake of the 1974 slasher film. In this version, it follows the Hawthorne College sorority girls as a stalker starts killing them off one-by-one. They decide not to just sit around waiting to become the latest victims, so the sorority girls fight back. 2019's Black Christmas' cast includes Imogen Poots, Aleyse Shannon, Lily Donoghue, Brittany O'Grady, and Cary Elwes. Black Christmas is a film for movie fans who want something a little gruesome this holiday season.
Bombshell (In Theaters)
Bombshell follows Megyn Kelly (Charlize Theron), Gretchen Carlson (Nicole Kidman), and Kayla Pospisil) as they make allegations against Fox News founder Roger Ailes (John Lithgow). The film is based on the real life sexual harassment allegations made against Roger Ailes in 2016. Bombshell has already gained multiple award nominations for its three actresses, including Screen Actors Guild Awards, Golden Globe Awards, and Critics' Choice Movie Awards nominations.
Beautiful Day In The Neighborhood (In Theaters)
Tom Hanks and Matthew Rhys star in this biopic about everyone's favorite neighbor, Fred Rogers. Beautiful Day in the Neighborhood is mainly about the bond that forms between Mister Rogers and journalist Lloyd Vogel (Matt Rhys). Beautiful Day in the Neighborhood is just the tear-inducing, Oscar-buzz film that you need to see this December, especially for Tom Hank's mesmerizing and dynamic performance.
Richard Jewell (In Theaters)
Clint Eastwood directs Richard Jewell, a movie based on the true-life events of the 1996 Summer Olympics Centennial Olympic Park bombing, and the security guard accused of the bombing, Richard Jewell. Paul Walter Hauser plays Richard Jewell, and the supporting cast includes Sam Rockwell, Jon Hamm, Kathy Bates, and Olivia Wilde. Richard Jewell brings more awareness to how this tragic event destroyed the lives of many, including Richard Jewell.
Frozen II (In Theaters)
In Frozen II, Elsa (Idina Menzel), Anna (Kristen Bell), Kristoff (Jonathan Groff) and Olaf (Josh Gad) leave Arendelle in search of answers about Elsa's powers and their relation to her parents. Frozen II hit theaters in November and families have been flocking to the movies to see the latest Frozen adventure. With the Christmas spirit running rampant, Frozen II is bound to have a major box office resurgent.
Queen and Slim (Still Showing In Some Theaters)
Directed by Melina Matsoukas and written by Lena Waithe, Queen & Slim follows Slim (Daniel Kaluuya) and Queen (Jodie-Turner-Smith), who become outlaws after they kill a cop in self-defense. A video of the incident goes viral and they become a symbol for liberation. Queen & Slim gives us a modern day (innocent) Bonnie & Clyde with all the complexities that come from being black in America.
Joker (Still Showing In Some Theaters)
Todd Philips directs Joaquin Phoenix in one of the most talked about films of 2019. Joker hit theaters in October, but some cinemas are still showing the film. Joker has a January 7, 2020 DVD release date, so movie fans who want to see this award season darling before it leaves theaters only have a few weeks left.
Ford V Ferrari (Still Showing In Some Theaters)
Matt Damon and Christian Bale star in this sports drama. Ford V Ferrari is about Henry Ford's team of race car developers and drivers who, with the hopes of finally defeating Ferrari's racing team at the 1966 24 Hours of Le Mans race in France, set out to build the Ford GT40. Ford v Ferrari is already receiving critical acclaim, especially forChristian Bale's portrayal of race car engineer and driver Ken Miles.
The Irishman (Limited Release)
Martin Scorsese directs this crime film starring Robert De Niro, Al Pacino, and Joe Pesci. The Irishman tells the true-life story of Frank Sheeran, a truck driver in the 1950s who gets involved with the mob and becomes a hitman. The Irishman had a limited theatrical release in early November, and then it became available to stream on Netflix in late November. The film is still available to view in some arthouse theaters nationwide.
Marriage Story (Limited Release)
Marriage Story follows an estranged husband and wife as they go through the legal proceedings of a divorce. Scarlett Johansson and Adam Driver star. Marriage Story is available on Netflix, but it is also showing in limited theaters. Johansson and Driver give stunning performances that you might want to experience on the big screen.
The Aeronauts (Limited Release)
Felicity Jones and Eddie Redmayne team up again in The Aeronauts. The biopic follows scientist James Glaisher (Eddie Redmayne) and wealthy young widow Amelia Wren (Felicity Jones) in 1862. The duo sets to break records by flying a balloon higher than anyone in history. The Aeronauts is a gorgeously shot movie about the spirit of perseverance and hope.
Star Wars: The Rise of Skywalker (Coming Soon: December 20)
J.J Abrams returns to direct the final installment of the new Star Wars trilogy. Rey (Daisy Ridley), Finn (John Boyega), and Poe (Oscar Isaac) prepare for their final battle against the First Order. Star Wars: The Rise of Skywalker is one of the most highly anticipated films of 2019. It's set to break box office records, and hopefully becomes one of the best Star Wars films yet.
Cats (Coming Soon: December 20)
Arriving in theaters just in time for the holidays is the feature adaptation of Andrew Lloyd Webber's beloved broadway musical production, Cats, directed by Tom Hooper. The star-studded cats... err, cast includes Idris Elba, Taylor Swift, Jennifer Hudson, Rebel Wilson, Judi Dench, Ian McKellen and more.
1917 (Coming Soon: December 25)
Sam Mendes directs 1917, a World War I drama about two British soldiers tasked with delivering a message deep within enemy lines. If they succeed, they help save over 1,600 men from a death trap. Dean-Charles Chapman and George MacKay play the two soldiers tasked with this nearly impossible quest. Andrew Scott, Benedict Cumberbatch, and Richard Madden also make appearances. It's the heart racing, captivating film that leaves an impression long after you exit the theater.
Little Women (Coming Soon: December 25)
Greta Gerwig directs the latest adaptation of Louisa May Alcott's classic Little Women. In the 2019 version, Saoirse Ronan, Emma Watson, Florence Pugh, and Eliza Scanlen play the March sisters. Meryl Streep, Laura Dern, and Timothee Chalamet also star. With such a prestige cast, fans of the original book should be more than delighted with the latest versions of Jo, Beth, Amy, and Meg.
Your Daily Blend of Entertainment News
Spent most of my life in various parts of Illinois, including attending college in Evanston. I have been a life long lover of pop culture, especially television, turned that passion into writing about all things entertainment related. When I'm not writing about pop culture, I can be found channeling Gordon Ramsay by kicking people out the kitchen.
Your Daily Blend of Entertainment News
Thank you for signing up to CinemaBlend. You will receive a verification email shortly.
There was a problem. Please refresh the page and try again.