The 10 Most Badass Superhero Movie Moments Of 2019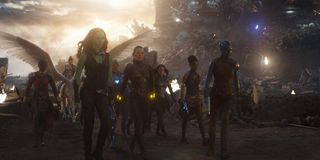 (Image credit: (Marvel))
This year was a monumental one for superhero movies. The genre has started to morph into something much bigger than generic "kapow" punches or good vs. bad guy storylines. This year, Marvel made a '90s period piece about Captain Marvel's origins before culminating their 23-film saga across a decade in one epic masterpiece and highest-grossing movie ever, along with the release of Captain Marvel and Spider-Man: Far From Home. DC introduced a fun-loving new leading hero in Zachary Levi's Shazam!. M. Night Shyamalan connected two of his most popular movies into a trilogy with Glass. Fox's long-running X-Men franchise came to an end.
As 2019 soon draws to a close, it's time to look back on the most badass superhero moments of the year! Check these out, ranked in no particular order! Oh, and obviosuly this article contains MAJOR SPOILERS!
Avengers: Endgame - Captain America Vs. Captain America
MCU fans knew Chris Evans' tenure as Captain America in the Marvel Cinematic Universe would likely draw to a close with Avengers: Endgame. But, we weren't exactly prepared for how clever the Russo Brothers would go about the First Avenger's last hurrah. One especially great scene in Endgame is during the Avengers' Time Heist when a few of them go back to 2012. Steve Rogers comes face-to-face with himself and they fight one another for the Tesseract. The older Cap shows how much stronger and witty he's become over the years – quipping "that is America's ass" after taking down his younger self. (So of course it's making our "badass list"!) There's something poetic and just plain cool about about seeing Cap's growth through a literal showdown!
Spider-Man: Far From Home - Mysterio Plays Mind Tricks On Spidey
During this summer's Spidey sequel, Marvel finally adapted the infamous super-villain Mysterio to the big screen, and wow, was it awesome! In Spider-Man: Far From Home, Jake Gyllenhaal played the character cunningly by first posing as a friend to a grieving Peter Parker during his summer European vacation. One highlight of the movie is in the second half when Mysterio unleashes some incredible illusions to toy with Spidey and ensure he's successful with completing his grand plan. The sequence has everything from a zombie Iron Man, an army of Spider-Men attacking poor Peter and Zendaya's Mary Jane Watson falling to her death. It's a chilling showcase of the power of Mysterio and his ability to really reach into Spider-Man's head and show him his greatest fears as he attempts to deal with them himself.
Glass - Mr. Glass Executes His Master Plan
Not every superhero movie moment was based on a Marvel comic book. M. Night Shyamalan kicked off 2019 with a commercial hit in Glass, the conclusion of a secret trilogy the twist mastermind had unfold across 20 years. The movie starring Samuel L. Jackson's Mr. Glass and Bruce Willis' David Dunn from 2000's Unbreakable, and James McAvoy's insanely jacked Beast from psychological thriller Split, brought these characters together for a unique showdown between hero and villain. The final fight itself is pretty anticlimactic as Dunn dies in a puddle and Beast meets his end as well. But, the final reveal of Mr. Glass' plan to show the world the existence of superheroes (much to Sarah Paulson's Dr. Ellie Staple's dismay) in the real world wraps up the series in a way that's perfectly Shyamalan.
Shazam! - Shazam Can Fly
Warner Bros' only straight-up superhero flick of 2019, Shazam!, was the refreshing origin story of the eponymous hero, which felt like a cross between Superman and Big. The most fun part of watching this movie was seeing young Billy Batson figure out the superpowers of his new adult form with his hero-obsessed friend, Freddy Freeman. The pair hilariously find out he's bulletproof during a grocery store shootout and record videos testing out other abilities. But the best moment of the bunch is when Shazam learns he can fly during his first confrontation with Dr. Sivana. The whole movie is building up to this moment thus far. Flight makes his superhero character a true marvel that can combat Dr. Sivana and his Seven Deadly Sins. It's just so fun to see this discovery from a kid's eyes.
Dark Phoenix - Magneto Puts Up One More Fight
I know, Dark Phoenix was a major let down. A lot of us are trying to forget this one as we patiently Marvel's reboot for the mutants. But for all its flaws and overall "meh," the last X-Men film makes this list for an awesome train sequence toward the end of the film. It gives audiences an amazing moment between the mutants as they expertly take down their enemies. (I'll admit, I don't remember the villains… except Jessica Chastain's lifeless Vuk). Seriously though, look back at it, the sequence is gripping! It's wall-to-wall action that has Storm, Cyclops, Beast and Magneto going full blast on their mutant powers in a way we've never truly seen in an X-Men movie. It's too bad the rest of the movie doesn't match the strength of this scene!.
Spider-Man: Far From Home - Peter Parker Defeats Mysterio In London
Another epic sequence in Spider-Man: Far From Home is when the hero battles Mysterio one more time on the London Bridge as Quentin Beck attempts to orchestrate his own big "hero" moment. Mysterio is a formidable villain for the young Avenger to face, and it isn't without stumbles, but that's what makes this scene so great. Peter Parker outsmarts Beck, just as he outsmarted him leading to his death. However, Beck still got the last laugh, as the movie ends with the reveal of Peter Parker's identity misconstrued via the events in this scene. Fans will be re-watching this one and trying to figure out what's next for the Web-Slinger and if Mysterio lived on. Thankfully, Spidey is back in the MCU and the return for Mysterio could happen!
Avengers: Endgame - Captain America Wields Thor's Hammer
Captain America had another massive moment in Avengers: Endgame. He became worthy of Thor's hammer at a pivotal scene when Iron Man, Thor and Cap are trying to take down Thanos, again. Everyone either gasped or cheered when Cap took hold of Mjölnir in one hand, while his shield was in the other. Then, when Thor and Cap were slinging it back and forth to each other? Legendary. The scene shows off Captain America's sheer power in the MCU in a big way while Thor is still recovering from a low point throughout Endgame. The debate about whether Cap could wield the hammer had been debated before (remember when the whole team tried it in Age of Ultron?), and Endgame powerfully answered this question before we said our goodbyes to Captain America.
Captain Marvel - Carol Danvers Unleashes Her Full Power
Audiences were also introduced to the all-powerful Captain Marvel early this year, just ahead of Avengers: Endgame. Brie Larson's Carol Danvers has a lot of incredible standout moments in Captain Marvel, but the most defining one is when she finally learns her past and is set free from the binds on her powers. When the movie goes back to moments throughout her life of her getting up before she erupts into a magnificent glow and takes down the Kree – that's when we knew the Avengers could use her help against Thanos! The sequence also shows off Danvers embracing her mohawk helmet in the red, blue and gold suit. Oh, and Goose gets to go all Flerken in this scene too!
Shazam! - The Shazam Family Kick Ass Together
The most crowd-pleasing moment of Shazam! is certainly when Billy Batson transfers his powers over to the rest of his foster family and they too get to bask in the glory of being adults and having superhuman powers. It's an incredibly satisfying sequence seeing the Shazam Family take shape, especially with Adam Brody's Freddy Freeman getting to implement his comic book knowledge when fighting off Dr. Sivana's Seven Deadly Sins, or Darla's adorable attitude as a superhero, played by Meagan Good. The scene encompasses the message of the film for Billy to accept help and his new family. We hope the recently announced Shazam! 2 coming in 2022 has more scenes like this because this superfamily is a joy to see.
Avengers: Endgame - The Avengers Assemble
Of course this is the ultimate badass superhero moment of 2019. When Captain America finally utters "Avengers Assemble" in Avengers: Endgame and countless heroes from 23 movies of world-building appear to finish off Thanos and his army, it's nothing short of iconic. It may be the best moment in all of comic book movies. The long sequence is packed with nuggets to nerd out about. This entire list could draw from the Endgame finale. Like when Spidey gets a ride on Valkyrie's horse or the shot of all the lady Avengers approaching the army together! There's so much here – of course, ending with Tony Stark's heartbreaking sacrifice. Seeing this in the theater was like being at a sporting event. It's unmatched.
What do you think? What was the most badass moment in a superhero movie in 2019? Sound off in the poll and comments below, and check out what releases are coming in 2020! Don't forget to also look through what superhero movies are to come next year with our 2020 release schedule.
This poll is no longer available.
YA genre tribute. Horror May Queen. Word webslinger. All her writing should be read in Sarah Connor's Terminator 2 voice over.
Your Daily Blend of Entertainment News
Thank you for signing up to CinemaBlend. You will receive a verification email shortly.
There was a problem. Please refresh the page and try again.