The 10 Best Netflix Movies Of 2019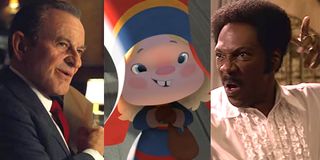 (Image credit: Netflix)
Netflix has long been known as a great place for Netflix Originals on the TV front, but it's only recently been raising its game on Netflix original movies. In 2019, Netflix Films were some of the best movies of the year -- also some of the weirdest, boldest, most inspired, and most timely. We all have our favorites, but here are my choices for the 10 best Netflix movies of 2019, ranked from "worst" to best.
10. Fyre
Ah, the schadenfreude movie of the year. Actually, there were two of them. The Fyre Festival was such a tantalizing fail, it got dueling documentaries in 2019. Fyre streamed on Netflix, with Fyre Fraud on Hulu. Netflix's Fyre became infamous for event producer Andy King's admission that he almost performed oral sex to get water for festival attendees. He became a meme for that, but the documentary also showed the serious repercussions of the festival. While people at home gleefully laughed at the rich kids who spent thousands to attend the festival, there were also working people in the Bahamas who were stiffed by the event producers. Fyre tells that story too.
9. The Perfection
Netflix has some movies that are pretty far out there and several with odd twist endings. This is one of them. It's just a total mindfuck. The Perfection is the kind of movie that elicits strong reactions -- positive and negative. That's part of why it succeeds, in my opinion. I love the wild risks. Every time I thought this movie was about one thing, it became about something else. Essentially, the twisted psychological horror movie is about Allison Williams' talented cellist Charlotte, and her rivalry with her former academy's new star pupil Lizzie (Logan Browning). But it's also about a lot more. And let me just say, from Girls to Get Out to The Perfection, Williams does not get enough credit for pure balls-out commitment to polarizing roles.
8. El Camino: A Breaking Bad Movie
As a devoted fan of Breaking Bad and Better Call Saul, I loved El Camino ... and was also let down by it. Or maybe I was let down by my own expectations. What's fair on that front? The eternal fan question. I can't find fault with the acting or dialogue, and it was such a treat to see the Breaking Bad characters again and definitively see Jesse Pinkman starting his new life. And yet... so much of El Camino felt like deleted scenes from Breaking Bad. It didn't move the narrative forward enough for me. It ended where I hoped it would start. But on an emotional level, writer/director Vince Gilligan and actor Aaron Paul -- and Jesse Plemons, and Bryan Cranston, and our beloved Robert Forster -- knocked it out of the park. It was perfect comfort food and something I know I'll appreciate more with future viewings.
7. Always Be My Maybe
I still don't understand why we haven't spent all of 2019 talking about Randall Park's rap about punching Keanu Reeves. Best believe, it's the best song of 2019 from one of the best movies. This romantic comedy plays out pretty much how you expect it to, but if your movie entirely depends on shocking twists to be memorable, it's probably not a good movie. Always Be My Maybe is just a charming, funny, very real, and very romantic comedy. Ali Wong and Randall Park -- who helped write the movie -- are geniuses and I could watch them in everything. Also, Keanu is solid gold.
6. The Two Popes
Anthony Hopkins is always riveting, and he nails every nuance of Pope Benedict XVI, the more challenging man to grasp in The Two Popes. But still, this is Jonathan Pryce's movie, and should be the one to finally give him an Oscar nomination. He disappears into the future Pope Francis in director Fernando Meirelles' biographical film. Screenwriter Anthony McCarten adapted his own play for the Netflix movie, which just came out at the end of December 2019. While ambitious in its conversation topics -- morality, God, every other big picture topic -- the film itself isn't that ambitious in its scope. It mostly (and wisely) focuses on these two powerhouses of the modern Catholic church, offering a surprisingly warm and even funny look at how they may have interacted.
5. Marriage Story
Every generation gets its own divorce movie, and this one is perfect for our modern era. Noah Baumbach's Netflix dramedy finds the humor and beating heart in the breakup of a theater director (Adam Driver) and actress (Scarlett Johansson). The two stars give powerful performances, and I don't mean that much-dissected fight scene. I mean the smaller moments, the little details that make their relationship real and not just a cliché. Their lingering love for each other, and the casual realism -- like swearing in front of, and sometimes at, their kid without that becoming a thing. And when he read her letter in the end... Marriage Story doesn't cover new ground, but it's achingly real and more heartwarming than I expected. Aso, Laura Dern, Ray Liotta, and Alan Alda need a spinoff following their legal exploits. Netflix, you have your marching orders.
4. The Irishman
The Irishman is the kind of movie I appreciate more than I love. Martin Scorsese's movie is epic in every sense of the word, and what a coup for Netflix to land it. Most of the performances are outstanding, especially from Joe Pesci and Robert De Niro. Al Pacino is also a standout, but I've seen that performance from him before. That's my biggest complaint about The Irishman, which is worth holding to a particularly high standard. I'm not as fussed about the runtime as the lack of originality. It covers so much familiar territory from some of the same actors who've been making mob movies with Scorsese and company since Mean Streets and Goodfellas. But maybe it's like Marriage Story giving a new generation a new great divorce movie. Now we have another great crime movie. And I did love the ending.
3. Klaus
Klaus is an instant classic. My cynical heart grew at least two sizes watching the film, which is Netflix's first original animated movie. Maybe this should be its new niche. Jason Schwartzman voices the lead character of Jesper, the rich and lazy Postmaster General's son, who is sent to the dismal town of Smeerensburg and told he has to post 6,000 letters in a year or his father will cut him off. Once Jesper gets there, his own heart eventually melts and he changes the town in all the ways you already expect. No major twists there, you instantly know where it's going. But on the way is so much wit and warmth -- plus some of the most stunning frame-worthy visuals. I laughed out loud in a couple of places and sobbed like a lonely toddler toward the end. I can't wait to re-watch this movie every year.
2. Dolemite Is My Name
Rude, crude, raw, racuous, colorful, and campy, Dolemite is just a total joy. Eddie Murphy's R-rated comedy is a welcome shot of originality as well as 118 minutes of pure adrenaline. Unlike, say, The Irishman, there isn't an ounce of fat on Dolemite Is My Name. Murphy gives Rudy Ray Moore the kind of showcase any star would dream of, introducing the real-life comedian and blaxploitation filmmaker to a whole new audience. "I want the world to know I exist." And now they do. Side note: Between his supporting role in Dolemite and cameo on FX's What We Do in the Shadows, Wesley Snipes needs to make more comedies. Can't beat his timing.
1. American Factory
Netflix's best documentary of 2019 is also one of the best movies of the year, period. American Factory follows American and Chinese workers and management as the Chinese company Fuyao opens a factory in suburban Ohio. The fly-on-the-wall style humanizes everyone we see on screen without slanting in any direction. This movie does it all -- educates, infuriates, makes you think, makes you feel, makes you understand. Unlike so many of the titles above, American Factory is a time capsule. It perfectly captures everything real about 2019. We needed this film. Watch it here on Netflix (opens in new tab).
While Netflix is still improving its selection of original scripted films, it is arguably the market leader for outstanding original documentary films. Netflix documentaries rank among the best across all outlets. With our current content surge, everyone from Hulu and Amazon to HBO has entered the doc game, but Netflix still holds its own. American Factory is a perfect example of that.
If I could give out honorable mentions to other Netflix movies of 2019, I'd go for Velvet Buzzsaw; High Flying Bird; I Am Mother; and maybe Paddleton. I probably wouldn't include Fractured; Earthquake Bird; Bikram: Yogi, Guru, Predator; Murder Mystery; The King; or 6 Underground, although they all started their share of conversations.
So those are my picks for the 10 best Netflix movies of 2019. That's not to say they were the 10 best movies overall, and I know you will have your own choices. What was the best Netflix movie of 2019, to you?
This poll is no longer available.
Your Daily Blend of Entertainment News
Gina grew up in Massachusetts and California in her own version of The Parent Trap. She went to three different middle schools, four high schools, and three universities -- including half a year in Perth, Western Australia. She currently lives in a small town in Maine, the kind Stephen King regularly sets terrible things in, so this may be the last you hear from her.
Your Daily Blend of Entertainment News
Thank you for signing up to CinemaBlend. You will receive a verification email shortly.
There was a problem. Please refresh the page and try again.