Bill Murray On Ghostbusters: Afterlife's Script: 'It's Gonna Work'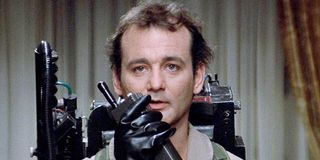 Bill Murray isn't known for sugarcoating things. In fact, a big part of the reason we love him is his willingness to tell it like it is. And when it comes to Ghostbusters: Afterlife, he's telling us one thing pretty clearly about the film and its script: it's gonna work.
Though much of the specifics surrounding the latest installment of the iconic Ghostbusters franchise have been kept under wraps, Vanity Fair was able to get a behind-the-scenes look at the film during production. And they also had a chance to speak with Bill Murray, who will reprise his role as Dr. Peter Venkman. Despite his well-documented reticence to return to the series, he said he agreed to sign on to Afterlife after he read the script:
His confidence in Afterlife is definitely a good sign. And it seems to back up what the initial trailer hints at -- that the film, which has been framed as a sequel to Ghostbusters and Ghostbusters 2, will have many direct connections to those two films. Though the first footage of Afterlife mostly serves to introduce us to the new faces in the franchise, including Paul Rudd and Finn Wolfhard, most of the original Ghostbusters players will be back in some capacity. Vanity Fair confirms that in addition to Bill Murray, Afterlife will include appearances from Dan Akroyd, Ernie Hudson, Annie Potts and Sigourney Weaver. And, Jason Rietman and co. will address the absence of Harold Ramis' Dr. Egon Spengler.
Based on this glorious plethora of information, it's easy to see why Bill Murray might cite emotion as a theme for Ghostbusters: Afterlife. Though the film seems to be centered on a family that moves to a small town in Oklahoma to make sense of their grandfather's estate, there's a feeling of familiarity as they start to uncover iconic relics from the original Ghostbusters-- including proton packs and a new incarnation of the Ectomobile. There's an overriding sense of nostalgia in the trailer, too, even as it only hints at the legacy of the original characters.
Bill Murray isn't the only member of the Ghostbusters contingent who's expressed his optimism for the upcoming film. Paul Feig, who helmed the controversial 2016 Ghostbusters reboot, seemed genuinely elated after the first Afterlife trailer dropped. Jason Reitman told Vanity Fair that he wants the film to recreate the feeling of excitement that came with the original Ghostbusters films -- and that everyone who visited the set seemed to experience just that. We'll see how well they pulled it off when Ghostbusters: Afterlife hits theaters on July 10, 2020.
Your Daily Blend of Entertainment News
Thank you for signing up to CinemaBlend. You will receive a verification email shortly.
There was a problem. Please refresh the page and try again.