Die Hard Got A Porn Parody And Its Title Is Dumb But Perfect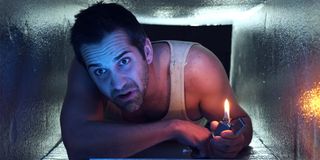 We're in a movie cycle right now filled with reboots, remakes, and spinoffs. Amongst those examples–both exemplary and not-so-exemplery—there exists a whole genre of porn parodies that strive to be familiar to fans while also being as punny as possible. It's in this landscape the Die Hard porn parody exists and it comes with the dumb-yet-perfect NSFW title: Dick Hard.
Without further ado, we'll present the trailer for the porn parody, which comes to us from the aptly named Wood Rocket. Beforehand I will point out that while the trailer is fine enough to be available on YouTube it technically is NSFW-ish, with the presence of "Fuckatomi" plaza and other f-bombs and sex toys/jokes. Plus, should you really be watching a porn trailer at work? That's something you'll ultimately need to decide.
Dick Hard picks up on "Cockmas Eve" (which is one of the bigger stretches in terms of connecting to porn, imo) and tells the story of John DickClane and Holly Gizznero, who are attending a holiday party. Unfortunately, Hans Grabber arrives on the scene to do dastardly deeds. I'm a little unclear on how the plot of Dick Hard changes to be more porn-like than the actual Die Hard, but at some point dildos are being used as weapons and chaos ensues.
Dick Hard is available on both Wood Rocket and Pornhub currently, and while technically it's actually a holiday movie, it's really the type of action film that can be viewed any time of the year. And if you have Pornhub premium, apparently there's even an extended version you can watch if you have the nicer version of the porn service. I'm looking at you Kumail Nanjiani.
Up next: New Poll Asks If Die Hard Is A Christmas Movie, Majority Pick Wrong Answer
This isn't the first time these porn parodies have found clever ways to connect with movie fans. We've previously covered the likes of Guardians of the Galaxy porn parodies, The Lion King porn parody (yes, they could feel the love tonight) and more. Every once and awhile they get a little weird for me – remember that Pokemon Go porn parody? – but usually they are in good fun. (Except when they are taking themselves really seriously.) Most of these flicks parody popular movies with funny knockoff titles to boot. My personal favorite? Game of Bones, which also comes with the tagline "Winter is cumming." You're welcome.
Ultimately, at the end of the day this may not be everyone's cup of tea, but it's enough to just know Dick Hard exists out there in the universe, ready and waiting for those who go searching for it. Plus, for those of you who've already seen this, don't fret, as there's always room for the sequel Dick Hard 2: Dick Harder.
Reality TV fan with a pinch of Disney fairy dust thrown in. Theme park junkie. If you've created a rom-com I've probably watched it.
Your Daily Blend of Entertainment News
Thank you for signing up to CinemaBlend. You will receive a verification email shortly.
There was a problem. Please refresh the page and try again.