The Lion King Has A Porn Parody, Watch The NSFW Trailer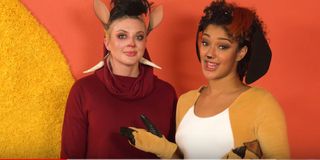 The Lion King has been making money hand over fist at the box office this summer, but there's a porn parody out there with its fist in something else. Yes, that's right, because even something as sacred as a PG-rated Disney movie has a NSFW porn parody out in the universe. And this one has an NSFW trailer that's something else.
This one is kind of NSFW; so you've been warned well ahead of time before clicking.
There are references to "cum on my tatas" rather than the loosely similar "Hakuna Matata" and the occasional f-bomb is dropped, along with mentions of various genatalia. Plus it features people dressed up in furry costumes, so I'd say it's a little more unusual than the average porn parody out there, even for a trailer that really doesn't feature a whole lot of undressing, although you should take a look for yourself. Please note, unlike Disney's "live action" Lion King, this porn parody is actually live action.
Did I mention this was a musical porn parody? It's fitting really, given The Loin King seems to be based on a classical Disney property filled with iconic songs that are loosely alluded to here. I would have told you prior to clicking, but honestly, a musical parody is really something you need to experience for yourself to really understand the full effect. This one even has a "Circle Jerk of Life" track that is self-referential toward its songs, as well as parodying The Lion King.
It should be noted that as this trailer gets more graphic as it goes on, but you gotta stay until the end if you want to get into the "Circle Jerk of Life" stuff and one really, erm, notable Elton John parody.
Wood Rocket has gotten pretty good at these sorts of porn parodies, and gets down into the details of changing them up to make them fit the world of porn (and also to avoid any sort of copyright issues that I assume could crop up). So, instead of Timon and Pumbaa, we have Tibone and Poonbaa. Instead of Simba and Nala we have Sinba and Na-Na. Instead of Scar, we have Screw – OK that one could use a little work. All in all though, The Loin King keeps things really on theme.
The gist is, if you need a break from these Disney live action remakes, there are alternatives out there, of both the theatrical and pornographic variety. The world is an untamed place.
Can you feel the love tonight? The Loin King can. Or as the porn parody puts it, 'Can you feel the muff tonight?' Real lyric alert!
Of course, if you're more into blue genie parodies than people in animal costumes, there's also an Aladdin porn parody called Aladdick. You're welcome?
Your Daily Blend of Entertainment News
Reality TV fan with a pinch of Disney fairy dust thrown in. Theme park junkie. If you've created a rom-com I've probably watched it.
Your Daily Blend of Entertainment News
Thank you for signing up to CinemaBlend. You will receive a verification email shortly.
There was a problem. Please refresh the page and try again.