A Quiet Place Part II Will Answer Fans' No. 1 Question, John Krasinski Promises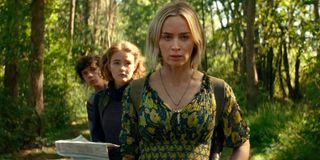 When A Quiet Place was released in 2018, it left moviegoers stunned, and ready for more. John Krasinski won't be starring in the upcoming sequel, for obvious reasons -- though that doesn't mean we won't see him at all. Regardless of his role on screen, he has come back on board to direct A Quiet Place Part II. And now that the first trailers have been released, he's promising that fans won't be disappointed -- and that they'll have all their questions answered.
A Quiet Place Part II's new trailer will air during Super Bowl LIV, but it's already all over the internet. It starts by showing Krasinski's character Lee Abbott in a scene obviously set before the world fell apart. And in one supplementary clip, John Krasinski opens up about how they've carried the terrifying story forward. He also gives fans of the original an enticing reason to tune in for the sequel:
The first clips released by Paramount more than back up that promise. They include a flashback featuring Evelyn, Marcus, and Lee, which appear to show the day the alien invasion began, and all the chaos that followed. In addition to that excitement, the few moments we've seen, as well as John Krasinski's commentary, also give us a glimpse at what the remaining members of the Abbott family will face as they try to carry on after Lee's death:
In the unsettling first footage from the film, we see Evelyn (Emily Blunt), Regan (Millicent Simmonds), and Marcus (Noah Jupe) abandoning their home and traveling into dangerous new territory, all while trying to keep the baby alive as well. They encounter new survivors, including those played by Cillian Murphy and Djimon Hounsou, who seem wary of the Abbotts, but also willing to help them. And, of course, they encounter the aliens they're now accustomed to fighting.
By expanding out the world we first encountered in A Quiet Place, John Krasinski is giving us a chance to better understand the full scope of the catastrophe the Abbotts are living through. If A Quiet Place Part II can manage to both successfully fill in the blanks from the first film while also giving us enough new information to stay engaged, it could prove to be an incredibly satisfying second chapter. And though we don't know what fate the family and their fellow survivors will ultimately meet, it already looks like there could be room to continue the story even further. A Quiet Place Part II hits theaters on March 20, 2020.
Your Daily Blend of Entertainment News
Thank you for signing up to CinemaBlend. You will receive a verification email shortly.
There was a problem. Please refresh the page and try again.