What The Deep Impact Cast Is Doing Now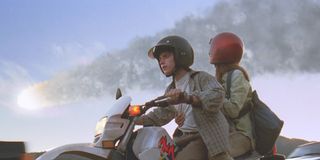 Remember the big-budget 1998 summer blockbuster about a comet on a collision course with Earth? It had an ensemble cast made up of seasoned actors and Hollywood newcomers? If you're thinking Armageddon, I'm afraid I have some bad news. I'm referring to the cosmic disaster movie that came out a few months earlier. You know, Deep Impact starring the likes of Morgan Freeman, Jon Favreau, and Téa Leoni, to name just a few.
It's hard to believe that it will be 22 years this summer since Mimi Leder and Paramount Pictures went toe-to-toe with Michael Bay and Touchstone Pictures to see who could produce the most epic, end of the world disaster movie of 1998. With all that time passing, some of us are probably wondering what Elijah Wood, Robert Duvall, and Kurtwood Smith have been up as of late, so let's not wast any more time and see what these actors and actresses have been up to since Deep Impact first hit theaters nearly a quarter century ago.
Morgan Freeman (Tom Beck)
Morgan Freeman plays United States President Tom Beck who is secretly working with other world leaders to develop underground shelters after scientists determine that the Wolf-Biederman comet's collision with the planet would be an extinction-level event. In the more than 20 years since the film's release, Freeman has gone on to become one of the most prolific actors in Hollywood, appearing in a great number of successful franchises like Christopher Nolan's Dark Knight trilogy. The Academy Award-winning actor is next slated to appear in The Hitman's Wife's Bodyguard, the highly anticipated Coming 2 America, and The Comeback Trail, where he will star alongside Rober De Niro and Tommy Lee Jones.
Jon Favreau (Gus Partenza)
Long before he was kick-starting billion-dollar franchises and creating Star Wars properties, Jon Favreau had a small role in Deep Impact, where he played Gus Partenza, the medical officer of the Messiah spacecraft that attempts to destroy the comet before it can wipe out all life on Earth. Luckily, Favreau has had more success at life than his ill-fated character. The actor/writer/director/producer is probably one of the busiest names in Hollywood with The Mandalorian preparing for Season 2 on Disney+, The Chef Show on Netflix, and sequel to The Jungle Book in the works.
Robert Duvall (Spurgeon "Fish" Tanner)
Hollywood legend Robert Duvall plays Spurgeon "Fish" Tanner, a veteran pilot who takes lead over the Messiah spacecraft after the mission to destroy the comet becomes an epic failure. Similar to other roles the aging Duvall was taking during this stage of his career, Tanner brings calm to the chaotic scenes set in outer space, even when the crew has to embark upon a suicide mission. Since breaking out onto the scene in To Kill A Mockingbird, Duvall has continued to take on a variety of roles on the silver screen and television sets around the world. The Godfather star last appeared in Steve McQueen's riveting 2018 heist film Widows, but the 89-year-old is currently set to star in the upcoming American sports movie 12 Mighty Orphans.
Téa Leoni (Jenny Lerner)
It's hard to pinpoint exactly who's the main protagonist in this large ensemble cast, but it could easily be Téa Leoni's character Jenny Lerner, an MSNBC reporter who inadvertantly uncovers the existence of the comet, which forces the United States government to make an earlier than announced message. Leoni hasn't starred in a feature film since the 2011 comedy Tower Heist, but she had a starring role in the long-running CBS drama series Madame Secretary, which concluded its six-season run in 2019. The actress is reportedly attached to the animated feature Endangered, which is being produced by Bob Weinstein, according to Express.
Elijah Wood (Leo Biederman)
Before he went on a journey to destroy the Ring, Elijah Wood was featured in the Deep Impact as Leo Biederman, the young teenage astronomer who first discovers the comet headed towards the planet. Shortly after appearing in the disaster film, Elijah Wood earned the role of a lifetime as Frodo Baggins in The Lord Of The Rings. Since then, the actor has been able to take on some more unconventional roles, including his most recent effort, the comedy Come To Daddy, which was released in early 2020.
James Cromwell (Alan Rittenhouse)
James Cromwell plays Secretary of the Treasury Alan Rittenhouse whose own personal controversies leads to reveal of the Wolf-Biederman comet before the government is ready to disclose information to the public. Over the years, Cromwell has continued to lend his talents to a number of feature films, television series, and stage productions that have earned him a number of awards and more nominations for his performances. Cromwell's latest movie, Never Too Late, tells the story of four former prisoners of war who are all residents at the same retirement home.
Mike O'Malley (Mike Perry)
Before he would go on to star in hit television series like Yes, Dear and Glee, Mike O'Malley had a small role in Deep Impact, in which he portrayed Mike Perry, Leo Biederman's teacher. O'Malley would go on to have a great deal of success after Deep Impact (and his run as the host of Nickelodeon's Guts). He is currently slated to appear in the television adaptation of the 2013 dystopian future thriller Snowpiercer.
Blair Underwood (Mark Simon)
Blair Underwood, who would go on to find success both in movies and in television was featured in Deep Impact as Mark Simon, the navigator of the Messiah spaceship before it flies directly into the comet. After making his debut in 1985 hip-hop cult classic Krush Groove, Underwood would go on to make a name for himself in shows like L.A. Law and City Of Angels as well as feature film roles in movies such as Rules Of Engagement. Underwood's most recent appearance is in the Netflix original limited series Self Made starring Octavia Spencer s Madam C.J. Walker.
Richard Schiff (Don Biederman)
Emmy Award-winning actor Richard Schiff is probably best known for his portrayal of Toby Ziegler on the long-running political drama The West Wing, but before serving as the White House communications director in the Aaron Sorkin-created series, Schiff had a small role in Deep Impact, where he played Leo Biederman's father, Don. Schiff has gone on to find continued success on a number of television shows, including The Good Doctor, where he plays Dr. Aaron Glassman.
Leelee Sobieski (Sarah Hotchner)
Leelee Sobieski was still just a young teenager when she was cast as Sarah Hotchner, Leo Biederman's girlfriend in Deep Impact. Much of her time in the movie is spent trying to escape the destruction that is to come after the Biederman-Wolf comet is split into two smaller portions still on a collision course with the planet. Sobieski would have a relatively successful film and television career in the late 1990s and 2000s, but she hasn't acted professionally since 2012, when she gave up Hollywood to raise a family.
Dougray Scott (Eric Vennekor)
Dougray Scott, mostly known as the actor who missed out on starring as Wolverine in X-Men after production of Mission: Impossible 2 took longer than expected, had a minor role in Deep Impact, in which he played Eric Vennekor, a coworker of Jenny Lerner. While Scott missed out on starring in a Marvel Comics movie, he was able to enter the D.C. Comics world with his portrayal of leader of the Crows, Jacob Kane, in the CW series Batwoman, which was recently picked up for a second season. After all these years, it's hard to not feel bad for the guy who was so close to becoming an international superstar before Hugh Jackman was cast in his place.
Kurtwood Smith (Otis "Mitch" Hefter)
And then there is Kurtwood Smith, who played NASA worker Otis "Mitch" Hefter in the 1998 planetary disaster movie. Like pretty much everyone else not named Robert Duvall, Morgan Freeman, Elijah Wood, or Téa Leoni, Smith was relegated to small role in Deep Impact. Later that year, the former villain from Robocop would get the role of a lifetime as Red Forman on That '70s Show, which ran until 2006. Smith is currently featured on the NBC comedy Perfect Harmony, but there's no word as to whether the show will be picked up for a second season.
Well, those are just 12 members of the insanely stacked cast of the 1998 disaster film Deep Impact. And before we go, here's a little piece of trivia for all the Veronica Mars fans out there… Jason Dohring, who played Logan in all three of the original seasons, the movie, and the fourth season that premiered on Hulu in 2019, has a small cameo as one of Leo Biederman's classmates in Deep Impact. I'll save you some time and leave a link to the hilarious clip here.
Your Daily Blend of Entertainment News
Philip grew up in Louisiana (not New Orleans) before moving to St. Louis after graduating from Louisiana State University-Shreveport. When he's not writing about movies or television, Philip can be found being chased by his three kids, telling his dogs to stop yelling at the mailman, or yelling about professional wrestling to his wife. If the stars properly align, he will talk about For Love Of The Game being the best baseball movie of all time.
Your Daily Blend of Entertainment News
Thank you for signing up to CinemaBlend. You will receive a verification email shortly.
There was a problem. Please refresh the page and try again.