How Eternals' Kumail Nanjiani Feels About Marvel's Huge Movie Release Date Changes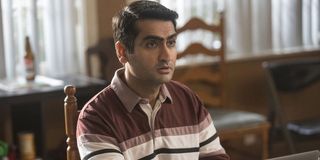 To the surprise of basically no one, the MCU franchise has had to make some huge changes due to COVID-19. Among the latest films to be given a new release date is The Eternals, one of the more highly anticipated movies of MCU's Phase 4. One of the film's stars, Kumail Nanjiani, has offered his perspective on the matter -- and some advice to fans who are waiting for the movie to arrive.
We've reached a point in which the coronavirus pandemic affecting movie releases that were scheduled for the spring and summer. As studios shuffle around their schedules to make room for the movies they've had to delay, films that were slated for this fall and winter are now getting moved as well. Marvel's The Eternals is one of the first films to feel that impact. While it was originally scheduled for November 6 of this year, it's now due to be released on February 12th, 2021.
The buzz for The Eternals has slowly been building, thanks to an exciting cast that features Angelina Jolie, Kit Harrington, Salma Hayek, and Gemma Chan. Last December, Kumail Nanjiani went viral after he revealed the shocking transformation he's undergone as he beefed up to take on the role of Kingo.
There's no doubt the entire cast and crew are disappointed that we'll all have to wait longer to see The Eternals. However, when Kumail Nanjiani went to Twitter and shared the news that it's been pushed back, he still managed to strike an optimistic tone with his announcement:
The Eternals is one of several MCU films that will be affected by the changes in Disney's schedule. After the company made the decision to push Black Widow's release date back, the entire slate had to be shifted. Shang-Chi and the Legend of the Ten Rings has been moved to May 2021, Doctor Strange 2 won't hit theaters until November of that year, and it seems like a foregone conclusion that we'll continue to see schedules change for the foreseeable future.
We're glad he put things in perspective this way -- movies do play a big role in the fabric of our lives, but health and safety have to come first. While his plea for fans to stay safe in the meantime is a great way to show he cares, it truly is something fans will have to take seriously if they want to be able to see The Eternals in February.
At the moment, it's unclear when we'll be able to relax social distancing measures and, if we let our guard down too soon, it could mean an even longer wait -- and even more disruption to Hollywood's release schedule.
MCU films are among many of others that are getting pushed back up to a year -- Mulan, No Time To Die, F9, In The Heights and many others have already been announced, and there are surely more to come.
Your Daily Blend of Entertainment News