Thor: Love And Thunder Taika Waititi Reveals Movie Will Delve Into Korg's Origins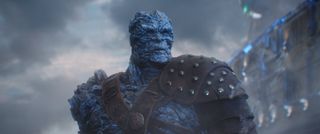 While Thor: Love and Thunder is miles away from being released on November 21, 2021, and there's very little we actually know about the movie, it doesn't stop my ears from perking up when new nuggets of information are thrown out into the universe. In this case, it's been revealed we should learn more about Korg and the Kronans in the new film.
Acclaimed director Taika Waititi of Thor: Raganarok and Jo Jo Rabbit, recently spoke to a fan about where he and the crew are going to take Thor: Love and Thunder. Here's what he had to say to Comicbook.com:
It's pretty easy to see why Taika Waititi would take the movie in this direction. After Korg's first appearance in Thor: Ragnarok and Avengers: Endgame, he's become a fan favorite for his chill, humorous demeanor in that branch of the MCU.
Taika Waititi has also confirmed he'll be reprising his role as Korg in Thor: Love and Thunder, allowing fans to breathe a sigh of relief. It's hard to imagine anyone else taking on the role, even if Taika Waititi isn't physically recognizable as Korg.
While it's not uncommon for directors to act in their own films (sometimes to mixed results), Taika Waititi playing Korg put a bit of pressure on the production of Thor: Ragnarok. Visual Effects Supervisor Jake Morrison has also said once the director learned he could throw in new punchlines into the edit suite, Morrison's job got much harder.
Initially, since Korg is made of rock, the creative team logically hoped they could get Dwayne "The Rock" Johnson to play him. However, since Johnson costs a fortune and might have stolen a little thunder from Chris Hemsworth, they opted for the next best choice: Taika Waititi. It's hard to imagine anyone else playing the role, though, especially with Waititi's unique sense of humor really shining through the character.
While it sounds like we'll learn a bunch about Korg, his culture, and his people in the new movie, It's doubtful we'll learn why they only have three fingers, as Taika Waititi learned about on the production of Avengers: Endgame. And that's probably OK.
Thor: Love and Thunder will likely start production in August 2020, if things move forward on time. Right now, while plot details are slim, we do know that Jane Foster, played by Natalie Portman, will return. This bit of information was confirmed at the Comic-Con 2019 panel with Marvel Studios in Hall H.
I'm all for more Korg and going deeper into the Kronan culture and backstory. The one thing that made Thor: Ragnarok interesting is how many worlds it visited, expanding the universe even more. I just hope we don't get too much of a good thing. Now if only we could get more Fat Thor...
Your Daily Blend of Entertainment News
Thank you for signing up to CinemaBlend. You will receive a verification email shortly.
There was a problem. Please refresh the page and try again.