Bet You Can Guess PETA's Suggestion For Trimming Down Fat Thor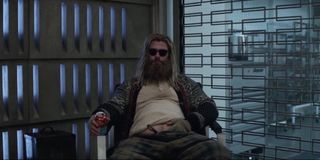 Following his failure to prevent Thanos from eliminating half of all life in the universe, Thor fell into a deep depression, resulting in him gaining a lot of weight from overeating and excess alcohol consumption in the five years after The Decimation. Fortunately, the events of Avengers: Endgame saw Earth's Mightiest Heroes undoing Thanos' genocide, leaving the God of Thunder free to finally move to the next chapter of her life.
We'll be reuniting with Chris Hemsworth's character in Thor: Love and Thunder, but when recently asked if Thor would still be fat in that movie, director and co-writer Taika Waititi responded that they "haven't figured that out." Should Waititi and his team decide to trim the character back down, PETA (People for the Ethical Treatment of Animals) has suggested this be done by, you guessed it, him going on a vegan diet.
PETA sent a letter to Taika Waititi noting how, according to Chris Hemsworth's personal trainer, the actor adopted the vegan lifestyle during the filming of the first Thor movie and The Avengers. As PETA sees it, not only would such a diet work wonders with getting Thor back to his previous physique, it would also be a "natural extension of his compassion for life on Earth."
The animal rights organization also provided some statistics on how Thor's turn to the vegan side would provide further benefits, with his new free-from-animal-products diet saving "more than 1,000 gallons of water, 20 pounds of carbon dioxide emissions, and 30 square feet of forest each day, as well as the lives of nearly 200 animals a year." And needless to say that if a superhero as popular as Thor were to go vegan, that could inspire many moviegoers to follow suit.
Considering that Thor lived for over a millennia in Asgard, where all sorts of meats were served in the dining halls, I suspect it'd be difficult for him to give up meat entirely. Still, even if he's not willing to go 100% vegan, he could at least consider cutting down on his consumption of meats, as well as things like milk and honey. Of course, then there's the matter of if Thor's okay with not wearing leather again.
In any case, whether or not Taika Waititi actually takes this vegan pitch seriously remains to be seen. No doubt there are plenty of other story beats that still need to be ironed out in the script before coming to a decision on Thor's weight in Thor: Love and Thunder. Besides, given how the Thor corner of the Marvel Cinematic Universe is steeped in magic, if the God of Thunder doesn't end up getting rid of that weight from dieting and/or exercising, a special spell could presumably get the job done.
So far few specific plot details regarding Thor: Love and Thunder have been revealed to the public. The biggest thing we can expect so far is Natalie Portman reprising Jane Foster, who, like her comic book counterpart, will become The Mighty Thor. Take Waititi also recently revealed that Love and Thunder will delve into the origins of his character Korg, and Vin Diesel mentioned that the Guardians of the Galaxy, who Thor left Earth with at the end of Avengers: Endgame, will factor into the movie. Oh, and let's not forget that Christian Bale is playing the villain.
Originally set to come out in November of next year, Thor: Love and Thunder will now storm into theaters on February 18, 2022. Check out our Marvel movies guide to learn what else the MCU has coming to the big screen.
Your Daily Blend of Entertainment News
Connoisseur of Marvel, DC, Star Wars, John Wick, MonsterVerse and Doctor Who lore. He's aware he looks like Harry Potter and Clark Kent.
Your Daily Blend of Entertainment News
Thank you for signing up to CinemaBlend. You will receive a verification email shortly.
There was a problem. Please refresh the page and try again.