Shang-Chi Director Shares First Cast Photo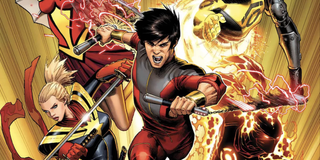 Fans who were eager to see Marvel's Shang-Chi and The Legend of the Ten Rings are undoubtedly bummed that they'll have to wait longer than expected. Like so many other films, its release has been pushed back due to the coronavirus pandemic. But while the movie is still several months away, its director has, at the very least, offered up the very first cast photo -- albeit one that makes us all feel a bit wistful.
Shang-Chi and The Legend of the Ten Rings was actually one of the first Hollywood films to shut down production in the wake of the pandemic. In mid-March, Disney announced that the film's director, Destin Daniel Cretton, was self-isolating on the advice of his doctor after coming into contact with others who had been exposed to coronavirus. Though he ultimately tested negative, he urged fans to be safe and follow experts' guidelines about preventing the virus' spread.
It seems like Destin Daniel Cretton is longing for the day when that's possible, though. Recently, he shared a photo of himself hanging out with several of Shang-Chi's stars, including Simu Liu, Awkwafina, and Tony Leung. In the accompanying caption, he strikes a somber tone, revealing that the photo was taken literally right before the pandemic brought an end to all our casual gatherings. Take a look at the photo that had him in such a nostalgic mood:
The photo is clearly special to Shang-Chi's director -- but it's also a cool gift to fans, as it's the first we've seen of the film's cast members together. Though it's not clear exactly when the photo was taken, it's safe to assume it's right around the time production shut down, which definitely makes it bittersweet.
The film was being shot in Sydney, Australia, and filming had only begun a few weeks before the crisis hit. As of now, it's unclear when Shang-Chi will be able to resume production, as it's really going to depend on when studios determine it's safe for casts and crews all over the world to go back to work. We can only hope that will be sooner rather than later.
There's also the question of when Shang-Chi will hit theaters once it's finally completed. Right now, Marvel has shifted seven movies in its release schedule to accommodate having to move Black Widow's release. Shang-Chi got moved from February 12, 2021 to May 7, 2021.
However, if production continues to be delayed for an extended period of time, that may not be a feasible release date after all. Having so much up in the air has to be frustrating for the film's cast and crew, though they seem to be trying to make the best of the situation until they can be reunited.
Your Daily Blend of Entertainment News