Man Named Tupac Shakur Applied For Unemployment, It Didn't Go Well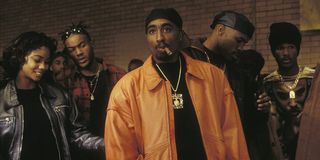 It's been nearly 25 years since Tupac Shakur was murdered, and not only is the rapper's overall body of work still fondly remembered, but every now and then, it's alleged or theorized that he's actually still alive. Well, there is a Tupac Shakur that's currently walking about, but he's not the Tupac Shakur that the general public thinks of, resulting in him recently encountering some problems when applying for unemployment.
This Tupac Shaker is a 46-year-old cook who worked at the Alfalfa's and Lynagh's restaurant in Lexington, Kentucky. The restaurant is one of countless business that's had to close down recently due to current events, hence why Shakur, who goes by his middle name, Malik, applied for unemployment insurance on March 13. Four days later, he received his monetary determination letter, but he didn't received any money right afterwards.
This is because it was initially assumed that the Tupac Shakur at the center of this story was a fraud. During a press conference on Monday night, Kentucky governor Andy Beshear called out the "bad apples" who've been filing for unemployment in the state using fake names. He specifically mentioned Tupac Shakur, believing that someone thought they were "being funny" pretending to be the late rapper, and how it resulted in many other unemployment claims needing to be verified.
Unemployment applications being filed under fake names may indeed be a problem in Kentucky, but in this case, Governor Andy Beshear picked the wrong person to use as an example. It's also worth mentioning that this Tupac Shakur legally changed his name in 1998, two years after the celebrity Tupac Shakur was gunned down. However, he didn't do it because he was a fan of the rapper, but because he had become a practicing Muslim in the early '90s after his religious father passed away, choosing Shakur because it means "thankful to God" in Arabic.
Fortunately for Tupac Shakur the cook, the Kentucky government has since gotten wind that he's the real deal, and state officials are working to fix his unemployment situation. As Sebastian Kitchen, a spokesperson for Governor Andy Beshear, told The Courier-Journal:
Governor Andy Beshear also thanked Tupac Shakur for being "so kind" during the conversation during a press conference on Tuesday, calling him "gracious." So there you have it; this is a good reminder that there will be instances where an everyday citizen shares the same name as a celebrity, and as such, complications can arise.
As for the late rapper Tupac Shakur, who also acted in movies like Juice and Above the Rim, there are still claims that he didn't actually die. In recent years, some have claimed to have seen him in Cuba and South Africa, and an in-development documentary called 2Pac: The Great Escape from UMC is exploring the possibility that Shakur's death was faked and that he's been hiding out in New Mexico on Navajo land.
Whether or not you agree with these theories, there's no question that the rapper/actor's legacy lives on, and in the years following his death, he's been played by various actors, with Demetrius Stripp Jr. taking on the role in the 2017 movie All Eyez on Me. If you are interested in this New Mexico angle, 2Pac: The Great Escape from UMC's director Rick Boss says it should come out in early 2021.
Your Daily Blend of Entertainment News
Connoisseur of Marvel, DC, Star Wars, John Wick, MonsterVerse and Doctor Who lore. He's aware he looks like Harry Potter and Clark Kent.