Tom Hanks And Rita Wilson Are Making A Serious Offer To Help Develop COVID-19 Vaccine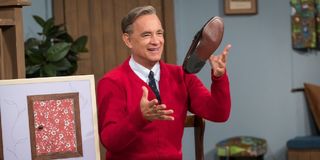 Tom Hanks and Rita Wilson have been on something of a COVID-19 roller coaster ride over the past few months. When it was first announced that they had the virus, they took the world with them but fortunately, they've since recovered and are safely back at home.
They've been taking their experience in stride, while also helping shine a light on the effects of the disease. While Hanks, Wilson and other actors (like Idris Elba) contracted the virus and recovered, other artists have not been as fortunate. Now, Tom Hanks has declared that he and Rita Wilson want to do more to help, specifically when it comes to producing a vaccine for the coronavirus:
How great would it be if Tom Hanks and Rita Wilson were able to help the work toward a COVID-19 vaccine? Aside offering his plasma during his NPR interview, Tom Hanks joked that he'd like to call the new vaccine a "Hank-ccine". I, personally, can't think of a better name to call it.
Tom Hanks has been trying to stay on the lighter side of things since recovering from the virus. He recently guest starred on one of Saturday Night Live's "At Home" episodes, during which he gave a funny opening monologue about his experience with COVID-19.
Tom Hanks and Rita Wilson originally contracted COVID-19 while the former was working on Baz Luhrmann's Elvis Presley biopic in Australia. With this, they were immediately put into quarantine. Baz Luhrmann recently recalled the moment he learned Tom Hanks and Rita Wilson had the virus. Here's what he had to say about it:
Rita Wilson, for her part, experienced worse symptoms than Tom Hanks. She said she was very tired, achy, and had the worst chills she's ever had before. Only later did she realize she lost her sense of taste and smell as well. Tom Hanks said he mostly felt wiped with bad body aches.
Through their struggles with the virus, Hanks and Wilson have had support from a number of fellow celebrities such as Idris Elba and Hanks' close friend Kevin Bacon. This kindness has only continued even after they were diagnosed, as Hanks' Toy Story co-star Tim Allen made a perfect dad joke about his recovery.
I'm glad Tom Hanks and Rita Wilson are recovered, but also trying to do what they can to help the fight against the virus, COVID-19. Keep it here at CinemaBlend for all of the latest news from the world of movies and TV.
Your Daily Blend of Entertainment News
Your Daily Blend of Entertainment News
Thank you for signing up to CinemaBlend. You will receive a verification email shortly.
There was a problem. Please refresh the page and try again.