Flight Of The Conchords Getting A Movie? Jermaine Clement Just Said This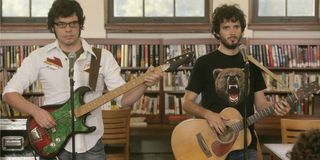 You better get your business socks ready, because the Hiphopopotamus and the Ryhmenoceros are getting back together for a cinematic adventure. That's right, Jermaine Clement and Bret McKenzie are currently writing a Flight Of The Conchords movie. That noise you heard is the sound of fans of New Zealand's fourth most popular folk duo rejoicing in unison.
Talking to Indiewire, Jermaine Clement, who played the character Jermaine during Flight Of The Conchords' two season run on HBO, confirmed that work is currently underway on a screenplay for the Flight Of The Conchords movie. He is scribing alongside his old pal, the Oscar-winnign Bret McKenzie. However, during his discussion, Clement made sure to try and downplay the status of the screenplay, insisting that work has only just begun on it and they don't even know if it will see the light of the day. He said:
But while Jermaine Clement is being understandably modest and bashful about the future for the screenplay, I think it's safe to say that there are numerous studios across the world that will be chomping at the bit to read what they've created because of the popularity of the show.
When asked if he could provide any light on what a Flight Of The Conchords movie might entail, Jermaine Clement admitted that they have a number of different ideas for films. However, proving just how early they are into the scriptwriting process, he also explained that they're not at the stage where they are being concrete and rigid with what the film is going to be.
For the uninitiated, Flight Of The Conchords revolved around the titular two-man band from New Zealand who moved to New York City to find fame and success. They're managed by their incompetent manager Murray Hewitt (Rhys Darby), and have a lone fan in the shape of Mel (Kristen Schaal). Along the way they also showcase their vast array of hilarious and catchy tunes. Here's an acoustic performance of my personal favorite from their oeuvre:
Jermaine Clement made this revelation while out promoting his most dramatic turn to date in People Places Things, which sees him star opposite Regina Hall and Jessica Williams as a newly single dad trying to raise his twin daughters at the same time as he finds a new love, tries to excel in his teaching role, and attempts to let his ex-wife go. It's sweet, funny, and touching, and certainly worth your time. Especially if its box office success could help a Flight Of The Conchords film be greenlit.
Your Daily Blend of Entertainment News