Daniel Craig's First Day Filming As Bond For Casino Royale Sounds Wild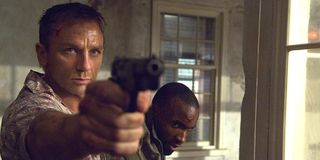 For most people, the first day on the job is a slow process of human resources paperwork, meeting new people, getting acclimated to the environment, and maybe a little training if things get really wild. Not so much for Daniel Craig on his first day playing Bond in Casino Royale.
Unfortunately for Daniel Craig, the first scene to be shot wasn't him dressed in a tuxedo, drinking martinis (shaken not stirred) at a poker table. No, Daniel Craig was informed he'd be shooting one of the most intense action sequences in the movie where James Bond storms an embassy. Here's what Daniel Craig said on social media:
Coming on set and being told you had to beat up your coworkers your first day would certainly break the ice, especially when you didn't have any training. Fortunately, they got some great takes; Daniel Craig comes across as a natural. It's an incredible sequence.
Of course, Casino Royale is a huge success story, revitalizing a franchise that went downhill fast. It went from James Bond at his corniest to James Bond at his most grounded and visceral, a pivot many fans embraced. But Daniel Craig wouldn't have known at the time, reminiscing about how he initially thought fans hated his bond.
Casino Royale was also a baton passing moment for Pierce Brosnan, who played James Bond before Daniel Craig in movies like Goldeneye and Die Another Day. With Daniel Craig finalizing his run as James Bond, Pierce Brosnan recently gave some sage advice for Daniel Craig, during special commentary of Goldeneye, saying, "Enjoy your life. You did a magnificent job, Daniel."
Now, Daniel Craig is the veteran James Bond, having four Bond movies under his belt with one more, No Time to Die, in production and on the way. After Spectre, Daniel Craig was at a turning point, trying to decide if he wanted to continue the role. He eventually signed on again, saying he didn't want to look back and say, "I wish I had done one more."
Cary Fukunaga will be helming No Time to Die after Sam Mendes stepped away after Spectre. This will be his first time directing a James Bond movie and while developing the story, he admitted he had a crazy idea where the movie would all take place inside James Bond's mind while he's in the villain's lair of the last movie. Of course, he never followed through with it.
No Time to Die finds James Bond in retirement on a beach in Jamaica. This becomes short lived when his old friend from the CIA, Felix Leiter, asks him to help rescue a kidnapped scientist, a mission that lead James Bond down a dangerous rabbit trail. It sounds like another incredible ride, but we still have some questions about it.
Your Daily Blend of Entertainment News