Epic DCEU Fan Poster Unites All The Current Heroes Including Robert Pattinson's Batman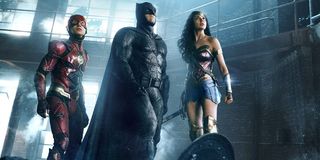 It's probably safe to say the DC Extended Universe didn't pan out as Warner Bros. and DC Films initially wanted. With Justice League's disappointing critical and box office debut but impressive openings for movies like Wonder Woman and Aquaman and standalone films like Joker, it's questionable if the DCEU as we know it will continue at all.
Still, that hasn't stopped DC fans from dreaming of a new DCEU. Recently, a fan took to social media to show off some new original art of popular DC superheroes and newcomers, like Robert Pattinson's Batman, crossing over into one movie. Check it out:
It's a pretty cool piece of fan art featuring key players, like Wonder Woman, Aquaman, Shazam, and the Flash. Unfortunately, there's not much of a chance that it will actually happen. In the past, Warner Bros. and DC have confirmed that they aren't currently focusing on crossovers when it comes to their live-action features. That doesn't mean they won't do it eventually, but they're mostly switching gears and focusing on standalone stories, instead. And based on the success they've had with them, it's a good move.
While the DCEU is in an uncertain place, many of the individual DC movies are standing strong. Wonder Woman broke box office records and its sequel, Wonder Woman 1984 is still set to be released this summer. The Aquaman and Shazam! sequels are also in the works, and Ezra Miller's Flash is getting his own solo film in the form of a loose Flashpoint adaptation.
With Ben Affleck leaving the cape and cowl behind, a new Batman movie was put into development, with director Matt Reeves taking the helm. He definitely appears to be putting his own spin on the character, with Pattinson's casting as the Dark Knight being the first indication.
Many quickly questioned if Reeves' The Batman would be part of the DCEU, but he quickly shot down the idea, stating that the studio told him the project would be a standalone movie and not part of the shared universe.
So what is The Batman going to be about if it doesn't tie into the DCEU? Well, Matt Reeves has said he wants to bring the character back to his noir, detective roots. The movie will lean heavily on Batman solving crimes rather than smashing through glass windows and beating up bad guys. It's also been teased that the story could be heavily influenced by the fan-favorite story The Long Halloween.
Warner Bros. and DC's decision to apparently walk away from the Zack Snyder-led DC Extended has many fans disappointed, though they're still holding out hope for some kind of closure to his story. Still, this awesome DC fan art will allow them to dream about what could have been.
Your Daily Blend of Entertainment News
Your Daily Blend of Entertainment News
Thank you for signing up to CinemaBlend. You will receive a verification email shortly.
There was a problem. Please refresh the page and try again.