Suicide Squad's David Ayer Claps Back At Fans Saying Harley Quinn's Costume Was Too Sexual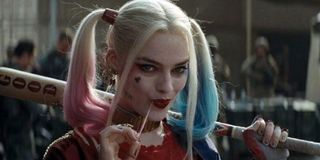 It's been four years since Suicide Squad hit theaters. Harley Quinn's even headlined her own movie since then, yet people are still interested in taking shots at David Ayers' 2016 movie and in particular are still commenting about how Harley Quinn's overall look and outfit in the movie were overly sexualized. Now, Ayer seems to be hitting his breaking point.
Speaking to a fan who was concerned about Harley's Quinn's look in his film, the director got a little annoyed about the whole thing, I'd assume given he's been asked about Margot Robbie's "Daddy's Little Monster" costume over and over since the movie's release. He noted on Twitter:
Over the weekend, David Ayer was a little more earnest with a second fan. That fan had declared he gave audiences "gratuitous ass and tit shots" in Suicide Squad and believed he will likely do the same in his upcoming Netflix film by telling that person about Margot Robbie's character's stylization in the movie.
This isn't the first time David Ayer has addressed Harley Quinn and how she ultimately ended up coming off in Suicide Squad. He's previously spoken out about how her story arc was greatly changed from the intended version in the movie. In fact, his film was supposed to cover a lot more ground than it ultimately did in regard to Jared Leto's Joker and Margot Robbie's Harley Quinn, including lingering on the destructive nature of their relationship.
He's also said he did the best he could to render Harley 'comics accurate,' telling critical fans in an earlier post:
The transition between David Ayer's Joker-reliant Harley Quinn and the emancipated version in Cathy Yan's film is notable in the fashion choices for the character, which is one of the reasons Margot Robbie is so great onscreen but also may be one of the reasons these comments persist. Margot Robbie herself has previously said she didn't love the "clingy nature" of the Suicide Squad costume, so it's not like she's out and about defending what she was tasked with wearing and, in fact, the Suicide Squad look is different than the traditional comics look for the character.
Having said this, the year Suicide Squad came out, Harley Quinn's "Daddy's Little Monster" cosplay was everywhere at Comic-Con. Obviously, that's anecdotal evidence, but the fact is Harley Quinn was the most popular costume at Halloween that year, so a solid percentage of ladies were out and about supporting the look.
Some fans have noted the animated version of this character was even more sexualized than the Suicide Squad version and have defended what the big screen narrative did through the first two movies featuring Harley Quinn. Others think that shaming a woman for being sexual -- in this case a movie character or I suppose the people who dressed up like her -- shouldn't be the end goal.
There are lots of different ways to view Harley Quinn. Is she a tragic antiheroine? Is she a badass? Is she someone to be lusted over? Is she someone to be afraid of? Is she too weird to live and too rare to die? Is she eventually going to let those around her down? Will that lead to her ultimate demise? No matter what she's wearing or how she changed across two movies I think the fact there are so many facets and so many competing narratives on Harley Quinn reveals she's a fascinating and complicated character. Perhaps that's why she's so enduring no matter what she's wearing. Yet that also opens up the door for a lot of different types of people to have different opinions on the character and that's OK.
In the meantime, David Ayer has gone on to work on multiple movies since Suicide Squad came out including Netflix's Bright and the upcoming The Tax Collector. Maybe it's time to just cut him some slack and egg him on about something else on the internet.
Amazing Race & Top Chef superfan with a pinch of Disney fairy dust thrown in. If you've created a rom-com I've probably watched it.
Your Daily Blend of Entertainment News
Thank you for signing up to CinemaBlend. You will receive a verification email shortly.
There was a problem. Please refresh the page and try again.