There's Finally An Update On Netflix's Bright 2 With Will Smith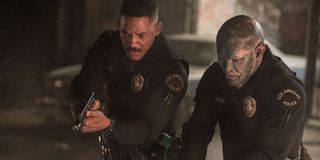 Bright, the Will Smith and Joel Edgerton-headlined urban fantasy, first released in 2017 on Netflix to mixed reviews. All the same, a rumored Bright 2 has been in the works for several years now but seemed to have fallen into production purgatory.
Now, according to Deadline, Bright 2 may still have legs. Netflix is reportedly in talks with Louis Leterrier to direct the fantasy sequel with Will Smith and Joel Edgerton returning as the odd, crime-fighting couple.
As you may recall, Bright was directed by David Ayer and written by Max Landis but, this time, Bright 2 has been written by David Ayer and Evan Spiliotopoulos, with a rewrite from T.S. Nowlin. David Ayer will stay on as a producer, but is currently busy with other projects like Warner Bros.' Dirty Dozen, which is why Louis Leterrier is in talks to direct.
Louis Letterier is best known for working on The Incredible Hulk, starring Edward Norton, as well as the magical, heist film Now You See Me. However, he more recently put his talents to use on Netflix's The Dark Crystal: Age of Resistance
Despite the critical reviews being less than stellar, Bright still found favor with Netflix's audience, bringing in strong viewership for the streamer, which is why Bright 2 is still in the pipeline. However, last year it was reported that the sequel was being put on hold indefinitely due to Will Smith's schedule.
The only other update on the project came earlier this year from David Ayer, who said the project was "still in development" and is a "great opportunity to explore the world more." That was hopeful news indicating that something would be coming, but didn't give us much to go on. Now of course, it seems things are headed in a positive direction.
Set in an alternate reality where elves, orcs, and humans co-exist in the modern world, Bright follows two police officers, Daryl Ward (Will Smith) and Nick Jakoby (Joel Edgerton) as they try to overcome their differences as a human and an orc while stumbling upon news that evil creatures are trying to resurrect an ancient dark lord. Bright is a decent buddy cop movie, but its social commentary and subtext isn't always the most subtle, which may have taken some viewers out of the film.
As previously alluded to, Bright created something of an interesting divide between audiences and critics, with audiences loving it and critics mostly panning it. But whether you loved it or hated it, everyone can find joy in Screen Junkie's Honest Trailers take, which hilariously showcased everything wrong with the movie.
Now that Bright 2 is taking more steps forward, we'll be sure to keep you updated as the project continues to progress. Until then, you can revisit or check out Bright for the first time on Netflix now.
Your Daily Blend of Entertainment News
Your Daily Blend of Entertainment News
Thank you for signing up to CinemaBlend. You will receive a verification email shortly.
There was a problem. Please refresh the page and try again.