How Shazam! 2's Zachary Levi Thinks The Industry Will Look Once Quarantine Is Over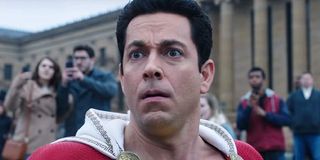 Zachary Levi is excited and ready to suit up again for Shazam! 2. Few could blame him after the incredible success of the first movie, but, like most actors during this strange health crisis, he has to stay at home and wait things out.
Staying isolated has been a trying time for many celebrities, with many going online to share how they're feeling about the whole thing. Zachary Levi seems to be taking a modest and thoughtful approach to it. He recently spoke to ET about Shazam! 2 and quarantine, and shared some of his thoughts on how things might look on a film set moving forward. Here's what he said:
The attempt to flatten the curve with stay-at-home orders during the pandemic has caused many movie productions, like Avatar 2, Mission: Impossible 7 and even Shazam! 2 to come to a grinding halt. Safety protocols would need to be put in place before a cast and crew can safely work together in close proximity. Zachary Levi added:
It was reported in late April that Shazam! 2 was moving its release date from April 1, 2022 to November 4, 2022. Despite the setback and delays, Shazam! director David F. Sandberg said he's still working on the script, since that's something that can be done.
Details about Shazam! 2 are relatively slim, with no word on the plot. Although Dwayne Johnson's standalone DC movie Black Adam was going to film this summer with a release date of 2021, it doesn't look like he'll be clashing against the World's Mightiest Mortal in Shazam! 2. Judging by the Shazam! mid-credits scene, it's likelier that a Doctor Sivana and Mister Mind partnership is more in the cards. As always, we'll keep you updated with the latest news.
Your Daily Blend of Entertainment News
Thank you for signing up to CinemaBlend. You will receive a verification email shortly.
There was a problem. Please refresh the page and try again.