7 Great Dakota Johnson Performances That Aren't Fifty Shades Of Grey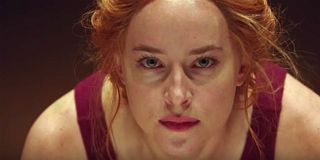 This weekend, digitally, the music dramedy The High Note premiered on VOD. Though it didn't get its intended theatrical rollout, the music industry tale got some strong notices who praised the movie, particularly for its lead performances from Tracee Ellis Ross and Dakota Johnson. While they're both standout performers, this studio comedy does showcase another turning point for Johnson. The actress continues to expand herself by joining a variety of unique movies, both big and small, many of which don't mirror one another.
While she came to fame with the Fifty Shades of Grey movies, often standing out even when the movies weren't always great, Dakota Johnson took her newfound notoriety and propelled several challenging projects, notably with 2018's divisive Suspiria. Not every film won over critics and audiences equally, however, Johnson continues to prove her growing acting talents. Here are seven movies that prove she's more than just Anastasia Steele.
Susie Bannion - Suspiria (2018)
Reuniting with director Luca Guadagnino (A Bigger Splash), Dakota Johnson is at the forefront of Suspiria, a radical remake of the Italian gallo classic. Though it doesn't capture the same Technicolor bedazzlement of Dario Argento's spellbinding 1977 original, 2018's impressive, unflinching remake doesn't simply retell the familiar fable. Instead, using a notably different, darker approach, Guadagnino takes this tale of witches and dancers and uses it as the backdrop for a Cold War allegory that's notably more controversial and unconventional. The results didn't sway everyone, but it took more risks than your typical horror redo; I'd argue it stands tall compared to its remake competition (though it's hard to beat the original!).
Nevertheless, one of the most stunning, captivating aspects of Guadagnino's film was Johnson's lead turn. Taking the role of Susie, she added dramatic layers and dynamic new twists to this thoughtful, distinctive retelling.
Eleanor - The Peanut Butter Falcon (2019)
The Peanut Butter Falcon is a warm, lovely buttercup of a movie, anchored by outstanding performances from Shia LaBeouf and newcomer Zack Gottsagen. A charming Mark Twain-esque journey through the South centered around a young man with Down syndrome (Gottsagen) who flees a nursing home and later befriends a curmudgeon fisherman (LaBeouf) on the run from unsavory individuals, the immensely charming buddy dramedy is a centerpiece for its two male leads. And Dakota Johnson's caring social worker, Eleanor, provides a sweet, immensely likable addition, particularly in the second half.
As our more orderly, mindful third lead looking for her adrift patient, Johnson could've turned into a third-wheel in this fun-loving trio, but her heartfelt, personable performance is lively-yet-honest, showcasing a nuanced maturity that isn't found in our boyish leads — particularly as she's caught up in their quest filled with delusions of grandeur.
Emily Summerspring - Bad Times At The El Royale (2018)
Though some critics were quick to write-off Bad Times at the El Royale as a cheap knock-off of Quentin Tarantino's familiar format, it's not exactly fair to dismiss writer/director Drew Goddard's pulpy, entertaining sophomore feature as being wholly derivative of its clear influences. Indeed, this long-but-ultimately enjoyable period piece carries many of its own surprises, notably from its top-notch ensemble, including (but not limited to) Jeff Bridges, Jon Hamm, Cynthia Erivo, Chris Hemsworth, and Dakota Johnson as Emily Summerspring, a hippie with darker intentions that unveil themselves as their notably bad night occurs in this cross-state hotel.
While Bad Times might be a little too quick to throw twist after twist after twist at its audience, Johnson's textured performance does sell what might've been a somewhat far-fetched storyline otherwise, really helping the film find its pop amid its stylistic flourishes.
Penelope Lannier - A Bigger Splash (2016)
Prior to their work together in 2018's Suspiria, Dakota Johnson teamed up with director Luca Guadagnino for a notably different movie (though not entirely) compared to their future collaboration. In A Bigger Splash, Johnson played Penelope Lannier, a mysterious personality with personal connections to our central characters, in this ensemble drama-thriller. While Ralph Fiennes and Tilda Swinton are given the splashiest roles in this sun-soaked film, Johnson's intriguing, investing character certainly adds a dash of uncertain connections into the mix.
Though the performance doesn't go as big and wild as our two leads, Johnson works well opposite Mattias Schoenaerts, who plays the ailing Paul De Smedt. Particularly as the events in A Bigger Splash get notably more, you know, splashy, Johnson's rich, elusive performance definitely helps to bring in the intrigue and the sensationalism.
Lindsey Cyr - Black Mass (2015)
In an starry ensemble that includes Johnny Depp, Benedict Cumberbatch, Kevin Bacon, Peter Sarsgaard, Adam Scott, Jesse Plemons, Joel Edgerton, and more, Dakota Johnson could've been lost in the shuffle of Scott Cooper's slick-moving 2015 gangster film, Black Mass. A biopic on Whitey Bulger, one of the most violent criminals in Boston history who became an FBI informant to take down a mafia family invading his space, the movie primarily belongs to Depp's startling performance, though Johnson's Lindsey Cyr, the wife of Bulger, does bring out the stirring emotions of the drama's second half.
While the first half is evocative of other, in some cases, better crime dramas from years prior, the second half propels this menacing, yet revealing, look into Bulger's later years through Johnson's quietly impacting performance. Even when adopting a shaky Boston accent, Johnson finds emotional honesty in her scenes.
Carrie - Wounds (2019)
Though the response to 2019's unsettling psychological/body horror film Wounds has been extremely divisive, both from critics and otherwise, I was ultimately invested in this bitter, discomforting mixer of paranoia and bubbling toxicity, resulting in an unsettling but also intriguing look at the dark impulses that brood — both internally and outwardly — whenever one is left to rot in their own turmoil and trauma. While the script never quite sticks the landing, leaning too much into David Cronenberg imitation thv an truly advancing the plot in curious or dynamic ways, the movie's atmospheric chills arrive mainly thanks to the strength of our lead performances from Armie Hammer and Dakota Johnson.
Johnson, in particular, is given a difficult task of showing the lingering damage that results from this virulent relationship. The result is a grueling but engrossing performance, one that Johnson sells through her unflinching, unnerving performance.
Amelia Ritter - The Social Network (2010)
Not counting an early role she did in Antonio Banderas' directorial debut, 1999's Crazy in Alabama, which was a starring vehicle for her mom, Melanie Griffith, Dakota Johnson made her formal acting debut several years later when the actress played Amelia Ritter, a brief-but-memorable part, in David Fincher's 2010 masterpiece, The Social Network.
Though it's only a minor role in the Oscar-winning movie, it's still a prominent role in a scene that's a bit of a reversal of a meet-cute between her and Justin Timberlake's Sean Parker which follows the morning after they slept together. They both connect and reconnect shortly before Parker discovers a website called "The Facebook." Given Aaron Sorkin's sparkly dialogue to play with, this is a fine way to make an introduction into the business. Johnson helps give Sorkin's dialogue even more life and wit in this memorable scene.
What are your some of your favorite Dakota Johnson performances? Let us know in the comment section!
Will is an entertainment writer based in Pittsburgh, PA. His writing can also be found in The Playlist, Cut Print Film, We Got This Covered, The Young Folks, Slate and other outlets. He also co-hosts the weekly film/TV podcast Cinemaholics with Jon Negroni and he likes to think he's a professional Garfield enthusiast.
Your Daily Blend of Entertainment News
Thank you for signing up to CinemaBlend. You will receive a verification email shortly.
There was a problem. Please refresh the page and try again.