Wonder Woman Vs. Captain Marvel? See The Badass Fan Art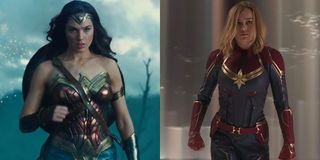 Wonder Woman and Captain Marvel are two of the most iconic characters of their respective comic book universes, as well as some of the most powerful. As such, there are a number of fans who would love to see the two heroes face off, especially on the big screen. The chances of that happening, however, are slim due to the characters belonging to two different studios. But a fan has now given us an idea of what the battle could look like.
Freelance artist Pablo Ruiz took to his Instagram account to share a rendering of Gal Gadot's Wonder Woman doing battle with Brie Larson's Captain Marvel. The image shows the two engaging in a powerful clash, with both appearing to be evenly matched. In a caption, Ruiz acknowledges that the fight will probably never happen but asks his followers who they think would win in such a fight. Check out the epic image for yourself down below:
This amazing rendering does manage to capture just how powerful both Diana Prince and Carol Danvers are and makes it harder to speculate who could come out on top.
Comic book fans know that Wonder Woman and Captain Marvel have two very different powersets. Carol Danvers is a human powered by cosmic energy and has enhanced strength, speed and stamina. She also has the ability to fly and project energy. This made her more than a force in her first Marvel Cinematic Universe solo film and even more so in Avengers: Endgame.
Diana Prince, who hails from Themyscira, also possesses significant endurance, strength and speed. However, as the 2017 film depicts, she also the daughter of Zeus, giving her godlike abilities. And in the DC Extended Universe, her powers have been on full display in every installment she's been featured in.
With this, choosing a victor between the two is tough. Either one of them could probably beat the other on any given day.
While fans have mostly had fun with this debate, some of it has become somewhat toxic, leading to heated arguments in some spaces. However, both Gal Gadot and Brie Larson have been supportive of each other and their characters. The pair even got together at the 2020 Oscars and recreated some fan art moments. By doing this, it would appear that they hoped to squash the arguments between the two warring factions of fans.
Although it's more than likely an impossibility, one can't help but imagine how cool it would be to see the two characters cross paths and come into conflict on the big screen. Just about any superhero fan would line up to see Prince and Danvers together. But on the bright side, fan art like this does (in some ways) help to fill the void of what could be.
Fans can see Gal Gadot's hero when Wonder Woman 1984 hits theaters on August 12, 2020, and Brie Larson's second solo outing as Captain Marvel is slated to arrive on July 8, 2022.
Covering superheroes, sci-fi, comedy, and almost anything else in film and TV. I eat more pizza than the Teenage Mutant Ninja Turtles.
Your Daily Blend of Entertainment News
Thank you for signing up to CinemaBlend. You will receive a verification email shortly.
There was a problem. Please refresh the page and try again.