Knives Out: 12 Fascinating Behind-The-Scenes Facts About The Movie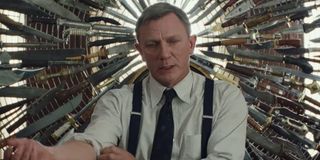 As many fans and those directly involved with the film have already addressed, Knives Out is littered with fun Easter Eggs and hidden gags to keep viewers on the lookout for clues on repeat viewings. But for those whodunnit obsessives who still yearn for more secrets and mysteries when they are not even watching the movie, there are more than a few behind-the-scenes facts about the 2019 to keep people entertained.
On the set of writer/director Rian Johnson's Academy Award-nominated comic thriller, starring Daniel Craig as a idiosyncratic private eye investigating the death of an eccentric family's patriarch (Christopher Plummer), things were just as comical and thrilling when the camera wasn't rolling. For instance, the crew had to go to great lengths with camera tricks to avoid appearing in the frame for one unique reason; one of the more memorable camera tricks in Knives Out actually happened by accident; and Apple had a strange involvement with the film that is apparently more common than you would believe. All of these things, and more, will be revealed in the following behind-the-scenes trivial bits. See the knives really come out with these 12 facts.
James Bond Nearly Prevented Daniel Craig From Starring In Knives Out
Daniel Craig was Rian Johnson's top choice to play Benoit Blanc pretty much from the start, and thankfully so as his Golden Globe-nominated performance as America's answer to Hercule Poirot is one of the most dazzling and memorable keys to the success of Knives Out. However, the British actor's commitment to No Time to Die almost cost him the role, until, as Rian Johnson told THR, production of the upcoming 25th James Bond film faced a delay, allowing Craig to sign on immediately.
Rian Johnson Avoided Whodunnits When Crafting Knives Out
While Knives Out was inescapably compared to the likes of Sherlock Holmes stories, the novels of Agatha Christie, or even the film adaptation of Clue, Rian Johnson did not look to any of those works or other classics to take notes from when developing his own whodunnit. The director told Deadline that instead of researching specific artistic examples, which could even prove "dangerous" to the creative process, he benefited more from "blurring [his] vision" and putting himself in a more general mindset of what sort of things about the genre inspired him in the first place.
Star Wars Critics Motivated Rian Johnson When Writing Knives Out
One piece of art that surprisingly did serve as inspiration for Knives Out was Rian Johnson's previous film, Star Wars: The Last Jedi, which is infamous for the polarized fan response it received, most publicly on Twitter. Yet, in another subversive move for the filmmaker, he told Deadline how he turned the backlash into comedy gold by representing the "current state of online culture" in Jaeden Martell's politically active social media influencer character, as well as the dysfunctional structure of the Thrombey clan. Plus, the casting of Frank Oz (the voice of Yoda) and Daniel Craig (a storm trooper in The Force Awakens) makes the whodunnit a crossover with Star Wars in a way.
Rian Johnson Ditched A Vacation To Meet With Daniel Craig About Knives Out
As previously mentioned, Daniel Craig starring in Knives Out was important to Rian Johnson. There is no greater evidence to this than the fact that the director actually cut a vacation with his podcaster wife Karina Longworth short to speak with the actor after agreeing to the role, as he revealed on The IMDb Show. While it may sound like an overwrought sacrifice to leave in the middle of a holiday like that, it clearly paid off as Johnson does see Craig's casting as a catalyst for achieving the rest of the star-studded cast.
Chris Evans Had Way Too Many Cookies Filming One Knives Out Sequence
One of Knives Out's biggest stars is Chris Evans as Ransom Drysdale, a complete 180 from good ol' Captain America, whom Rian Johnson chose introduced to the film eating Belgium cookies with milk as a representation of his bratty personality and because said treats "looked cool." Yet, as he revealed in a video for Vanity Fair, he would come regret that choice of dessert as Evans, having to scarf down many of them, ended that day of shooting feeling like his throat was "coated in butter."
Knives Out Crew Went Far To Stay Out Of Characters' Eyeglass Reflections
If you had not noticed before, there are a few characters in Knives Out who wear eyeglasses, which proved to be a challenge when filming their close-ups as they crew's presence could have easily been revealed in their lenses. To avoid this, they cleverly repurposed their lighting equipment as scenery that would more realistically appear in the reflection, as the film's cinematographer Steve Yedlin explained on Twitter. For example, the scene in which Benoit Blanc is interviewing Linda Drysdale (Jamie Lee Curtis) in the study was actually filmed on a sound stage and her light source was designed to look like a window.
Trailers For The Knives Out Cast Turned Out To Be A Wasted Purchase
Knives Out could easily be counted as a film that incites envy based merely on its setting, in this case the idyllic New England estate that doubles as Harlan Thrombey's coveted mansion. Apparently, the cast also greatly admired the house and spent much of their down time inside of it which, as producer Ram Bergman notes on a Blu-ray featurette rendered their on-set trailers useless. Despite the expense, he also noted that seeing the actors congregate with each other and the crew within the house created a positive on-set energy.
Marta Cabrera's Email Address From Knives Out Is Real
In Knives Out, the email address belonging to protagonist Marta Cabrera (Ana de Armas) becomes a plot point when she becomes victim to a few disturbing messages, but in real life, the address became a dumping ground for much fan appreciation. Yes, Marta's email address actually does exist and, as Rian Johnson revealed over Twitter, more than 200 viewers decided to share their warm reactions to the film with the fictional character.
Chris Evans' Insult Rant In Knives Out Was Originally R-Rated
At first, Rian Johnson intended Knives Out to be an R-rated film and actually wrote Ransom Drysdale's insulting rant to various members of his family as a far more profane gesture. Yet, when the director, a fan of whodunnits since childhood, decided to make the film more accessible to younger audiences, Chris Evans' originally repeated utterance of "Fuck you" was replaced with the now famous and, arguably, more gut-busting, "Eat shit."
An On-Set Mishap Led To A "Sexy" Camera Effect In Knives Out
Amid many thematic and narrative praises for the film, one technical achievement Knives Out has been admired for is a moment after the will reading when Marta Cabrera is attempting to escape the Thrombey mansion and the petty family's harassment. The seamless transition into a handheld a shot that appears to be an intentionally immersive, visual representation of Marta's anxiety was described as "sexy" by one Twitter user. However, its is actually the result of director Rian Johnson accidentally breaking the Steadicam during filming, as revealed in the retweet from the film's official account.
A Hidden Knives Out Detail Involving iPhones Reveals A Big Hollywood Secret
Even those who managed to correctly guess the ending of Knives Out without spoilers may not have realized that all it takes to figure out the real killer is to pay attention to everyone's phones, which, apparently, is a tactic you can use to decipher any modern day mystery. When breaking down a certain scene of the whodunnit for Vanity Fair, Rian Johnson spilled the beans on what must have been a highly protected secret in filmmaking that Apple allows the use of iPhones in movies as long as the villain is never seen using one. Considering Johnson feared that reveal would make him the target of anyone making a suspense thriller, I will not say much more than that.
Joseph Gordon-Levitt Has A Cameo In Knives Out
One secret that Rian Johnson did an exceptionally better job at keeping in regards to Knives Out is a very discreet cameo by his friend Joseph Gordon-Levitt, who has made an appearance in every single one of Johnson's films (big or small) since leading the cast of his 2005 feature-length debut Brick. The actor can be heard as a character credited as Detective Hardrock, whose voice comes from Marta Cabrera's television near the beginning of the film. Considering JGL has not had a starring role in a Johnson picture since 2012's Looper, perhaps there is a chance he will get a bigger part in the next Benoit Blanc mystery?
Be sure to check back for updates on Rian Johnson's suspenseful instant classic, as well as more behind-the-scenes looks at some of your favorite movies and TV shows, here on CinemaBlend.
Your Daily Blend of Entertainment News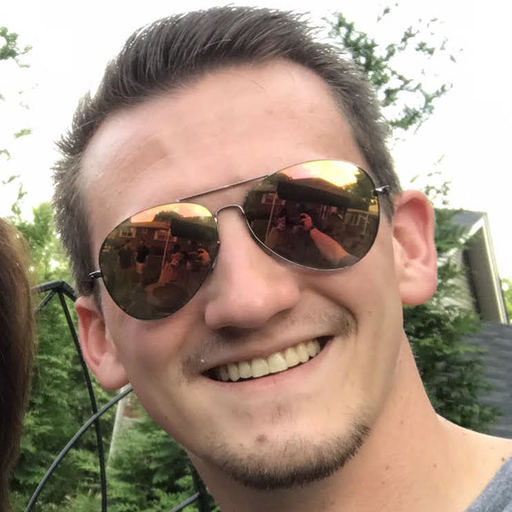 Jason has been writing since he was able to pick up a washable marker, with which he wrote his debut illustrated children's story, later transitioning to a short-lived comic book series and (very) amateur filmmaking before finally settling on pursuing a career in writing about movies in lieu of making them. Look for his name in almost any article about Batman.