Artemis Fowl Reviews Are In, Here's What Critics Are Saying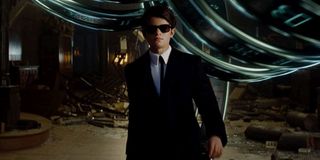 In an alternate universe, we would have all gone to theaters last month to see the new Disney movie on Memorial Day weekend. Artemis Fowl, the film adaptation of the Eoin Colfer book series was originally planned for a theatrical release then but, like all movies, that release was cancelled. However, unlike all of Disney's other planned releases, like Mulan and Black Widow, the studio made the decision to take Fowl out of theaters and release it on Disney+ instead.
If that seemed like perhaps Disney was less than confident in Artemis Fowl's box office chances, the reviews of the film have more or less confirmed that. They are, almost without exception, pretty brutal. It's not just that Artemis Fowl isn't very good, it's that the movie is actually a complete mess. Our own Sean O'Connell gave the film two stars saying...
And that may be some of the most kind remarks that Artemis Fowl is receiving. One of the biggest criticisms going into the movie was that that the trailers made clear that a great deal of liberty was being taken with the source material. The movie combined elements from the first two books in the YA series, but also changed a great deal within them.
That sort of decision is certainly likely to bother serious fans of the books, but as Slashfilm says, it could have been saved if those changes had resulted in a good movie. Sadly, it did not...
The strangest thing about how bad Artemis Fowl apparently is, has to be the fact that this was destined to be a live-action theatrical Disney movie. While most of the studio's success in recent years has come from Marvel and Star Wars, most of the rest of the studios content has been, you know, fine, at worst. And so the badness of this one is just shocking. Especially considering a cast that includes the likes of Judi Dench, Josh Gad, Colin Ferrell, and with Kenneth Branagh as the director.
So maybe, you wouldn't buy a ticket to see Artemis Fowl, but the good news is you don't have to, right? If you already have Disney+, then you don't need to spend an extra penny on the movie, so it's probably still worth at least watching, right? Collider wouldn't even recommend wasting the time required to watch this 95-minute film...
In the end, there's so much going wrong here that Fresh Fiction has trouble just digging through it all...
Fans of the books will likely be disappointed that this movie isn't what they've been waiting for, and that the franchise this certainly could have been, is now incredibly unlikely. For the rest, this movie will probably float by unnoticed and end up forgotten. Artemis Fowl hits Disney+ on Friday.
CinemaBlend's resident theme park junkie and amateur Disney historian. Armchair Imagineer. Epcot Stan. Future Club 33 Member.
Your Daily Blend of Entertainment News
Thank you for signing up to CinemaBlend. You will receive a verification email shortly.
There was a problem. Please refresh the page and try again.