Ruth Negga: 6 Things To Know About The Ad Astra Actress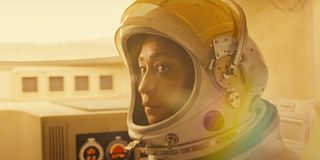 The name Ruth Negga might be unknown to many, but you probably recognize her face from a wide range of film and television projects. On Agents of S.H.I.E.L.D., she played one of the series' most intriguing and memorable secondary characters, the Inhuman known as Raina. Negga also had a lead role for four seasons on the AMC series Preacher. She played the no nonsense Tulip opposite Joseph Gilgun and Dominic Cooper. The actress earned her first Oscar nomination for her role as Mildred Loving in Loving. In 2019, Negga reunited with Brad Pitt in the critically acclaimed Ad Astra.
Ruth Negga may have only recently started to become more well-known in North America, but she's been putting her stamp on the show business world for over a decade. The Ethiopian-Irish actress has worked on the London stage, been in some of the most well-known UK series and played a legendary British singer. She's far from an overnight sensation.
If you're like me, you have probably seen Ruth Negga in one project or another, and have been enthralled with her talent and the characters that she brings to life. You've also probably been intrigued to learn more about this fascinating actress, so let's dive in.
Ruth Negga Played Two Different Lead Roles In Hamlet
Ruth Negga made history by becoming the first black Ophelia at the National Theatre in London. She played her from 2010 to 2011. Negga then took on an equally complex role as the title character in Hamlet. She first played him on the Dublin stage at the Gate Theatre in 2018. In 2020, she reprised this role along with the original Dublin cast in New York. Negga was supposed to play Hamlet starting February 1, 2020 for five weeks at Brooklyn's St. Ann's Warehouse. In her New York Times interview, she had this to say about playing Hamlet:
Ruth Negga isn't the first woman to play Hamlet. As the New York Times states, female Hamlets have dated back to as far as 1741. Negga has been highly praised for her embodiment of this complex, haunted and ultimately doomed prince.
David Bowie Was Ruth Negga's Childhood Crush
In an interview also featured on the InStyle interview page, Ruth Negga was asked a series of questions. One of them was about her first movie star crush. She answered David Bowie in Labyrinth and Kevin Costner in Robin Hood: Prince of Thieves. She also mentioned in several interviews that Bowie's performance in Labyrinth is what helped her decide that she wanted to be an actress. She told The Telegraph that seeing him appear in the film as a child made her want to start acting, adding:
In a Vogue interview, she said that Trainspotting and La Haine, the latter being a French film that depicted racial violence, helped her decide to explore the idea of acting as a career. When she turned 18, she decided to head out into the world and figure out how to act.
Ruth Negga Is Quite A Shy Person
The Ad Astra actress has been in some of the most popular movies, received an Oscar nomination, is an ambassador for Louis Vuitton, worked with some of the biggest names in Hollywood and performed live on stage in various productions, but that doesn't stop the actress from being shy.
On The Late Show with Stephen Colbert, Negga spoke about her shyness. He complimented her on her bold outfit choice that had dragon prints. She then told him how she uses fashion as armor and how many shy people use fashion in that way. She then expressed how nervous she felt being on his show. Negga then redefined herself as a "shy attention seeker." The Ethiopian-Irish actress went on to describe acting as a sort of safety net, which allows her to get attention in a safe way.
Ruth Negga Geeked Out Over Meryl Streep's Speech Shoutout
Let's go back to the 2017 Golden Globe awards, Meryl Streep received the Cecil B. DeMille honorary award. In her acceptance speech, she talked about the diversity of the nominees, and mentioned Ruth Negga's birthplace, her nomination and her Loving character. It was to make an overall political statement about the need of foreigners in the country to create real art.
It was a small mention, but Ruth Negga very much appreciated it. On Jimmy Kimmel Live, she said she was still floating and trying to absorb it. Negga then joked that it was a "bit creepy" that Streep knew so much about her. While talking to The Day, she called it "extraordinary" hearing Streep mention her during the speech. During an interview with The Guardian after the Golden Globes, she also said it was still surreal and felt like these moments were career-changing.
Social Media Terrifies Ruth Negga
Like most sane people, especially public figures, Ruth Negga fears social media. In an interview with InStyle, she shared her thoughts and concerns about being active on apps like Instagram and Twitter. To put it simply, Negga said it "terrifies the shit out of me." She also said that she doesn't go on Facebook, which means she's usually the last person to find out things surrounding her friends and family.
This fear of social media makes sense considering how powerful the tool has become in helping, and sometimes destroying, the reputation of a major movie or a rising star. This is also a fear that's understandable for someone who describes themselves as shy and who is very private about her personal life.
Ruth Negga's Parents Worked In The Medical Field
Ruth Negga's mother and father met at Black Lion Hospital in Addis Ababa, Ethiopia. Her father was Ethiopian and her mother Irish. Negga and her mother fled Ethiopia when she was about four years old because political violence broke out. This unrest led to the 1983-1985 famine in Ethiopia. Negga and her mother headed Limerick, Ireland, and her father was supposed to join them eventually. Unfortunately, he died three years later from a car accident. Though Negga didn't return to Ethiopia until she was 18, in the aforementioned Guardian interview, she said:
Ruth Negga's acting career and personal life are equally fascinating, so I'm looking forward to seeing the evolution of her career and how her star continues to rise. Prior to the current health crisis, she was filming a movie called Passing. It also stars Tessa Thompson, Alexander Skarsgård and André Holland. Passing began filming in November 2019, but doesn't have an official release date.
Ad Astra is available to stream on HBO Max. Stream it here (opens in new tab).
Spent most of my life in various parts of Illinois, including attending college in Evanston. I have been a life long lover of pop culture, especially television, turned that passion into writing about all things entertainment related. When I'm not writing about pop culture, I can be found channeling Gordon Ramsay by kicking people out the kitchen.
Your Daily Blend of Entertainment News
Thank you for signing up to CinemaBlend. You will receive a verification email shortly.
There was a problem. Please refresh the page and try again.