Could John Boyega's Attack The Block Get A Sequel? Here's What The Director Said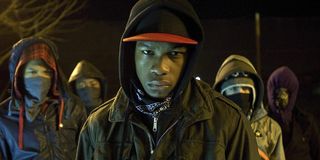 Released almost ten years ago, Attack the Block got overwhelming positive reviews from critics at the time. Though it probably didn't get the mass attention it deserved, the film still has a strong following and arguably thrust Star Wars' John Boyega into inevitable stardom. But some fans have been wondering if Attack the Block will get a sequel. Now, the director has taken the time to answer that question.
In a recent appearance on the Script Apart podcast, Attack the Block director Joe Cornish talked about his beloved alien invasion movie. Naturally, the subject of whether or not there could be a sequel. Here's what Joe Cornish said:
Yes, they've both been quite busy with other projects. Obviously, John Boyega's been busy in a galaxy far, far away, playing Finn in the new Star Wars trilogy. He's also worked on other not-as-successful projects like The Circle and Pacific Rim: Uprising. Joe Carnish, for his part, has written a number of high profile screenplays like Ant-Man, and recently wrote and directed the well-received The Kid Who Would Be King. So obviously they've been working.
But, the idea of hopping back into an Attack the Block sequel looks to be more enticing for director Joe Cornish. Since, he's already taken steps to meet with John Boyega about it and exchange ideas, it's at the very least on his mind. But when we might get this sequel, if at all, is nebulous. Joe Cornish later added:
Don't tease us, Joe Cornish! We want a sequel and we want it now. For those unaware, Attack the Block is set in South London and revolves around a group of teenagers thrust in an alien invasion. Rather than run for their lives, they decide to fight back against the horrifying aliens.
Luckily, John Boyega at the very least seems interested in the idea of returning. He went to social media in response to the news that he and Joe Cornish had met to talk about an Attack the Block sequel. Check it out:
Well, that's exciting. Though if Joe Cornish and John Boyega wanted to make this happen soon, they'd likely have to clear their very busy schedules. John Boyega has been working on the legal drama Naked Singularity and is set to be in Jeremy Saulnier's Rebel Ridge. Joe Cornish has long been working on the adaptation of the much-praised novel Snow Crash by Neal Stephenson.
But what do you think? Do you want an Attack the Block sequel? Let us know in the comments!
Your Daily Blend of Entertainment News