xXx: 6 Things That Still Don't Make Sense About This Movie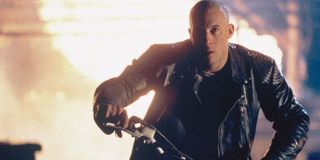 I will be the first to admit that I unashamedly love Vin Diesel's 2002 extreme sports spy film xXx (and its sequels to a certain extent). There's just something about the early 2000s look to the film and all the trappings of a turn-of-the-century spy film that was trying to prove that James Bond was yesterday's news. And although I don't think that Xander Cage will ever hold a candle (or a bottle of SoBe) to the world's most dashing spy, the first entry in the xXx saga is a real blast from the past.
But (a big but here), Rob Cohen's anti-007 film isn't without its shortcomings and pitfalls, as there are quite a few things about the movie that don't make sense 18 years later. I hope I don't sound like Roger Ebert finding each and every single flaw in the movie's plot, action sequences, or other escapades because I honestly enjoy this movie, but some of the stuff in this movie is preposterous and defies logic. So, what doesn't make sense about the movie? Funny you should ask…
Xander Cage Ended Up On The NSA's Radar For Stealing And Crashing A Senator's Car?
Before we even hear Vin Diesel's Xander Cage speak a single line of dialogue in xXx we know he's going to be a badass after he steals a red Corvette belonging to a U.S. Senator who hates skateboarding but loves fast sports cars. Those familiar with the scene know that Xander takes the car on a joyride/police chase before driving it off a bridge and parachutes to safety. Simple enough, right? Well, the very next scene shows our lovable bald hero hosting a party with some of the biggest names in extreme sports and SoBe bottles before being raided by authorities and taken into custody by who later turns out to be the NSA.
My only question how did stealing a car from a senator and crashing it earn Xander Cage a spot on the National Security Agency's list? Boosting DVD players? Maybe. Committing securities fraud? Probably. I mean, it's not like he was given a video of the leader of the NSA assassinating someone. Oops, wrong movie. But seriously, how did a high-ranking NSA official like Augustus Gibbons (Samuel L. Jackson) catch wind of someone who was a low-priority for the FBI?
How Did Xander Pick Up On All The Mistakes In The Diner Scene?
Probably the second most well-known diner scene involving Samuel L. Jackson, the NSA's first test for Xander Cage in xXx is one of the most ridiculous and hard to explain scenes in the entire movie, which is saying a lot. After the rousing party scene in which he was arrested, Xander is next seen waking up in a busy diner the following morning. Our man quickly picks up on a lot of mistakes with everything that's going on around him, including the stickup by two guys who are clearly not a pair of successful bandits. But how does he pick up on all of this?
Xander Cage says that he noticed that the "waitress" was wearing heels, which he says is a big no-no for someone in that profession. Why'd he think to check her shoes. He also notices that one of the "robbers" was reading the Financial Times on Sunday when the markets are closed. How does Xander know this? Does he mess with stocks the same way he messes with senators' cars? And how does he know it's Sunday morning? For all Xander knows, he could have been knocked out for days before being dropped off at the diner. And one more thing, if the cook knows the shotgun is full of blanks, why does he grab his pistol when Xander fires off a shot at the wall?
Why Did The NSA Send So Many Recruits To The Drug Cartel If They Only Really Wanted Xander Cage?
The whole raid on the Colombian drug operation scene is one of the most exciting (and explosive) scenes in the early part of the movie, but there are more than a few things that just don't make any sense in this illogical mess of a sequence. First, why would the NSA pretty much send two ill-equipped candidates with Xander Cage when they know all along that xXx is their man? I guess this happened so we could get more explosions, dirt bikes, and guys running around with bundles of cocaine for a few minutes.
Following the group's capture and torture at the hands of Danny Trejo's El Jefe (great cameo, by the way), the escape and run off in all directions while the Colombian Army raids the compound, this time putting even Xander Cage at risk. And yeah, Augustus Gibbons was trying to see what Xander Cage was made of before he sent the adrenaline-junkie on his real mission, but what would have happened if Xander got shot or chopped up by the helicopter he jumped over in spectacular fashion? This just seems like a lot of risks just to prove Xander is a badass capable of infiltrating a group of supposed anarchists with a pretty solid structure in place.
Shouldn't Anarchy 99 Be Against Groups With Leaders Who Own Property And Vast Networks?
Anarchy 99, the Russian terrorist group made up of former soldiers, is at the heart and center of the conflict in xXx as they obtain and plan to use the "Silent Night" biochemical weapon and bring chaos to the world. There's just one problem with the name and the mission of the group. Sure, they want to do away with world governments and create a society free of rules and governance just like any good idealistic anarchist, but they have some pretty major glaring issues that would make Leo Tolstoy roll in his grave and shake his fists at Yorgi's (Marton Csokas) misinterpretation of the word "Anarchy."
Aren't anarchists against societal structure and the ownership of property? If so, then Yorgi and his collection of armed goons and scientists (RIP to those brave souls) are anything but anarchists considering Anarchy 99 has a hierarchy of leadership (Yorgi), who owns several properties, businesses, and networks around Europe. This aspect of the movie has never made sense to me, even if the name "Anarchy 99" sounds pretty cool. Maybe he just doesn't want to deal with fire marshalls whenever he wants to host his next Rammstein concert.
Everything About The Snowboarding Scene… Everything!
Smack-dab in the middle of the movie is one of the most insane action sequences of its time with the scene where Xander Cage jumps out of a plane, uses a parachute to make it to the top of a mountain, and then snowboards down to destroy one of Anarchy 99's communication towers. Things get really out of hand when Xander stops for a moment, looks down at the tower, pulls out two grenades, throws them, and then races an avalanche down the mountain.
Like, what's the point of the avalanche? Couldn't xXx just destroy the tower without all the theatrics and damage caused by one of the most powerful forces of nature on the planet? And how is he able to outrun the wall of snow, ice, and rock while everyone on snowmobiles gets consumed by it? I know, I know, it's a movie that needs some big action sequences, but the logistics have never really made sense. But hey, the special effects look pretty good for a movie from nearly 20 years ago.
Where Did The American Flag Parachute Come From?
And finally there's the American flag parachute. Near the end of the movie when Xander Cage is chasing after Ahab in order to prevent "Silent Night" from killing millions of people, he connects to the automated ship with a harpoon (another unexplainable mystery) and paraglide behind it like he's on a beach vacation. The funniest part in all of this is the fact that it's a parachute made to look like the stars and stripes… in Prague, which is in Europe.
First off, why is there a parachute in the car to begin with? Did Toby Lee Shavers (Michael Roof) know that Xander would need one in a bind? And why was it an American flag? I know this the movie was released in a time when people were uber-patriotic, which makes this seem like a cheap way of making Xander Cage look more like an American badass hero, but come on!
And with that, this list of things from xXx that don't make sense has come to an end. Fear not, because with a franchise was wild and crazy as this one, I'm sure there will be plenty to write about concerning xXx: State of the Union and xXx: Return of Xander Cage in the weeks to come. But in the meantime, here's what Vin Diesel had to say about the possibility of playing the 21st Century spy in the future.
Philip grew up in Louisiana (not New Orleans) before moving to St. Louis after graduating from Louisiana State University-Shreveport. When he's not writing about movies or television, Philip can be found being chased by his three kids, telling his dogs to stop yelling at the mailman, or yelling about professional wrestling to his wife. If the stars properly align, he will talk about For Love Of The Game being the best baseball movie of all time.
Your Daily Blend of Entertainment News
Thank you for signing up to CinemaBlend. You will receive a verification email shortly.
There was a problem. Please refresh the page and try again.