Could Mamma Mia 3 Be On The Way? Here's What A Producer Said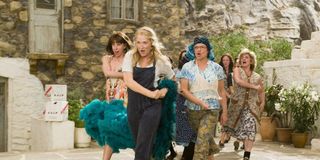 If you've been spending your time in quarantine wondering what's going on with the Mamma Mia! film franchise, you're not alone. It turns out the producer of the popular musicals is right there with you, although she herself still has some unanswered questions as to what could be coming next. One thing does seem relatively certain, though, and that's that Mamma Mia! 3 is probably on the way.
Judy Craymer produced both Mamma Mia!, which was adapted from the popular Broadway musical, as well as the 2018 sequel, Mamma Mia! Here We Go Again. Both films were big hits with fans around the world -- so it's not really a surprise that the team might be up for more. However, we may have to wait a bit longer before any concrete plans start to come into play. When it comes to a third Mamma Mia! movie, Judy Craymer said:
It's hard to blame her for not being able to focus much during a pandemic. Plus, based on her comments to The Daily Mail, it sounds like her temporary creative block isn't going to ultimately stop the movie from coming to fruition:
Judy Craymer also hinted that the third installment of the movie series could feature four new ABBA songs, which were created at first for the band's virtual concert. That's great news for fans of the Swedish pop group -- and those songs could give us some hints as to what to expect in the storyline.
There are so many directions the trilogy could head in. Obviously, at its heart, Mamma Mia! isn't just a love story, it's also a mother-daughter story -- albeit one that took a twist in the sequel. Now that Amanda Seyfried's Sophie is a mom herself, it could be interesting to see how that new relationship plays into any future storylines. Maybe her son will be the next to have a whirlwind romance to the tunes of ABBA's sweetest love songs.
It is not clear whether Meryl Streep would be able to come back for a third Mamma Mia! Obviously, her character, Donna, is no longer with us, but the franchise has already proven adept at utilizing flashbacks to tell a story and, truthfully, it's hard to imagine a Mamma Mia! movie without her.
Would you be up for another Mamma Mia! movie? What ABBA songs do you think the filmmakers should include this time around? Let us know in the comments!
Your Daily Blend of Entertainment News
Thank you for signing up to CinemaBlend. You will receive a verification email shortly.
There was a problem. Please refresh the page and try again.