How Bill And Ted Celebrated Father's Day, Because That's A Thing They Can Do Now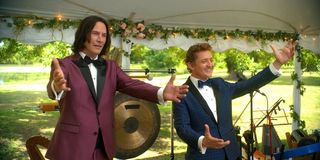 The last time we saw Bill S. Preston and Ted "Theodore" Logan, played by Alex Winter and Keanu Reeves respectively, they were just a couple of young aspiring musicians who occasionally time traveled. Now years later in Bill & Ted Face the Music, they're dads, which means Father's Day is something they can do now.
So as a way of showing their appreciation for all the totally awesome dads out there, they went to social media and gave a shout out. Check it out:
As you can see from the photo, Bill and Ted are all grown up and have teenage daughters. Brigette Lundy-Paine plays Ted's daughter, Billie Logan, and Samara Weaving plays Bill's daughter, Thea Preston. From what we've seen of the movie, it looks like all four of them could be heading into space-time for another adventure.
For those who don't know the plot, it's pretty standard Bill & Ted fare. While they were destined to be rock gods, it looks like things haven't exactly panned out that way when the third movie kicks off. The Wyld Stallyns play at two-dollar taco nights rather than packed stadiums. So to fulfill their destiny and save the universe, they have to steal the ultimate song from themselves in the future. Sounds about right.
Of course, Bill & Ted Face the Music is the third movie in the trilogy, following Bill & Ted's Excellent Adventure and Bill & Ted's Bogus Journey. It's been a long time since Bogus Journey released and, usually, franchises just call it a day with a gap that's almost thirty years. But the fans asked for it enough that Alex Winter and Keanu Reeves decided to make it a radical reality.
Plus, with such a large gap, you better believe that a big swath of that fanbase is made up of dads who watched Bill & Ted's Excellent Adventure when they were kids in the '80s and '90s, and you can bet many of them will want to share this new film with their own children. With so much history, there's heavy nostalgia to consider, but it sounds like the original writer for the first two, Ed Solomon, had that in mind for Bill & Ted Face the Music and tried to achieve the tone of Excellent Adventure.
After watching the trailer and hearing what Steven Soderbergh said about it, I think this could be just the lighthearted and funny movie everyone needs for the summer. And since Bill & Ted are dads now, it only makes sense that everyone should see it with their dads, too. Bill & Ted Face the Music is helmed by Dean Parisot, who also directed Galaxy Quest and Fun with Dick and Jane. It's scheduled to be released on August 14, 2020.
Your Daily Blend of Entertainment News
Thank you for signing up to CinemaBlend. You will receive a verification email shortly.
There was a problem. Please refresh the page and try again.