Batman Beyond Fan Poster Features Michael Keaton As Bruce Wayne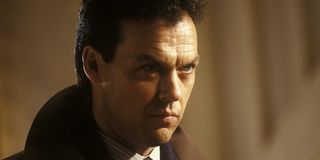 When I heard Michael Keaton may return as Batman in the upcoming Flash movie, my immediate thoughts went to Batman Beyond. And, no surprise here, I wasn't alone. Many fans thought the same, with one fan creating a Batman Beyond poster that features Michael Keaton as Bruce Wayne.
While it's exciting just to hear the news that Michael Keaton could return as Batman in the Flash movie, I would love to see him play an older Bruce Wayne in a live-action Batman Beyond movie. One Batman Beyond fan seems to agree, taking to social media to show what a poster for that movie might look like. Check it out:
This is an awesome poster, and now I want a Batman Beyond movie more than ever. With the Snyder Cut of Justice League coming to HBO Max and there being talk about if Suicide Squad could get a re-do, anything could happen, right?
Michael Keaton's possible return as Batman has exploded online speculation about what his role might look like in the DCEU, including a possible mentor role similar to Samuel L. Jackson's Nick Fury in the MCU. It's also added some credence to the idea that the upcoming Flash movie is an adaptation of Flashpoint, a comic that deals a heavy hand in time travel and the multiverse.
There is a possibility, however small, that Michael Keaton returning as Batman could mean a possible lead into Batman Beyond. Obviously this is all speculation right now, but theoretically the Flash movie could introduce an older Bruce Wayne played by Michael Keaton, who will eventually mentor Terry McGinnis as the new Batman.
Fans of the animated TV show Batman Beyond have long wanted a live-action movie version with Michael Keaton playing the retired Bruce Wayne. Since Michael Keaton is now 68, he's at the prime age to play the role.
As it so happens, a Batman Beyond movie was on the table years ago in the interim period between Batman & Robin and Batman Begins. Screenwriter Boaz Yakin, who wrote Prince of Persia: The Sands of Time, worked on the project, but eventually bailed because his heart wasn't in it. Of course, the project was ultimately shelved.
Since that time, rumors of a Batman Beyond movie have cropped up now and again, but were eventually debunked. Other than a possibility of Michael Keaton returning, there's no real sign that it will happen.
Still, this Batman Beyond fan is holding out hope that they'll use the multiverse angle in Flashpoint as a launching point for the movie with Michael Keaton playing the older Batman. I think it's safe to say that would be a dream come true for many Batman Beyond fans, so fingers crossed.
Your Daily Blend of Entertainment News