Could The Flash Movie Actually Set Up Batman Beyond?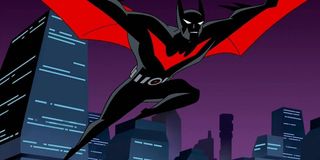 If you grew up in the late '90s-early 2000s and were a Batman fan, then chances are you watched Batman Beyond, the animated series that followed the teenaged Terry McGinnis inheriting the Batman mantle and fighting crime in the futuristic Neo Gotham City, with an elderly Bruce Wayne guiding him on his journey. The show drew critical acclaim during its run, so much so that in the years between Batman & Robin and Batman Begins' respective releases, a live-action Batman Beyond movie was among the many Dark Knight-centric cinematic projects was were explored.
Obviously nothing ever came of that, but the prospect of seeing the Batman Beyond mythology adapted for the big screen remains enticing to many DC fans, myself included. And with yesterday's news that Michael Keaton is in talks to reprise Batman in The Flash, I can't help but wonder if the Scarlet Speedster's solo movie, which will adapt the Flashpoint storyline, is laying the groundwork for Terry McGinnis to inherit the Bat-mantle and Bruce Wayne to take on the role of mentor.
What's Happening With Batman In The Flash Movie?
In the original Flashpoint, Barry Allen, a.k.a. The Flash, goes back in time to save his mother from being killed. While he's successful in that regard, a ripple effect is unleashed that changes the main DC universe in strange ways. This includes Bruce Wayne being murdered on that fateful night in Crime Alley rather than his parents. As a result, Thomas Wayne becomes an excessively violent Batman, while Martha Wayne is driven to insanity and becomes The Joker. Considering that Jeffrey Dean Morgan cameoed in Batman v Superman: Dawn of Justice as Thomas Wayne, naturally ever since it was announced that Flashpoint was getting the feature film treatment, a lot of fans have been wondering if The Walking Dead actor will don the cape and cowl to help Ezra Miller's Barry return things back to normal.
However, it doesn't look like a Thomas Wayne Batman appearance is in the cards for The Flash, according to The Wrap reporter Umberto Gonzalez, who dropped the Michael Keaton news. Instead, Keaton's Batman will fill the role of the older Caped Crusader in this Flashpoint adaptation. And just to be clear, this would not be Keaton playing an older version of Ben Affleck's Batman; he would be reprising the same Batman we saw in 1989's Batman and 1992's Batman Returns, a.k.a. the Burtonverse. The events of Batman Forever and Batman & Robin (which saw Val Kilmer and George Clooney playing the shadowy hero, respectively) would also be ignored, so we'd be learning what Keaton's Batman has been up to since he crossed paths with Catwoman and The Penguin.
Michael Keaton jumped back into the superhero genre a few years back to play The Vulture in Spider-Man: Homecoming, a role he appears to be reprising for Morbius. But him to be game to play Batman nearly 30 years after he retired from the role is a particular big deal, and it wouldn't just be a one-off appearance either. Should something be finalized between him and Warner Bros, Keaton would keep playing Bruce Wayne in a "mentor capacity" in projects like Batgirl, akin to how Nick Fury has been depicted into the MCU. A mentor, you say?
How Does This Lead To Batman Beyond?
As of this writing, Michael Keaton is 68 years old, turning 69 in September. So he's not that far off from reaching the age that Bruce Wayne was when he met Terry McGinnis in Batman Beyond. Just like in the DCAU, it's entirely plausible that Keaton's Batman has turned to a high-tech Batsuit to compensate for his aging body, but there's only so much technology can do. In other words, Keaton's Bruce Wayne will have to retire from crimefighting soon, and that's where Terry McGinnis can come into the picture.
Just like in the original Flashpoint story, one can presume that The Flash movie will end with Barry Allen returning reality back to normal… well, most of it. There will be a few permanent changes, and since Michael Keaton's in discussions to keep playing Bruce Wayne, clearly that iteration of the character would be sticking around. However, it wouldn't be difficult at all to put Terry McGinnis on Bruce's radar and have the young man take over as Batman. Thus, we get our live-action Batman Beyond movie.
Now obviously a Batman Beyond movie would not be 100% faithful to the original animated series. For instance, the Gotham City that Bruce Wayne's protected for all these years and is now Terry McGinnis' responsibility to look after would either have that same Tim Burton aesthetic from Keaton's original Batman movies or just look like a contemporary metropolis, as opposed to having a futurist, cyberpunk design. Nevertheless, with Terry having gained a sizable following from the Batman Beyond series and his numerous comic book appearances in the following years, naturally the next big hurdle for him to cross is appearing on the big screen, and Keaton's involvement is the perfect opportunity to make that happen.
Why Is This A Big Deal For The DC Film Franchise?
Clearly we haven't hit over saturation of live-action versions of Bruce Wayne yet. On TV, we've seen the character on Gotham, Titans and within the Arrowverse, and within the last half decade, Ben Affleck's played Bruce in the DCEU and Dante Pereira-Olson played Bruce as a boy in Joker. Robert Pattinson will take over cape and cowl duties for Matt Reeves' The Batman, and now we even have Michael Keaton reprising Batman to look forward to, assuming a deal is reached. But bringing in Terry McGinnis allows us to shine a different light on the Batman legacy that's never been shown in a theatrical setting before.
Just like how Spider-Man: Into the Spider-Verse introduced Miles Morales to the general public unfamiliar with comic book source material, a Batman Beyond movie can show how someone fights crime as Batman, but in a different way than what we're used to seeing from Bruce Wayne. Terry's not as deductive as Bruce and is more of a wisecracker out in the field, but he's still a component crimefighter, and it would be great to see what kind of dynamic a cinematic version of the character would have with Michael Keaton's Bruce, who would still be feeding Terry intel and advice from the Batcave.
It's been made abundantly clear that The Batman is set in its own self-contained continuity, so don't expect to see Robert Pattinson's Batman crossing over with Gal Gadot's Wonder Woman or Jason Momoa's Aquaman. So with a younger Bruce already in place to give moviegoers their fill of classic Batman action, using Michael Keaton as the DCEU's new Bruce and having him train Terry McGinnis as his successor allows this corner of the DC multiverse to keep exploring the Batman mythos, but in a way that doesn't feel repetitious from what Matt Reeves is doing.
As things stand now, The Flash is scheduled to race into the theaters on July 1, 2022, so keep checking back with CinemaBlend for more updates on its progress, and look through our DC movies guide to learn what else this corner of the superhero film genre are on the way.
This poll is no longer available.
Connoisseur of Marvel, DC, Star Wars, John Wick, MonsterVerse and Doctor Who lore. He's aware he looks like Harry Potter and Clark Kent.
Your Daily Blend of Entertainment News
Thank you for signing up to CinemaBlend. You will receive a verification email shortly.
There was a problem. Please refresh the page and try again.